Simple, healthy and with a burst of flavors that confused every bite, this was by far one of Shuchi Mittal's better mistakes in life.
By Shuchi Mittal
I made this dish my accident. Although the ingredients are neither mysterious, nor the combination with chicken so unique, my experiment with these flavors was purely by chance. I was preparing for lazy Sunday with take-out dinner and vegetating in front of the TV, when I decided to marinate some chicken for a roast instead. I usually keep my roast very simple- garlic, olive oil, oregano, salt & pepper and that's that. However, half way through the preps I saw a stash of Prunes and Gherkins tucked away at the back of the refrigerator. Now I am leaving the country, so I decided to get rid of these and thrown them in as well. I left it to marinade, and ended up falling asleep on the couch, thus giving dinner a miss altogether! Thus, the confused marinade was left to sit for over 24 hours!
Next day, I sauteed some spinach and grilled the chicken for a quick dinner. Simple, healthy and with a burst of flavors that confused every bite, this was by far one of my better mistakes in life.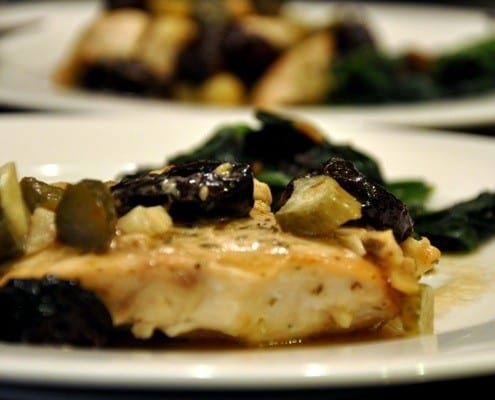 See Also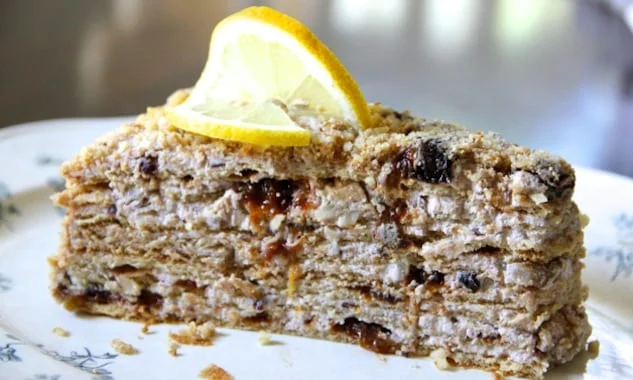 Roast chicken with Gherkins and Prunes
A mildly sweet and tangy chicken surprise
Ingredients
2 skinned pieces of chicken breast
1 cup chopped pickled gherkins
1 cup pitted prunes
1 tablespoon dried oregano
2 bay leaves, torn into pieces
1 clove garlic, chopped finely
1 teaspoon grated ginger
¼ cup olive oil
¼ cup apple cider vinegar
Salt & pepper to taste
Instructions
Wash the chicken pieces. Make a few incisions on the chicken and sprinkle with salt & pepper.
In a large bowl, combine the gherkins, prunes, oregano, ginger, bay leaves, garlic, olive oil and apple cider vinegar.
Pour the marinade over the chicken. Cover and refrigerate for 6 hours.
Pre-heat the oven to 175 degree C.
Bake for 30-40 minutes, till the chicken is fully cooked.
Grill on 200 degree C for another 10 minutes to give it a nice brown exterior.
Remove from oven and serve with a side of mash or sautéed spinach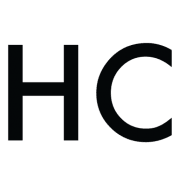 Shuchi Mittal
Shuchi cooks with the heart of a poet. Banker turned chef, she runs the 29. Private Kitchen in NYC focusing on social tasting events, dining experiences and small-scale private events. Using simple & wholesome ingredients, she likes to re-invent homemade Indian flavors into modern tapas & small plates. Her dream? To cook, feed, write, and eventually open her own communal dining cafe - with a published recipe book on the stands.