In this savory skillet, chicken and grapes merge to form a tart and faintly fruity ode to comforting cold-weather fare.
By Amanda Marsteller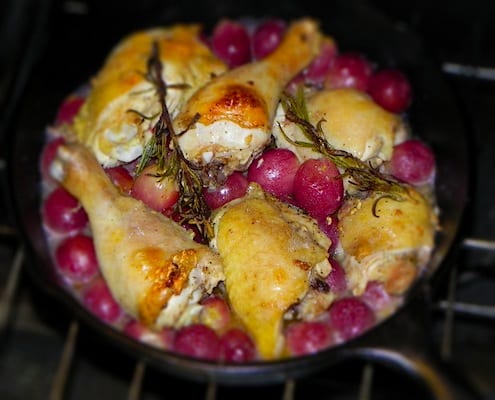 The pairing of chicken and grapes is not an innately classic combination, aside from chicken salad perhaps, but in this savory skillet, the two merge to form a tart and faintly fruity ode to comforting cold-weather fare. Select your favorite grapes, be they green or red, and let a cast iron skillet work its magic in the oven, mellowing the tang of the grapes until they burst open and mingle with the browned chicken bits. These are the beginnings of a flavorful pan sauce, thickened and enriched with the addition of white wine, chicken stock, and heavy cream. Chicken has met its match – on the vine.
Roast Chicken and Grape Skillet
Chicken and grapes, a skillet-sharing odd couple.
Author:
Amanda Marsteller
Ingredients
1 pound red or green grapes
6 pieces chicken, drumsticks and thighs
2 tablespoons olive oil
2 tablespoons red wine vinegar
1 clove garlic
3 sprigs rosemary
Salt and pepper
2 tablespoons shallot, minced
¼ cup white wine (Riesling recommended)
¼ cup chicken stock
¼ cup heavy cream
Fresh parsley for serving, chopped
Instructions
Preheat oven to 450 degrees F.
Toss grapes with a tablespoon of olive oil and pinch of salt and place in a cast iron skillet.
Place chicken pieces in a large bowl and cover with the remaining oil, red wine vinegar, garlic, rosemary, and salt and pepper.
Rub the seasonings into the chicken.
Settle the chicken pieces snugly among the grapes in the skillet and roast in the oven for 35 minutes.
Remove the chicken and grapes from the pan to a plate and discard all but a tablespoon and a half's worth of the fat in the skillet.
Over medium heat, add in the minced shallot and cook until soft.
Add in the white wine and chicken stock and cook until reduced.
Finally, lower the heat and add in the heavy cream, reducing until thick.
Serve this sauce over the chicken and grapes and garnish with parsley.