Discover the legend of the beautifully colored risotto milanese made with saffron.
By Filippo Trapella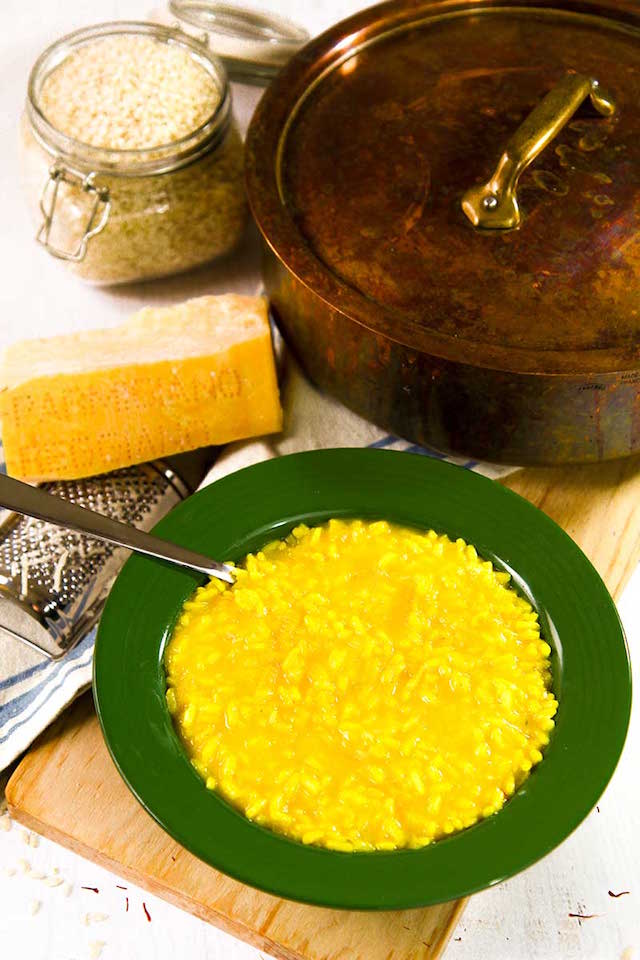 The risotto Milanese is pillar of the Northern Italian cuisine, whose origins are lost in history and legend. The delicate flavor of saffron is combined with the sweet taste of beef marrow bone. Butter and grated Parmigiano Reggiano blend perfectly with the gluten in rice. The result is a creamy rice with grains perfectly cooked, but still firm (al dente).
The Risotto alla Milanese, perhaps the most famous dish of the Lombard cuisine. The most famous version of its legend, and probably closer to the true story of the risotto Milanese tale, dates back to 1754. In that time in Milan, a teams of Belgian glass-makers has been busy at work on the decoration of the great windows of the Lombard cathedral. The painter Valerio della Fiandra leads this team. The work in the great Gothic church is challenging, but there's something else that occupies the mind of Valerio: his daughter will be married soon, on September 8 of that year.
On the wedding day, the team of Valerio della Fiandra invents a joke that will change the history of the Northern Italian cuisine. The glass-makers sneak into the kitchen. Perhaps they convince the chef, or they act in secret: the fact is that they pour into the traditional rice with butter and sausage, one of the ingredients used to color the stained glass windows of the cathedral: a generous amount of saffron.
When the Riso giallo (yellow rice) is served, the guests remain baffled. We can only imagine the tension and anger of Valerio della Fiandra. His desire of revenge had to be huge, but the situation requires demeanor. Some guests decide to taste that weird rice. Gradually a buzz fills the room. The joke of a group of jokers turns a marriage destined to be lost in the folds of history into a legendary event!
In the following years, the yellow rice recipe evolves in the dish actually known. In 1829 the name "Risotto alla Milanese" appears for the first time in the recipe book "Nuovo cuoco milanese economico" (New Economic Milanese chef). For the first time the rice is not boiled, but cooked with butter and meat broth gradually poured, and enriched with beef marrow bone and cervellata, a typical medieval sausage stuffed with cheese, beef and veal meats, and saffron.
Beyond the legend, saffron is appreciated for centuries for its delicate flavor and color reminiscent of opulence and richness. In 1981 the famous Italian chef Gualtiero Marchesi, has reinvented the dish by adding a gold foil over the risotto Milanese, as emblem of a noble dish signature of the Italian culinary tradition.

Risotto Milanese
Discover the legend of the beautifully colored risotto milanese made with saffron.
Ingredients
5 cups (280 g) Carnaroli or Vialone Nano rice
4 tbsp beef bone marrow molten
1 small white onion
4 cups meat stock
7 tbsp unsalted butter
5 tbsp Parmigiano Reggiano grated
1 tsp saffron treads
½ glass white wine
Instructions
First, pour the stock in a saucepan big enough to cook the risotto and put it on the heat. Keep the stock gently simmering throughout the proceedings. Now, extract the marrow from the bone. Pour the marrow in the saucepan and liquefy the bone over low heat. Meanwhile, mince the onion finely. When the marrow bone is completely melted, sift it with a strainer and eliminate the residues of meat. Clean the pan with a paper towel, without wash.
LIQUID MARROW
Pour 4 tablespoons of liquid bone marrow in the same pan we melt it. Heat the marrow over medium heat, then add 1 tablespoon butter cold from the fridge. When the butter is completely melted, pour chopped onion. Cook the onion over medium heat, stirring occasionally, until the onion is soft and translucent. Now, raise the heat to maximum, add the white wine and cook for another 2 minutes, then add ½ cup of simmering broth. Cover the saucepan with a lid and cook the onion until it is completely crushed. Finally, pour the braised onion in a container with a lid and put it aside.
STIR FRY THE RICE
Heat the pan, then pour 3 tbsp of butter cold. When the butter is completely melted, pour the rice and cook for 1 minute, stirring frequently. This step is very important in order to create a film around the grains of rice, protecting and preventing any breakage. Now, add all the braised onions, and just enough boiling stock to submerge the rice. Cook the risotto Milanese for about 15 minutes, adding broth as the risotto Milanese thickens. It is very important not to stir the rice while cooking. When the rice is cooked but still firm, add the saffron diluted in a little broth, the remaining butter and Parmigiano Reggiano. Stir vigorously risotto Milanese away from the fire, in the end the rice should be creamy, but not watery: if necessary add a little 'of warm broth. Cover the saucepan with a lid and let stand the risotto Milanese for 3 minutes before serving.
/2 tsp white pepper