After what some might call a serious Easter break, Rasmus Holmgård is back on the air to continue the journey through the French Rhône Valley.
By Rasmus Holmgård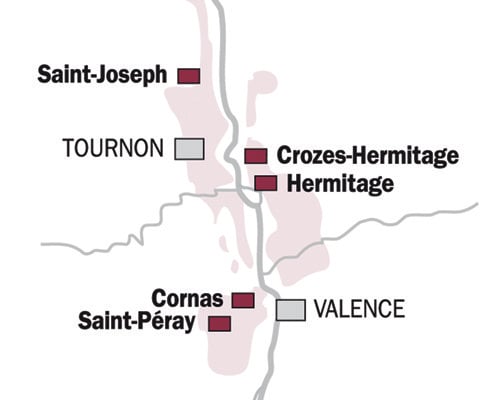 So, after what some might call a serious Easter break I'm back on the air to continue our journey through the French Rhône Valley. We've already done a general introduction and covered the quite expensive wines from classy Hermitage, Côte-Rôtie and Condrieu.
You'll be glad to know that we're now on to the fun part of the Rhône. Crozes-Hermitage, Saint-Joseph and Cornas are three appellations with great wines that you can actually afford.
Matching Hermitage and Côte-Rôtie in complexity is neither the aim of these less expensive appellations nor is it realistically within reach even for the best winemakers, simply because of the less fortunate terroirs. But Crozes-Hermitage, Saint-Joseph and Cornas have other cards to play.
"Much as I appreciate and encourage development in the wine regions, I'm still a big fan of the edgy and personal old-school style"
Arguably Cornas is leading the field among the three in terms of quality. Cornas wines have a reputation of being rustic, big and masculine, with coarse tannins and a fruit profile which is dark, spicy and mineral, as opposed to the red fruit, licorice, violets and occasional vanilla/smoky/oaky touch of the lighter crozes (among friends – simply pronounced [kRo:z]) and saint-josephs.
In later years, however, many producers have cleaned up their cornas-act and now feature a more international, smooth and easy style; the rusticity and signature wildness being a rarer find. Much as I appreciate and encourage development in the wine regions, I'm still a big fan of the edgy and personal old-school style, as you will recognize in my recommendations below.
The difference between the wines of Crozes-Hermitage and those of Saint-Joseph is largely based on the level of ambition and vinous preference of the winemaker. Surely, the two areas offer slightly different terroirs, but these, again, vary quite a bit within the respective appellations, making a focus on individual house-styles a better guideline for expression than the area stated on the label.
If only all wines within a certain appellation would be fully consistent in flavor profile, intensity, sweetness, acidity, balance and elegance, the levels of which were decided by and linearly proportional to the price – buying wine would be a walk in the park. But, alas, this is not the case. Specially not in France. And not at all in the northern Rhône.
And yet, overall quality levels are high, and if you're not too picky with the specifications of the wine (oak, ripeness, alcohol etc.) don't be afraid to invest a slice of your household budget in something completely unknown. I don't know about you, but I can think of worse activities than exploring the Rhône Valley.
Finally, let's not forget the remaining, northern appellations of Saint-Péray and Château Grillet. The latter being France's only monoappellation, meaning that a single homonymous producer monopolizes the entire appellation of Château Grillet (3.8 ha). Château Grillet's wines are essentially like condrieus and really no better or worse than condrieus at similar price points.
Saint-Péray uses the varieties marsanne and roussanne to create some rather powerful white wines, which, unfortunately, have some difficulty finding a true following outside of the production area. In their youth the wines can be freshly acidic, chalky and mineral, albeit often with a certain fruit concentration, fairly high alcohol and following considerable palate weight. Further, since roussanne and marsanne are non-aromatic and slightly oxidative varieties, traditional saint-péray is rarely very expressive and welcoming on the nose. In short, it can be difficult to find a situation or dish to which a saint-péray is the best and obvious choice.
Recommended wines
Alain Graillot Crozes-Hermitage La Guiraude 2009
Always a safe bet, Graillot is a master of crozes with a distinct, crisp, lean and yet powerful style to his wines. More structure than body, but still with loads of refreshing, clean and healthy fruit carrying notes of flint, herbs, blackberries and raspberries. La Guiraude is a great example of a wine that will age wonderfully for 10-15 years, but can just as easily be drunk and appreciated for its more youthful qualities straight away. Rather today than tomorrow.
Eric & Joël Durand Saint-Joseph Lautaret 2009
Based in Cornas, the Durands' saint-joseph production is the brothers' secondary focus and yet ridiculously well-produced, well-balanced, rock-solid, concentrated and juicy. A drinkability high-scorer with sweet tannins and perfect acidity, but also plain muscular and undoubtedly fit to wrestle your next grilled steak.
Gérard Courbis Saint-Joseph Vieilles Vignes 2009
Gérard Courbis makes two super tasty and kind of oldschool saint-josephs; one called Tradition and one called Vielles Vignes. The latter means "Old Vines" which is not overstating the importance of the 120 year old vines from which the fruit is sourced. Despite a certain use of high toast oak leaving aromas of bacon, smoke and chocolate there is still a lovely fresh fruitiness which slides down effortlessly due to the fine acidity. A very interesting wine at an often impressively low price.
Eric & Joël Durand Cornas Prémices 2009
Prémices is the second cornas to come out of the Durand brothers' cellar, slightly less expensive than the top cuvée Empreintes (which is equally delicious). The 2009 lightly greenish and herbal, yet charming with chocolate, coffee and cassis on the nose. Mouth firm and juicy, solid, tannins perfectly integrated and absorbed by the fruit concentration. Tasted two years after harvest the wines is obviously too young, but with the right amount of air and well-aged beef, it'll bring joy to any dinner party.
Domaine Clape Cornas Renaissance 2009
Auguste Clape is a quality cornas pioneer and a bit of a local rock star. And I'm a groupie! The Renaissance is made in a slightly fruitier style and from younger vines than the regular cornas, however, easily representing the house' signature massive tannins that will hold your attention in an iron fist grip while slowly massaging your taste buds with the sweet and tender fruit of a perfectly ripe syrah. Much as Clape's wines are complex, tight and demanding they are also open and generous – the Renaissance again more so than the regular. Amazing wine for true Rhône lovers.
Vincent Paris Cornas La Geynale 2009
All of Vincent Paris' wines are great and it may not be very pedagogical to highlight the most expensive wine in the range. But I can't help it. It's too good. 2009 is still a bit closed on the nose, tight and violently tannic. However, the concentration of the fruit, the juicy acidity and minerality and the overall balance and focus of this beauty of a wine reveal its enormous quality potential with another few years in the bottle. Or many. If you can wait. I know I wouldn't.
We'll finish the Rhône cavalcade with an article about the best of the southern crus, and another on the quality of those 75 % of the Rhône Valley production which simply go by the title Côtes du Rhône (+Villages).
Don't go away.
Rasmus Holmgård
Rasmus Holmgård is a Copenhagen based freelance food and wine writer and lecturer. 10 years as a chef and sommelier in Denmark and France laid the foundation of Rasmus' gastronomic understanding. Since 2004 full time communicator with various newspapers and specialized publications. Does private and corporate wine tastings and lectures and consulting with the food industry in matters of taste, quality and language.