In this inspiring mini series, Copenhagen based wine expert Rasmus Holmgård takes us on a trip through one of the most famous wine regions in the world.
By Rasmus Holmgård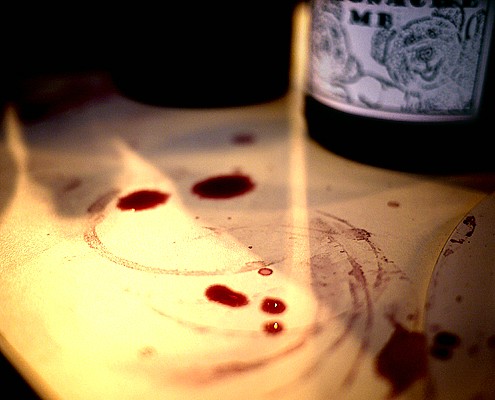 Just entered the bus bound for Avignon. My head is light and full of impressions; teeth dark blue and sore from a relentless bombardment of acid and tannin. The early spring sun hangs low and golden over the unmistakably Southern French village of Beaumes de Venise. It's a beautiful day. The third out of the seven I'm spending in the French Rhône Valley for the biannual professional wine fair named "Découvertes En Vallée Du Rhône" – "Discoveries In The Rhône Valley".
As a young kitchen trainee I used to work in the region and I've come here many times since. But this is my first "découvertes" and though I have yet to make an original discovery, tasting the wines of the Rhône is always a safe source of pleasure. Unique for its ability to combine a rich, ripe, overt and charming fruit with a set of firm tannins and a juicy acidity that will draw a racing saliva secretion all the way from your knees. In fact I get that from just thinking about a great vacqueyras or saint-joseph.
I haven't bought shares in the Rhône Wine Producers Association, however, quite involuntarily I have a lot of sentiments vested in the stylistic expression of the wines here. I thought this'd be a good occasion for me to discuss the qualities of one of my favorite wine regions and to give you a couple of ideas for your next red wine purchase. Those will be the aims of a small series of posts during the weeks to come. Feel free to comment or ask me questions as we go along, and I will try to answer them in the next post.
Today "découvertes" offered three tasting "salons" in three different venues featuring more than a thousand wines from 171 producers. Today's themed appellations were Gigondas (salon 1), Vacqueyras and Beaumes de Venise (salon 2) and Luberon and Ventoux (salon 3). I skipped the third salon. Not because I don't appreciate the wines of the bald Mont Ventoux, but one day is not enough to taste a thousand wines and I had to skip something.
So the 79 wine stained descriptions I managed to scribble into my notebook ranged from generic côtes du rhône and geographically specific so-called "villages" from various terroirs such as Roaix, Séguret, Sablet and Plan de Dieu to the three before mentioned crus (the highest classification of a macro-terroir) Gigondas, Vacqueyras and Beaumes de Venise.
I don't want to bore you with a lot of technical information about the appellations. If you want to know about the soil types, planting densities, maximum yields etc. – google it. These things rarely change. Quality, styles, people and preferences do, and so I think the best I can offer you is a list of my favorite wines from all the tastings from Vienne in the North to Avignon in the south. But they will have to wait until tomorrow. My bus just entered the solid ramparts of the old Papal residence of Avignon putting an end to my laptop time today.
You'll find some actually useful information in part two, which you can read here.

Rasmus Holmgård
Rasmus Holmgård is a Copenhagen based freelance food and wine writer and lecturer. 10 years as a chef and sommelier in Denmark and France laid the foundation of Rasmus' gastronomic understanding. Since 2004 full time communicator with various newspapers and specialized publications. Does private and corporate wine tastings and lectures and consulting with the food industry in matters of taste, quality and language.