There's just four ingredients in this cake but with the right chocolate, and the right chocolate lover, that's all you need.
By Amrita Rawat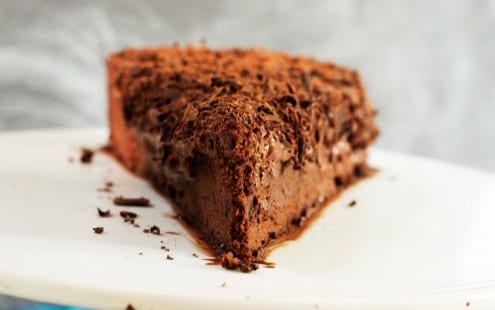 Rich Chocolate Cake
There's just four ingredients in this cake but with the right chocolate, and the right chocolate lover, that's all you need.
Author:
Amrita Rawat, adapted from Damien Pignolet
Ingredients
360 grams bittersweet chocolate, roughly chopped
12 eggs, separated
50 grams butter
40 grams granulated sugar
Chocolate shavings and cocoa powder for decoration
Instructions
Preheat oven to 300 degrees F.
Spray a 10-inch springform pan well.
Melt the butter and chocolate together in a double boiler.
Beat the egg yolks and half of the sugar on high until pale and ribbon-y.
Fold in the chocolate/butter mixture and beat well until combined.
Use an electric beater to whip the egg whites until foamy.
Add in the rest of the sugar and beat until stiff peaks.
Fold the egg whites into the chocolate/yolk mixture in small amounts until fully incorporated.
Pour most of the mixture into the pan, leaving about ¼ or ⅓ batter to put away in the fridge.
Bake for 30 minutes or until you press your finger in the center and it leaves an indentation (mine was crusty and broke when I pressed my finger to it...not sure if I over-baked it but it still turned out great)
Once removed from the oven, immediately overturn on a serving plate and remove the spring form.
Let cool completely (it might sink, that's ok).
And then spread the reserved batter over the top and add chocolate shavings (all different grade of chocolate, like white, milk and dark might be a nice touch).
Sift cocoa powder over the top for pleasing aesthetics.
Amrita Song
Amrita Rawat is the author of the blog Chai and Dumplings. Born in India and a lifelong resident of Atlanta, she recently moved to Saint Louis. Her love for food stems in part from its ability to bring cultures together and in part from how darn good it feels to eat a delicious meal. She loves traveling and has eaten her way through cities like Hong Kong, Paris, Budapest, Mumbai, and Shangri-la. Amrita is also a contributor to Sauce Magazine in St Louis.