Located just a few steps from Madison Square Park, Junoon is a contemporary Indian restaurant with serious fine dining ambitions.
By Kalle Bergman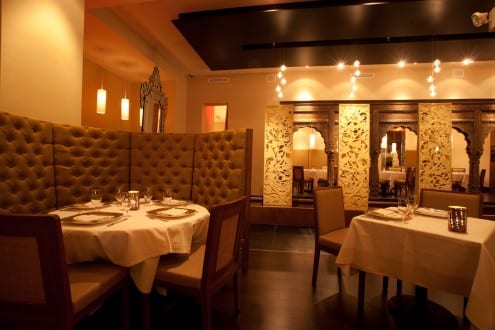 Located just a few steps from Madison Square Park, Junoon is a contemporary Indian restaurant with serious fine dining ambitions. With one of India's most famous chefs, Vikas Khanna, behind the stoves, it has not only earned a Michelin star, but also managed to become something of a tourist destination for Indian visitors to NYC who want to meet the host of Masterchef India. Always the smiling gentleman, chef Khanna is more than willing to come out into the dining room to allow hordes of Indian tourists to take pictures together with him.
The interior design at Junoon is rather grand, sporting a combination of brass colored French gourmet style and Indian artifacts, and the almost 200 seater restaurant can feel a little empty if you arrive early in the evening. Later on, as it fills up, it becomes more lively and the buzz becomes rather inspiring.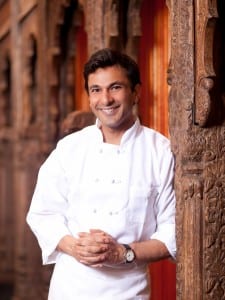 The food at Junoon has two sides. The more traditional a la carte menu featuring paneers, kormas, tikkas and kebabs, served tableside and great for sharing, and a gourmet tasting menu. Honest Cooking went for the large tasting menu, featuring six servings for 85 USD. We also chose the wine pairing for an additional 55 USD, something we looked forward to, eager to throw our own "the only drink that goes well with Indian food is beer" prejudice under the bus.
The pairing turned out to be almost perfect, with a fun mix of German Rieslings, Austrian Grüners, Champagnes, Burgundies and Madeiras that either brings forward the heat in a dish, or cuts the top of the sting just when it is most needed. The pairings never feel constructed, rather perfectly natural companions to everything from garam masala to cilantro to chili. Bravo Junoon! For those who don't want to venture into the world of alcohol, Junoon offers a very nice selection of non alcoholic cocktails, featuring freshly squeezed juices and fresh herbs. They don't do a non alcoholic pairing, but it is a fun adventure to experiment with the different virgin cocktail offerings – most of them which actually go very well with the food.
The tasting menu at Junoon starts out with a delicious cold water langoustine, char grilled and served over a smooth fennel puree and a light lobster curry emulsion. The serving is beautiful, and the flavors delicate – but with the French gourmet visuals going head to head with the Indian spices – it is as unexpected as it is delicious. And throughout the menu, most dishes impress. The wild striped bass malvan, with its powerful but fresh cilantro and coconut sauce, is well balanced – with the crispy skin on the bass adding just the right amount of texture. The masaledar lamb chops, tandoori marinated lamb served with anardana brown butter sauce is perfectly cooked, packs a little bit of a punch. The accompanying curried potatoes though, are a little on the boring side for such a splendid firework of flavors. A nut-allergic co-diner is served wonderful alternative dishes throughout most of the meal, all created on the fly by chef Khanna, and for that we applaud him. Impressive.
We are less impressed with the duck breast with tellicherry peppercorn sauce. The duck is perfectly cooked, but slightly overwhelmed by a very large portion of burmese rice and the (delicious) sauce. Presented as "crispy duck breast", there is no crispiness to be found. Another layer of texture, or some fresh herbs would have been welcome to bind the dish together. The crispy duck skin mentioned in the menu might have worked wonders.
The desserts are good, but we fail to find the Indian flavors in the chocolate hazelnut gateau served with espresso ice cream – and the pancake with ricotta ice cream served for our nut-allergic co-diner also doesn't invoke flashes of Mumbai or Bangalore.
Service is friendly and very professional, and even as the dining room fills up, keeps the pace pleasant.
All in all, Junoon is a beautiful restaurant featuring good service, a great buzz, an eye opening wine pairing and Indian food that is a far cry from your neighborhood curry house. It is well worth a visit.
---
---



Junoon
27 West 24th Street
New York, NY 10010
Website
---
---
The Honest Cooking Rating System
See Also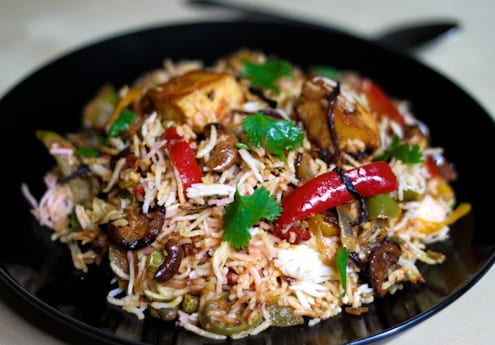 ****** Six stars – Cooking on the highest international level. Service is impeccable and beverages are perfectly paired with the food. A world class dining experience.
***** Five stars – Represents cooking on an international level. Dishes look and taste great and display a personal touch. Service is highly professional making it a dining destination that is really worth a detour.
**** Four stars – This represents very good cooking with ambitions. Solid preparation of all dishes, only very few flaws. A restaurant that Honest Cooking recommends a visit to.
*** Three stars – Represents good cooking, and an above average restaurant, but without the more personal touches and craftsmanship that is demanded of higher ratings.
** Two stars – Represents average cooking. The restaurant doesn't reach a level where the food stands out as anything special, and service / ambience has flaws.
* One star – Represents sub-par cooking and service. A restaurant to stay away from.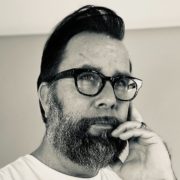 Kalle Bergman
Kalle Bergman is a food writer and media entrepreneur who is the founder of Honest Cooking and PAIR Magazine. As a food writer, his writing has been regularly featured in publications like Gourmet, Los Angeles Times, Huffington Post and Serious Eats. He is obsessed with simple food, more often than not from his native Scandinavia.