Review – El Paso, Authentic Mexican Cuisine in East Harlem, NYC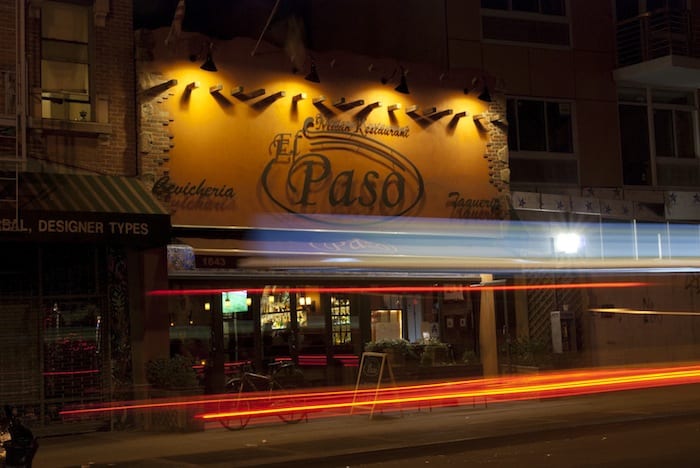 There is good authentic Mexican food in New York City. You just need to go to East Harlem to find it.
By Kalle Bergman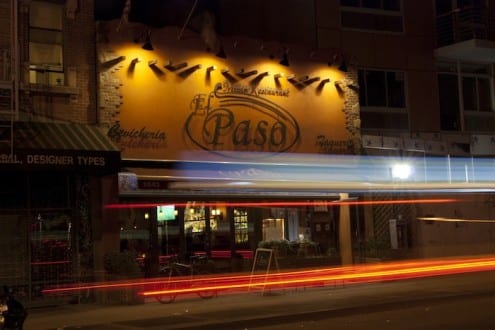 Yes, there is good authentic Mexican food in New York City, and you will find it in East Harlem. El Paso – far from the hipsterfied trendy downtown "Mexican" restaurants – serves food that preaches to no others than lovers of good food.
Enter El Paso on Lexington Avenue between 103rd and 104th streets, and chances are you think you're in the wrong place, especially if you have made the trip up to East Harlem from downtown or Brooklyn. Mexican kitch dominates the interior, but not in that ironic Williamsburg way, rather in a more "let's create what looks like a Mexican restaurant but really is a cruise ship imitation of a Mexican restaurant" kind of style. It's not exactly personal, but that changes as soon as you start interacting with the friendly staff. They are warm, kid friendly and eager to make your stay at El Paso a most pleasant one.
If your spanish isn't what it should be, don't worry, trying to order at El Paso just makes the experience even more authentic. Three tacos might turn out to be six, and six tacos might turn out to be nine. A win win situation, since the food is so good here that over-delivery isn't really a problem.
Start your meal at El Paso with the spicy guacamole, served in a large granite mortar and with a rather imposing bunch of home made tortilla chips on the side. The guacamole is Mexico distilled. Avocado, so flavorful that each bite seems to turn your mouth into a greenery, and with a slight punch at the end from a perfectly balanced added chili. Then try some Mexican ceviche, much deeper in flavor than its Peruvian counterparts, but still with a freshness that bounces off your tongue. Move to the tacos, because this is where things get really fun – the cecina is perfectly salted, moist and tender. The Al Pastor brings the right amount of sweetness and kick. The asada is classic, and all of them freshly presented with just a few condiments – letting the meat speak for itself. The fish and seafood tacos are equally good, with the Baja style fish taco as a favorite. The larger main courses, the platos fuertes, are solid – but less sophisticated. Stick to the appetizers and tacos, and you will not be disappointed.
On the cocktail side, El Paso surprises with a great range of solid Margaritas and signature cocktails. The beer list is limited and very light, but good, and there is a bunch of interesting Tequilas that just beg to be sampled on the menu as well.
El Paso is far from a fine dining restaurant – this is a neighborhood joint the way God intended them to be. Personal, warm, with a few flaws that add to the charm, and most of all – with exquisite food that keeps you coming back for one more fix.
---
---

El Paso
1643 Lexington Ave (between 103rd St. & 104th St.)
New York, NY 10029
P: 212-831-9831
Website
---
---
The Honest Cooking Rating System
****** Six stars – Cooking on the highest international level. Service is impeccable and beverages are perfectly paired with the food. A world class dining experience.
***** Five stars – Represents cooking on an international level. Dishes look and taste great and display a personal touch. Service is highly professional making it a dining destination that is really worth a detour.
**** Four stars – This represents very good cooking with ambitions. Solid preparation of all dishes, only very few flaws. A restaurant that Honest Cooking recommends a visit to.
*** Three stars – Represents good cooking, and an above average restaurant, but without the more personal touches and craftsmanship that is demanded of higher ratings.
** Two stars – Represents average cooking. The restaurant doesn't reach a level where the food stands out as anything special, and service / ambience has flaws.
* One star – Represents sub-par cooking and service. A restaurant to stay away from.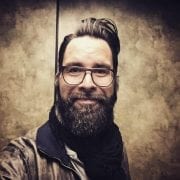 Kalle Bergman
Kalle Bergman is a food writer and media entrepreneur who is the founder of Honest Cooking. As a food writer, his writing has been regularly featured in publications like Gourmet, Los Angeles Times, Huffington Post and Serious Eats. He is obsessed with simple food, more often than not from his native Scandinavia.