There are some restaurants that fit like a glove. Barely through the door, even without seeing the menu, you sense familiarity.
By Carly DeFilippo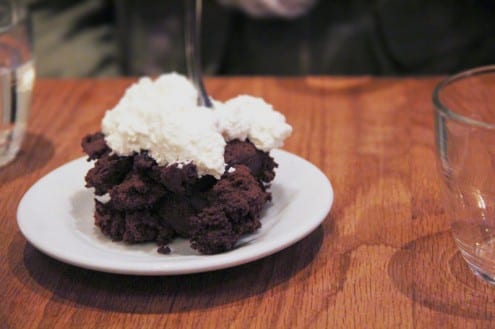 There are some restaurants that fit like a glove. Barely through the door, even without seeing the menu, you sense familiarity. It's not quite déjà vu, because you've rarely seen this before – your kind of restaurant, manifested in the flesh.
Now that doesn't mean this is the best restaurant you've ever eaten in. Of course, it has to be great. But a restaurant that feels like you imagined it yourself is not a constant succession of "wow!" moments. Like Alice in Wonderland, you've tried the bottles that made you bigger and smaller. That was good fun, but this is the bottle that will turn you back to "just right".
Getting to the point, this restaurant – for me, in New York – is Buvette. The first time I went there, I had only a glass of wine and two small plates, but that was enough. From then on, I called it "my favorite restaurant in New York". Sure, I cock my head to think after saying it, knowing I've had more earth-shaking meals elsewhere, but that's not the point.
The point is the charm, the desire to return, again and again. The waiters and bar staff that range from pleasantly gruff to more than accommodating, all dressed in dapper ties and half-aprons. The random assortment of ceiling mirrors that reflect the hustle and bustle of the small space. The conscious and obvious eaves-dropping of the conversations around you. The bathroom whose haphazard "je ne sais quoi" qualities make you wish you had brought your camera.
But for all my affection, it was just this month that I ate a full, proper meal at Buvette. I brought along one of my favorite eaters – a friend whose wealth of cultural experiences has not dampened her enthusiasm for simpler pleasures (case in point: her favorite food is macaroni and cheese). I introduced her to brandade de morue, a long-time provencale favorite of mine. Buvette's was an appropriate balance of creamy and light, briny and balanced. We followed with more seafood, an octopus salad with celery that stunned with its simplicity. If there was a dish of food to eat every day it might be this. Tender, crunchy, refreshing, textural.
As for sides, I insisted on poireaux. To get properly cooked leeks is always a pleasure, and these were cooked in the traditional French vinaigrette style, tender (but not mushy) with an ample dose of whole grain moutarde. As for the cauliflower gratin (chosen by Ms. Mac n' Cheese), it was a reminder of this overlooked vegetable's myriad magical qualities. I'll take mashed, steamed, pureed or roasted cauliflower over the omnipresent potato any day.
And then, the pièce de résistance. I had heard rumors about this chocolate mousse – that it was whipped by hand in copper bowls to achieve a most wonderful texture. However, I could never have imagined what I was about to experience. Luxurious, dense, creamy, resistant and yet yielding – I'm not sure you can even legitimately call it mousse. It's too intense to eat alone, even with its dollop of exquisite whipped cream. The essence of dessert, hailing from a time before we decided to emulate the hyper-sweet, high fructose corn syrup universe in which we currently live. In short – and in summary – it's not to be missed.
Buvette
42 Grove St
New York, NY 10014
(212) 255-3590
Website
Carly DeFilippo
Carly is a Contributing Writer at Honest Cooking. Though the first line of her college application essay was "I love tunafish," it wasn't until she pursued graduate studies in Paris that she ever considered a future in food. Based in Manhattan, Carly is a freelance writer and the co-founder of Cognoscenti Creative, a boutique branding agency dedicated to establishing artisans as influencers.