Riccardo Costa judges the cook off competition at the New York Cook Out 2012 festival.
By Riccardo Costa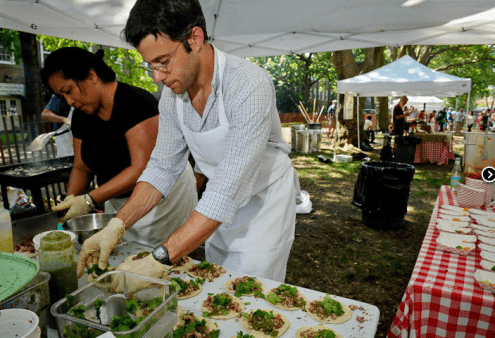 I'm always surprised by Jimmy Carbone's abilities to throw such great events like the Cook Out NYC 2012 on Governor's Island. He asked me to be a judge for the cook-off competition, and I was truly honored. The selection of the competitor chefs is so fierce that they would have little to fear in a competition on a Food Network show cook-off. Actually, I feel that there's less cook-off drama among the contestants and more passion for tasty cooking because it's not just about winning. To see the faces of average people savoring their creations is the cook-off trophy right there.
Food Karma did an excellent job of gathering such a diverse field of talent and offering customers reasonably priced eats for this special food experience. I voted for High Point Farms as Best Slider for their beef burgers with Pepper Jack Cheese and Homemade Ketchup. The taste of the meat was so fresh, flavorful and juicy that it almost didn't taste like 100%  beef but rather a mix of lamb, beef and wild boar, which would have been fine by me. My only criticism is that the quality of the meat could have been matched better with perhaps a sweet croissant bread.
I'm happy that High Farms won as best slider. I wasn't blown away by the hot dog offerings because I found the meat overall to be too spicy and adding to that the different types of mustards and other toppings (sometimes very spiced too) made it  hard for me to distinguish the tastes. Personally, I would have much prefer a less spicy frankfurter. Best in Show, and well deserved, was Jimmy's 43 Sirloin steak with chimichurri sauce. It was  exceptional.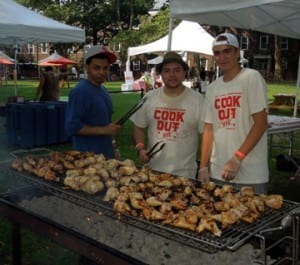 I had 4 servings and craved  more. Perfectly cooked, tender, lean with an original freshly made chimichurri sauce, Jimmy's 43 was by far the best dish of that day! I love how Jimmy's 43 always finds a new way of presenting classically simple dishes such as sirloin steak. You don't need a hundred ingredients to make a steak taste special. You can impart an accenting flavor with the addition of a simple chimichurri sauce. Unfortunately, I didn't get to try the Bison slider from Alobar. When I got there, they were out of those, which was a good sign, but not for my appetite. On Sunday, each competing chef had to make an improvised dish using kimchi paste for the judges to taste. Chef King Phojanakong won hands down. He made a masterpiece in no time with plenty of creativity and taste bud appeal.
Ok I'm ready now for Jimmy's next event… Pig Island Cook festival on Sept 1st. I'm there!