An aromatic lentil tart based on a simple mixture of aromatics and roasted vegetables, topped with a light sprinkling of Parmesan.
By Sarah Khanna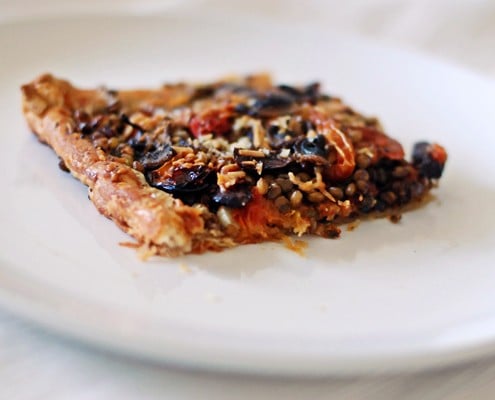 I only recently discovered my love for lentils. Growing up with an Egyptian mother, lentils were a part of at least one meal a month. As a nation that carries the weight of many underprivileged people, lentils were an easy way to get some much needed protein in a diet mainly consisting of carbohydrates. Shunned by many in favor of animal-based protein, lentils have now been reduced to fare fit for prisoners or the poor.
Rediscovering my love for lentils and their versatility a few years ago, I found myself thinking of ways to reintroduce it into our household without getting looks filled with loathing from my husband and step kids alike. One morning, while reminiscing about my childhood, I could almost smell the mini pizzas made with a puff pastry base served at almost everyone's birthday parties. Buttery and enveloping the room with the smell of tomato sauce, black olives and roasted peppers, I could see it working perfectly with a heavy hand of lentils and the almost complete reduction of cheese.
Finding that the children were more receptive to eating lentils when baked in something as opposed to a big bowl filled to the brim with soupy Indian daal, the decision was made that they would be eating lentils a lot more regularly and they would like it to. There was no room for negotiation.
Luckily, my twist on our Egyptian puff-pastry mini-pizzas worked and we ended up eating the whole pie eagerly and without the last slice lingering away desolately in the fridge. Success.
Print
Aromatic Lentil Tart
An aromatic lentil tart based on a simple mixture of aromatics and roasted vegetables, topped with a light sprinkling of Parmesan.
Author:

Sarah Khanna

Prep Time:

30 mins

Cook Time:

18 mins

Total Time:

48 minutes

Yield:

4

1

x
1

square sheet of ready-rolled frozen puff pastry, thawed

1

egg, lightly whisked
a cup (200 grams) of brown lentils, rinsed

2 cups

of vegetable stock or water

2

garlic cloves, sliced

2

medium-sized tomatoes, sliced

2 tablespoon

of olive oil

6

pitted Kalamata olives, roughly chopped
a medium onion, finely diced

5

fresh button mushrooms, sliced

1 teaspoon

of thyme

1

medium-sized red bell pepper, roasted, peeled, deseeded and diced

1 tablespoon

of balsamic vinegar

1

loose handful of grated Parmesan cheese
Salt and freshly ground black pepper to taste
Instructions
Preheat your oven to 180 degrees Celsius.
Cook the lentils in a pot of simmering vegetable stock or water over medium heat for 10-15 minutes and set aside.
Place the sliced tomatoes in an over-proof dish, drizzle with 1 tablespoon of olive oil, salt and pepper and roast for 20 minutes.
Remove from the oven and set aside.
Sautée the onions in 1 tablespoon of olive oil until translucent then add the mushrooms in 1 tablespoon of olive oil and 1 teaspoon of thyme until tender and set aside.
Preheat your oven to 180 degrees Celsius again.
Lay the puff pastry sheet out on a baking tray and fold over 3 cm of each side to create a border.
Poke holes with a fork inside of the border you've created and brush lightly with olive oil.
Brush the border of your pastry with the whisked egg.
Begin to layer the tart. Spread half of your cooked lentils and garlic slices to cover the bottom of your tart.
Begin to layer your roasted tomatoes, roasted peppers and olives then top with a second layer of lentils and sautéed mushrooms.
Drizzle with a tablespoon of balsamic vinegar, salt and pepper and move the tart to the oven.
minutes into baking and using a light hand, sprinkle the Parmesan cheese over the top and continue to bake until the pastry reaches a golden brown color.
It should take around 15-18 minutes to bake in total.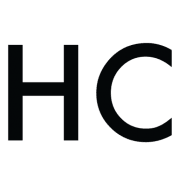 Sarah Khanna
Sarah Khanna is the half-Egyptian, half-Indian author behind Buttered-up.com who quit her Cairene career in advertising to become a full time cook, writer and photographer in Kuala Lumpur. She is also a weekly food columnist for the Daily News Egypt where she critiques Arab food culture. Raised as a hotel brat, Sarah has moved frequently but considers Egypt to be her real home. She loves butter and knives and shudders at the sight of canned tuna.