Rellenitos de Plátano Maduro – Stuffed Ripe Plantains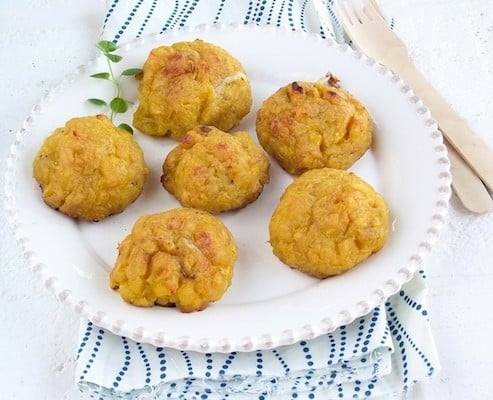 These plump little balls of yellow sweetness are delicious, you'll want to eat them every day. The crust is crisp, while inside is creamy and sweet.
By Yadsia G. Iglesias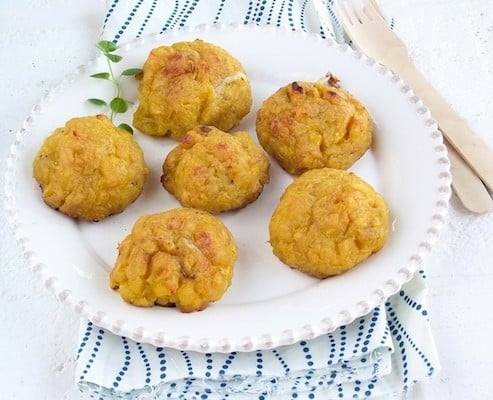 It's that time of year when we realize that we have very little time to lose a few pounds before the holidays. Most of us immediately think that we need to stop eating our favorite foods, but eating better doesn't have to be a miserable experience.
What I like the most about the holidays is that wherever I go, there is typical latin food. Although rice and stewed beans are part of the daily diet of many puertorricans, at least in my house, it is not. The truth is that I can't prepare a good pot of stewed beans even if I tried. That's the reason I learned to prepare curries and bean soups.
I want to share a recipe I learned from a blog about Dominican food. These plump little balls of yellow sweetness are delicious, you'll want to eat them every day. The crust is crisp, while inside is creamy and sweet.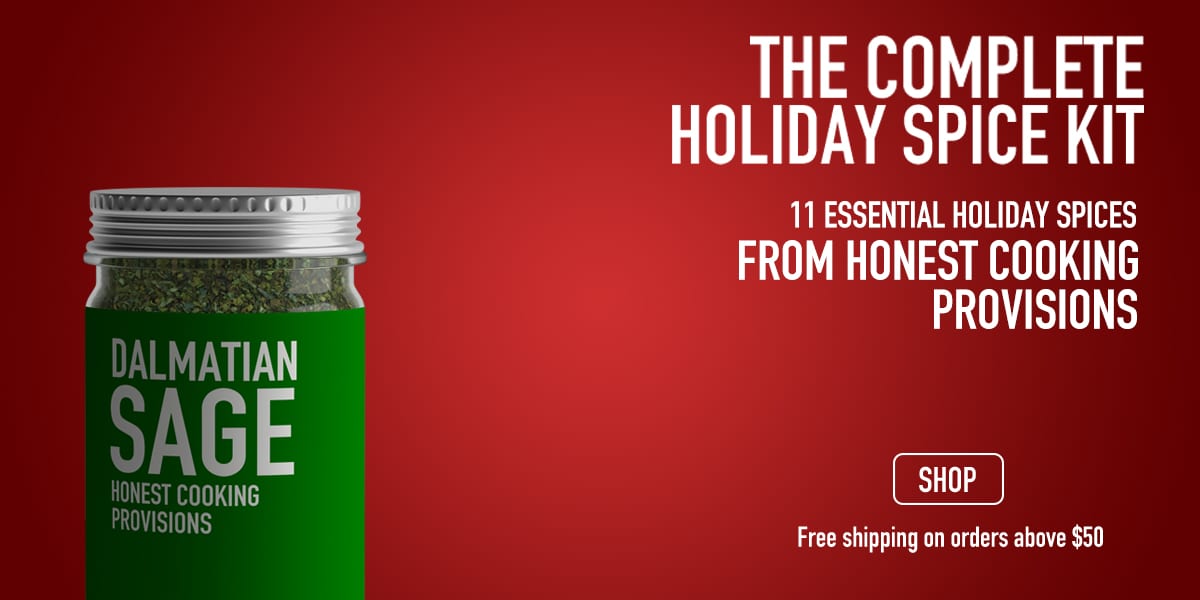 Ripe Plantains (or plantains in general) are an essential part of Caribbean cuisine. You can't go to a restaurant in the islands without finding Amarillitos Fritos (Fried Ripe plantains) as a side dish. This recipe tries to mimic the flavors, but the Rellenitos are oven baked instead of fried.
They are perfect to serve as an appetizer. I prefer to serve them at lunch with a simple vegetable salad and a tangy vinaigrette. Another way to prepare them is by rolling the little balls in Parmesan cheese before baking.
They can be stuffed with vegetables, ground beef or guava paste. This time, I wanted to use cheese. Cheddar or mozzarella are ideal, I used Havarti (a Danish cheese) because of its buttery taste and soft texture.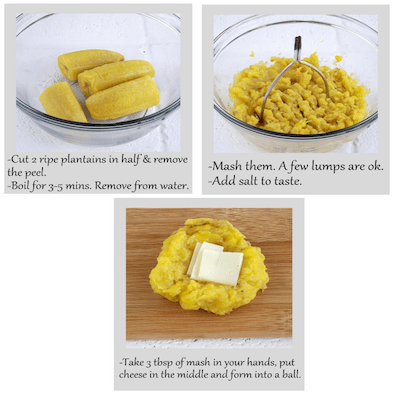 Stuffed Ripe Plantains (Rellenitos de Plátano Maduro)
Oven baked balls made from ripe plantain, are delicious and figure friendly.
Author:
Yadsia G. Iglesias
Ingredients
2 Ripe Plantains
3 ounces (85g) of Cheese (Mozarella, Cheddar or Havarti)
Water (for boiling)
Salt to taste
Instructions
-Peel and cut the plantains into two pieces each. Boil in salted water for up to 5 minutes. Just to soften them. Remove from water and let them cool for 5 minutes.
-Mash the plantains, a few lumps are okay. Take about 3 tablespoons of the mash in your hand, place a piece of cheese in the middle and form a ball around it.
-Place each ball in a baking sheet (about six total). Bake for up to 25 minutes at 400 degrees or until they're golden outside. Let them cool a bit before eating.
Yadsia G. Iglesias
Born and raised in Puerto Rico Yadsia has a B.A. in Early Childhood Education and is currently trying to survive an M.B.A. Her goal is to convey her Afro-Caribbean heritage through food.