Joan Nova sets out to gently escort an old classic into the 21st century.
By Joan Nova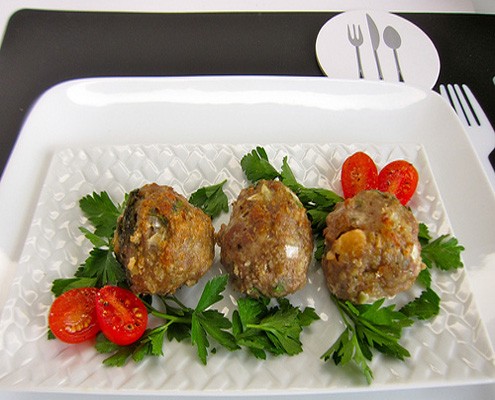 I'm not a traditionalist. Never claimed to be. Not in my beliefs, not in my life's decisions and certainly not in my kitchen. I stand squarely against doing things a certain way (or any specific way) just because that's how they are/were conventionally done.  It may be a controversial stance to some who hold tradition dear, but for me to do otherwise would be contra my mind's eye. Sure, I'm influenced and guided by prevailing wisdom and 'tried + true' experiences, but I adhere to the view that every.single.thing in life could – and should – be routinely revisited, questioned and perhaps reinterpreted with the passage of time. That goes for relationships, behavior, beliefs, politics, style…and food!
When it comes to meatball sandwiches, I've eaten my share…although not recently. In fact, it's been a long time what with watching calories and a changing perspective of what constitutes good food.
Much like this photo when I think of a meatball sub, I conjure up memories of:
heavily sauced,
long and slow cooked meatballs,
that are squished into a soft bread,
with spooned over sauce permeating the dough and making it…well, doughy.
It's just a big mush. To take it  a step further and make the sandwich 'parmigiana' adds yet another layer of mushiness. Now this may make some of you drool. I used to be that way. But it's not the way I eat anymore.
Calories and nutritional value aside… there's no textural contrast, every bite is a blur on your palate, nothing stands on its own, and the visual doesn't help to separate and identify the ingredients either.
It just doesn't work for me anymore.
There are many names for this type of sandwich. Growing up in NYC, the term we used was "hero" or "sangwich" :) but elsewhere it's a sub, grinder, hoagie, blimpie, rocket, torpedo and spuckie! Spuckie?! Whatever you call it, the recipe is simple…it's a filled sandwich served on Italian or French bread. According to Wikipedia, the sandwich originated in Italian-American communities who settled in the NE United States in the late 19-mid 20th centuries.
Building the 2011 meatball parm sub starts with really good bread.
And the meatballs, of course. Where I differed from the traditional (ground meat, beaten egg, onion, garlic, parmesan, breadcrumbs, basil, dry seasonings) was I used turkey and added white cannellini beans to the mixture. First time I ever did that, but not the last. By baking the meatballs at 375 instead of frying and not adding them to a sauce, they retained their garlicky cheesy taste and structural integrity.
I'm a big fan of using fresh mozzarella and raw tomatoes in places where you'd generally find them cooked or baked. I often do it with pasta, vegetables (especially eggplant) and, as you can see, in sandwiches.
So instead of the 'parmigiana' component, I went for more of a tomato caprese.
Next came the meatballs.

And, then, just to keep it fresh, I topped it off with an Italian Slaw made of shaved fennel, radicchio, green onion and parsley with olive oil, dry seasonings, garlic and lemon dressing.
I didn't set out to reinvent the meatball parm sub, but I'm glad I did. It started because I had ground turkey and a container of leftover white cannellini beans. I wasn't even thinking meatballs but then one thought led to another. You know how that is.
It may not be a traditional meatball sub but when you take a bite…
you get toasted artisanal bread, creamy fresh mozzarella, sweet fresh tomatoes, garlicky and cheesy meatballs, and a fresh salad that complements and brings everything together. Mamma mia, sono buono!
Other uncooked 'parm' dishes:
No Bake Eggplant Parm Sandwich
Summertime Eggplant Parm: e molto delizioso
Eggplant Napoleon
Joan Nova
Joan Nova is the publisher of FOODalogue: Meandering Meals, Musings + Travel which melds her lifelong passions for food, travel, photography and publishing. Her culinary style is bold and colorful with finishing touches that take each dish to the next level. She is an active participant in many online food organizations.