Complete with chillies, this dal is anything but boring. To help manage the heat and enjoy this protein rich stew, top with cucumbers and yogurt.
By Sowmya Dinavahi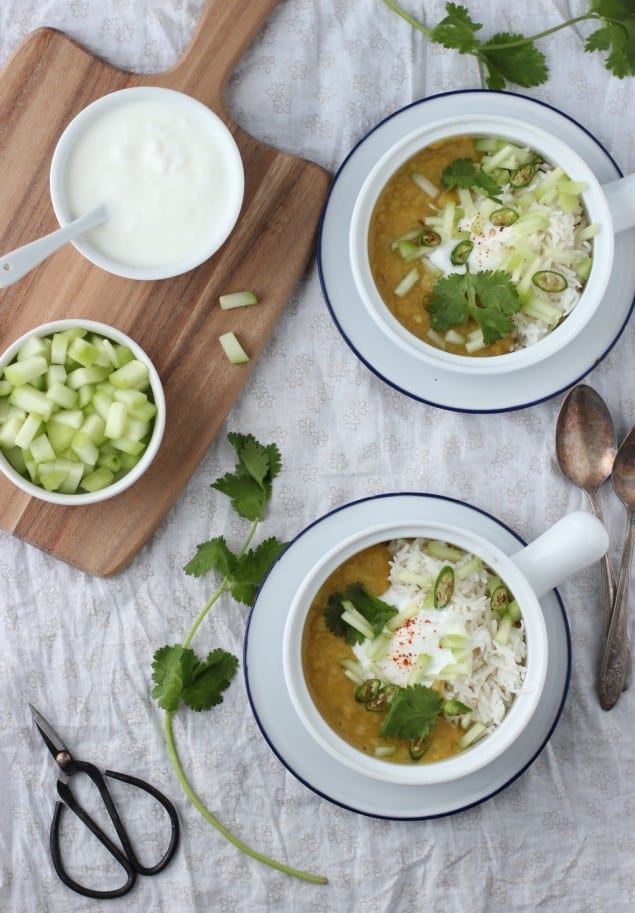 In Andhra Pradesh, people have rice mixed with lentils and ghee and take a bite of salted green chillies in between morsels. You will only have to taste it to experience it as I do not have any words to describe that taste. This recipe uses a similar concept but with a few little additions to make it manageable for people that do not like spice. The additions are yogurt and cucumber that reduce the heat from chillies.
You can have it on a cold day and feel filled. Plus Lentils are a great source of protein too.
Refreshing Dal with Yogurt and Cucumbers
Ingredients
1 tsp of cumin seeds
2 tbsp of olive oil
1 cup diced onion
4-5 garlic cloves,minced
2 tbsp minced and peeled fresh ginger
1 tsp turmeric powder
2 cups of dried red lentils, rinsed
salt to taste
Toppings
½ cup diced onion
1 cup diced cucumber (peeled and seeded)
1 fresh green chilli, thinly sliced
¼ cup of chopped fresh coriander leaves,plus few sprigs for garnish
1 tbsp of lemon juice
4 cups of cooked basmati rice
1 cup of plain yogurt
Instructions
Heat a medium pan over medium high. Add oil and once its hot, add some cumin seeds until fragrant.
Add some onions,garlic and ginger. Cook,stirring often,until tender, about 5 minutes.
Add some turmeric and cook for 1 minute.
Add 5 cups of water and the lentils. Bring to a boil; reduce to simmer and cover it partially.
Cook until lentils are thick and soft for about 15 minutes. Season with salt.
Meanwhile, combine onion,cucumber,chopped cilantro and lemon juice in a bowl; season with salt and chili powder(Optional)
To serve, divide rice among 2 bowls and ladle lentils over rice; top with yogurt and cucumber mixture. Garnish with cilantro leaves.
Sowmya Dinavahi
Sowmya shares her culinary journey and passion for cooking and photography on her blog named 'Messy Kitchen Stories'. Her cooking style is mostly authentic South Indian cuisine and a little bit of Baking.She likes to cook anything and everything vegetarian. Mostly She tries to recreate the magic that her mom creates in her traditional South Indian dishes. Apart from that, If she loves something that she had outside, she cannot rest until she make it exactly the way she had it. She is a native from India but currently residing in Lincoln, NE with her husband.