Red Wine Spaghetti with Spicy Rapini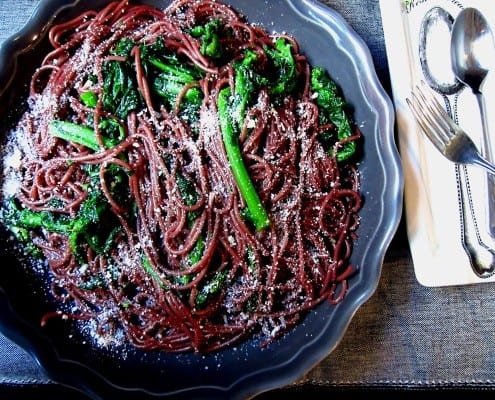 A colorful spaghetti cooked in red wine and paired with spicy broccoli rabe.
By Jessica Chang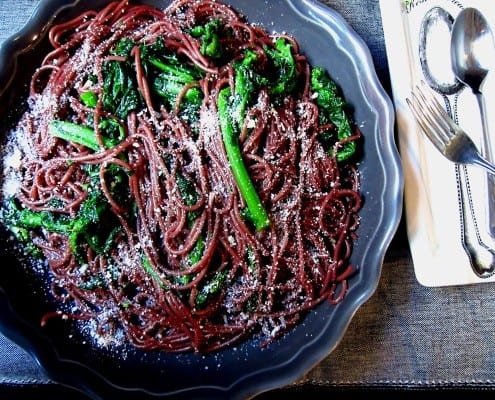 Pasta is probably one of the most versatile dishes out there. It can be fun, easy, gourmet, romantic, and most importantly, it is always delicious. Now this pasta is simply spaghetti that finishes cooking in red wine and mixes with sautéed and spiced rapini. It's time to surprise your significant other, family, or friends at the dinner table with this perfect dinner idea for two.
This is a recipe adapted from Serious Eats. Enjoy.
Red Wine Spaghetti with Spicy Rapini Recipe
Spaghetti cooked in red wine and paired with spicy broccoli rabe.
Ingredients
1½ lbs (685g) of broccoli rabe, or rapini, thick stems removed
1 lb (457g) spaghetti
one 750 ml bottle of dry red wine (bordeaux, zinfandel, cabernet, pinot noir, etc.)
1 tbsp of sugar
⅓ cup extra-virgin olive oil
4 garlic cloves, sliced
½ tsp red pepper flakes (or less if you prefer it less spicy)
1 tsp kosher salt, plus 1-2 tbsp for cooking spaghetti
½ tsp black pepper
½ cup grated parmigiano-reggiano
Instructions
Bring a large pot of salted water to a boil. Add rapini and cook for 3 minutes. Remove rapini with a wire skimmer and spread on a baking sheet.
Bring water back to a boil and add spaghetti. Cook until a few minutes away from al dente (6 minutes or so). Reserve a cup of cooking water and drain pasta. Return empty pot to stove.
Add wine and sugar and bring to a boil over high heat. Cook until reduced by half, about 8 minutes. Add drained pasta and stir well. Cook until most of the liquid is evaporated, about 4 minutes. Stir frequently to prevent pasta from sticking.
Meanwhile, heat olive oil in a large saute pan over high heat. When oil starts to shimmer, add garlic and immediately reduce heat to medium-low. Cook for 3 minutes. Add red pepper, rapini, salt and pepper and cook for 1 to 2 minutes.
Add rapini mixture to pasta along with ½ cup of reserved pasta water. Gently toss to combine. Garnish with grated cheese and serve immediately.
Jessica Chang
Jessica Chang writes the food blog Bacon and Soufflé and currently lives in Los Angeles, California with her husband and her dog Skye. Her favorite moment of the day is sharing a few laughs with her husband at the dinner table. She shares her inspiration and dinner ideas for two on her blog.