Back from a week on the road, Christina Soong-Kroeger is happy to get her hands dirty in the kitchen again.
By Christina Soong-Kroeger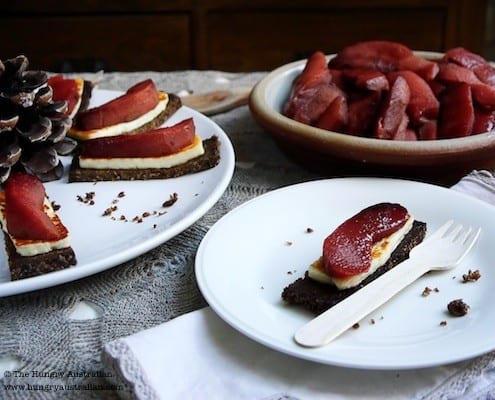 After a week spent travelling around some of South Australia's most wonderful food regions on the Tasting Australia media famil, I've been dying to get back into the kitchen.
In particular, I've been keen to make this dish – Red Quinces, Haloumi and Rye – inspired by the work of two different Chefs – Mark McNamara, outgoing Head Chef of Appellation at The Louise in the Barossa Valley, and Simon Burr, Head Chef of Kangaroo Island Sailing, based at the Fleurieu Peninsula.
Last week I found myself sailing around the Fleurieu coast on Lady Eugenie, Kangaroo Island Sailing's 21 metre long ketch rigged yacht with a dozen international food media. While we sipped sparkling wine and enjoyed the sun and spray, Simon prepared delicious canapés in the small kitchen below deck.
One particular canapé caught my attention – Simon had topped toasted bruschetta slices with fried haloumi and poached quinces. The unusual combination was stunning, eliciting approving nods from the crowd of serious foodies.
Then yesterday, I enjoyed a sublime citrus pie with red cooked quinces and thick Jersey cream as part of our lunch at Appellation at The Louise. The colour of the roasted quinces was superb – deep, passionate and sexy – and the flavour was intense and compelling.
So I decided to pair fried haloumi with roasted quinces. However, I thought that grilled bruschetta would be too neutral against the deep colour and flavour of the roasted quince so I went with dark rye bread (pumpernickel) instead.
I'd never cooked quinces before but I wasn't worried. The lovely Grant Allen from the New Zealand Herald had given me a step by step summary of how Mark prepared his quinces, and his own helpful tips of how to cook them.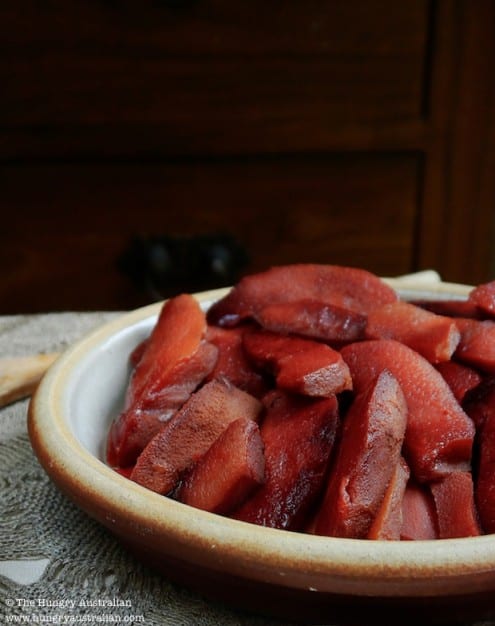 So this morning, as soon as I had turned on the kettle for my morning cup of tea, I started peeling quinces. They needed at least four hours in the oven – overnight was actually best – and I wanted to get started as soon as possible so I could enjoy them for a late lunch.
So did my version actually work? Absolutely and then some. The saltiness of the haloumi was beautifully set off by the honeyed sourness of the quinces (I'd used rather less sugar than usual) and the sweetish intensity of the rye bread.
This is hands down one of the sexiest entrees or appetizers I've ever made – it's definitely a dish for grown up. Like an old-fashioned movie star it smoulders on the plate, inviting you, nay, daring you, to take a bite.
What do you think? Could it be love at first bite?
Thanks to all the boys for the inspiration, to Victoria at the Barossa Valley Cheese Company for the haloumi, and to Tasting Australia.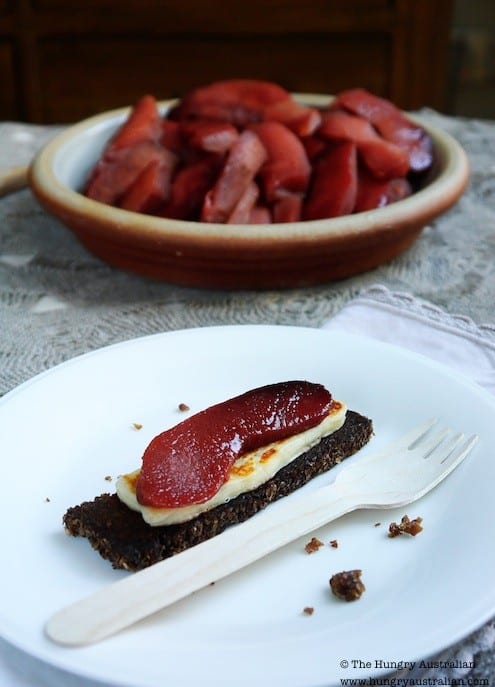 Print
Red Quinces, Haloumi & Rye
A gorgeous appetizer or canapé for grown ups
Author:

Christina Soong-Kroeger

Prep Time:

15 mins

Cook Time:

4 hours 10 mins

Total Time:

4 hours 25 minutes

Yield:

6

1

x
3

quinces

4 tablespoons

verjuice

1/4

–

1/3

cup caster sugar

1

x 200 gram packet pumpernickel (rye bread)

1

x 150 gram packet haloumi
Instructions
Preheat oven to 140 degrees Celsius.
Peel and core quinces, keeping skins and cores.
Cut quinces into quarters, then cut each quarter into three slices, length-wise.
Scatter the peel onto a lined baking tray, then place the quince slices on top in neat rows.
Scatter the cores over the top.
Sprinkle with verjuice and sugar then cover with a sheet of baking paper.
Completely cover baking tray with 1-2 sheets of tinfoil, tucking under the pan edges to form a seal.
Bake quinces in the oven for at least 4 hours. If you want to bake them slowly overnight (i.e. 6-8 hours) reduce the heat to 100 degrees Celsius.
Once the quinces are done, carefully remove quince slices from pan (they will be delicate) and discard cores and skins.
When you are ready to eat, slice the haloumi into 12 even slices.
Heat up a large frypan.
Without any oil, fry the haloumi slices for a couple of minutes on either side until brown and bubbling.
Place a slice of haloumi onto each piece of rye bread and top with a quince slice.
If I was making this as an appetizer I would serve two large slices per person. For canapés, I would cut each slice into three smaller pieces so this quantity would give you 36 canapés.
Christina Soong-Kroeger
Christina publishes The Hungry Australian - a collection of recipes, reviews and stories about food - and is a regular contributor to Sumptuous. Her writing has appeared in the China Daily and That's Shanghai while her photography regularly appears on Foodgawker, Tasteologie and Photograzing. After eating her way around Shanghai, London, Hong Kong, Leeds and Melbourne, she now calls Adelaide, South Australia, home again.