If you have a busy week ahead, but you still need good food to fuel your days, try this buttered red curry shrimp served over rice, noodles or on their own. It can be done in minutes.
By Becky Winkler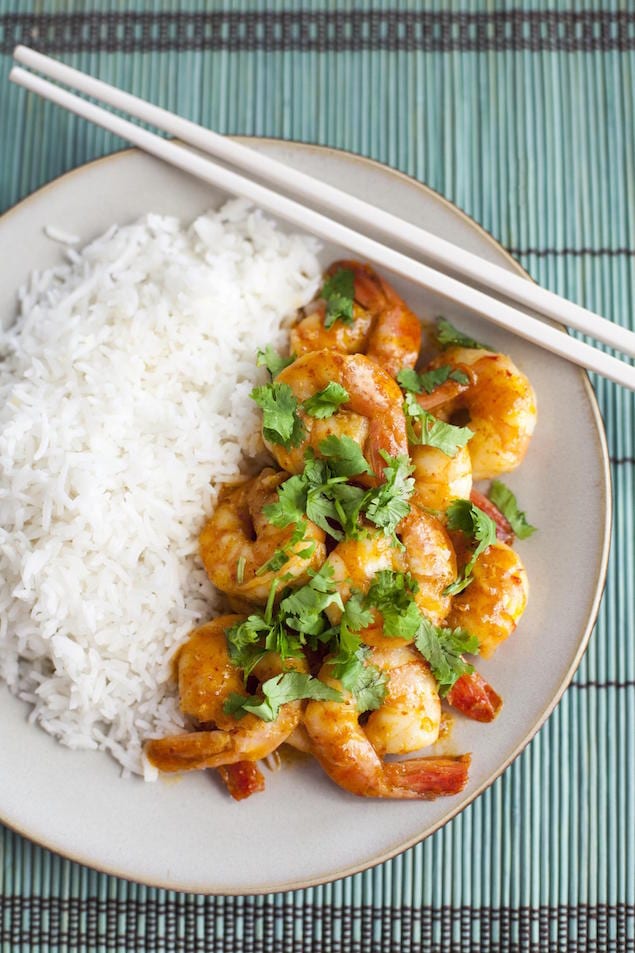 What's a girl to do without any eggs for breakfast and with a long day of packing ahead of her? The answer is definitely not grocery shopping. The answer is curry butter shrimp! Yes, I ate this at ten in the morning. No, I have no regrets. #dinnerforbreakfast may not be mainstream yet, but just you wait and see!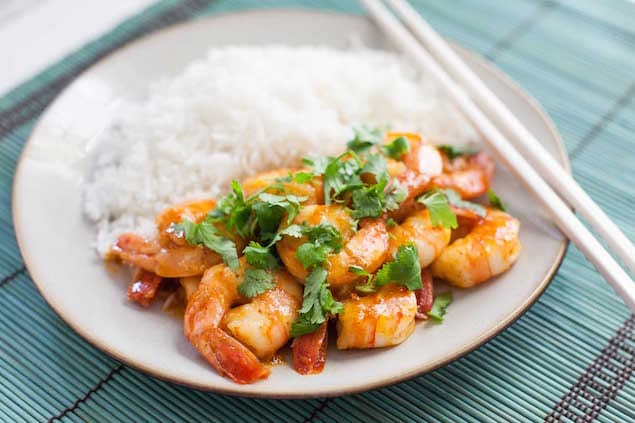 See Also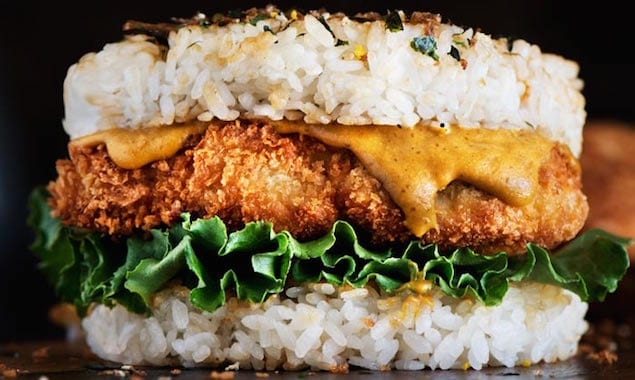 Curry butter shrimp is a flavorful pantry recipe that requires almost no chopping (except for the cilantro–but if you're really anti-chop you could just break that up into little sprigs). Melted butter or ghee is mixed with Thai curry paste to form a fragrant sauce for cooking the shrimp. A tiny bit of maple syrup and fish sauce add just enough sweetness and umami to complement the rich butter and spicy curry.

Red Curry Shrimp
If you have a busy week ahead, but need good food to fuel your days, try buttered red curry shrimp over rice, noodles or on their own. It can be done in minutes.
Ingredients
3 tablespoons unsalted butter or ghee, divided
1 tablespoon panang or red curry paste, or more to taste (I used Maesri)
1 pound shrimp, peeled and deveined, tails removed if desired
1 teaspoon maple syrup, honey, or coconut sugar (optional)
¾ teaspoon fish sauce, or to taste
Instructions
Chopped fresh cilantro, for serving
Melt two tablespoons of the butter in a very large skillet over medium heat. When the butter is melted, add the curry paste and stir until the curry and butter are thoroughly mixed.
Raise the heat to medium-high and add the shrimp in a single layer. Cook for 2-3 minutes, until pink on the bottom. Flip the shrimp over and cook for 2 more minutes, or until the shrimp are opaque throughout. Stir in your sweetener of choice, if using, and the fish sauce.
Turn off the heat, add the remaining tablespoon of butter, and stir until the butter is melted and incorporated. Serve the curry butter shrimp topped with fresh cilantro, alongside white rice or cauliflower rice if desired.
Becky Winkler
Becky Winkler is an enthusiastic eater who shares paleo and gluten-free recipes on her blog, A Calculated Whisk. She enjoys chopping chocolate, salting dessert, searing short ribs, and taking pictures. In her other life, she's a grad student in Boston.