In the midst of New York City, find a delicious taste of Paris at Rebelle restaurant with a beautiful space, great food, an extensive wine list, and understanding staff.
By Mitch Weinstein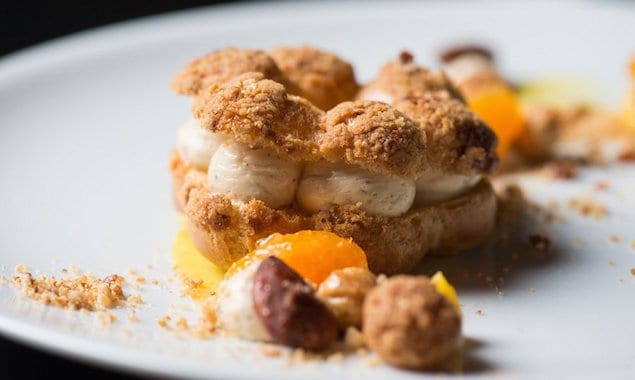 www.rebellenyc.com
You know, if it weren't for the Bowery Mission directly across the street, or the traffic heading to and from the Manhattan and Williamsburg bridges, or the fact that Significant Eater and I walked to the brand-spanking new Rebelle in under 15 minutes, we could've sworn we were in Paris. I mean, not on the Boulevard Saint-Germain or anything, but maybe, just maybe, somewhere in Paris.
Originally, our plan was to walk by Rebelle, see if if was slammed, and continue walking north on the Bowery to another destination. But when we peeked in, we saw two seats open at the bar, and decided to at least stop in for a drink. Once seated (and it's worth mentioning that Rebelle actually has comfortable bar seats), cocktails in hand, our plans changed and I asked one of the très chic hostesses about a table in the dining room; the next thing you know, we're being escorted to a table into the skylit (well, during the day, anyway) back room, sitting and looking at one of the très gorgeous open kitchens I've seen in New York – like…ever.
Rebelle's from the team that also runs Pearl & Ash, right next door. Good start. The chef is Daniel Eddy, who was chef de cuisine, at Spring in Paris, for a few years – yep, he really cooked there, as opposed to showing it on his resume, a la every cook and his brother claiming a stage at noma.
So what does a chef, whose been cooking with great ingredients in Paris, do when he or she gets to New York City? Well, how about cooking in that style, but using many of the great ingredients we have available? I'm certainly not one who insists that ingredients have to be local or grown on the roof; that's fairly impossible here over the winter. And now it's spring, so even if the asparagus or leeks are from California or Mexico this month, I want them. And Daniel's way with these vegetables is damn good. The juicy asparagus, served with charred young (okay, spring) onions, fiddlehead ferns, and roasted hazelnuts, are just fine – especially when they've gotten an unexpected hit of sweetness – from maple. And Significant Eater barely let me have my half of this leek dish, a delicious take on a classic (with ash!)…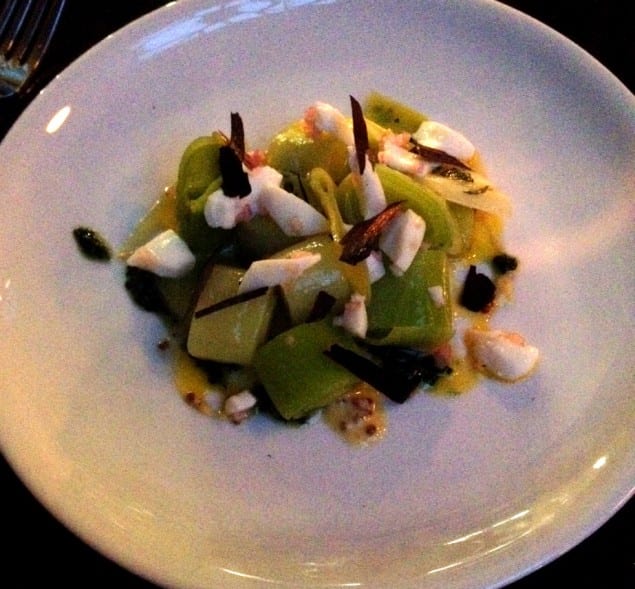 Chef Eddy's fluke (local, perhaps?) dish was fine, but the scallop dish was a real winner in my book. I'm pretty sure these scallops are local (they should be – we have the best), though the uni that sneaks in the dish is probably from, maybe, Maine? Who cares…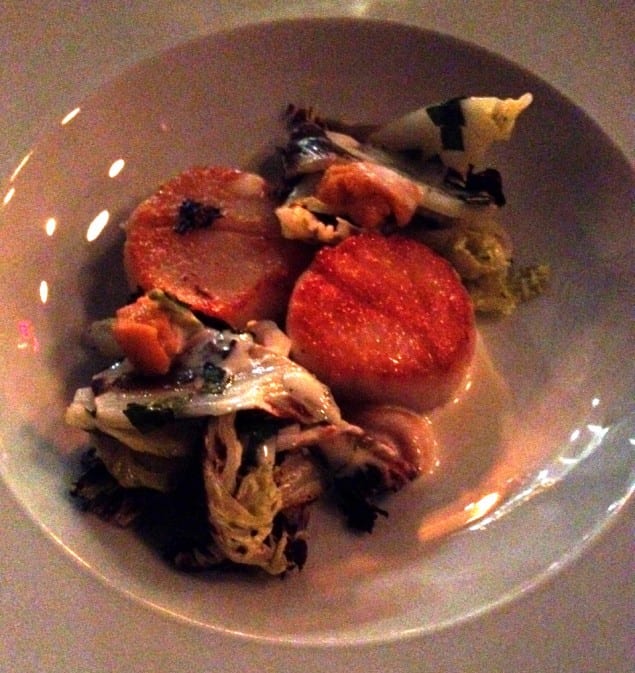 Main courses for us were a duck breast, perhaps a play on duck à l'orange, served with endive, orange sauce and smoked almonds. Once again, showing fine cooking chops, my magret was plainly and perfectly cooked.  Significant Eater ordered the "beet bourguignon;" not totally satisfying to two carnivores, but at least we thought it was good for us. Unfortunately, we didn't notice the menu said "beet" instead of "beef" – that's what happens when you start looking at the food menu after cocktails and that first glass of wine – and I think it would be nice if your waitperson mentioned the fact that you've just ordered beets, not beef!
This being Paris New York City, we figured why not have the special cheese course before dessert?  A big plate of sliced Comté was ours – again, it would be nice if they let you know what you're in for with the Comté – that is – $21.
See Also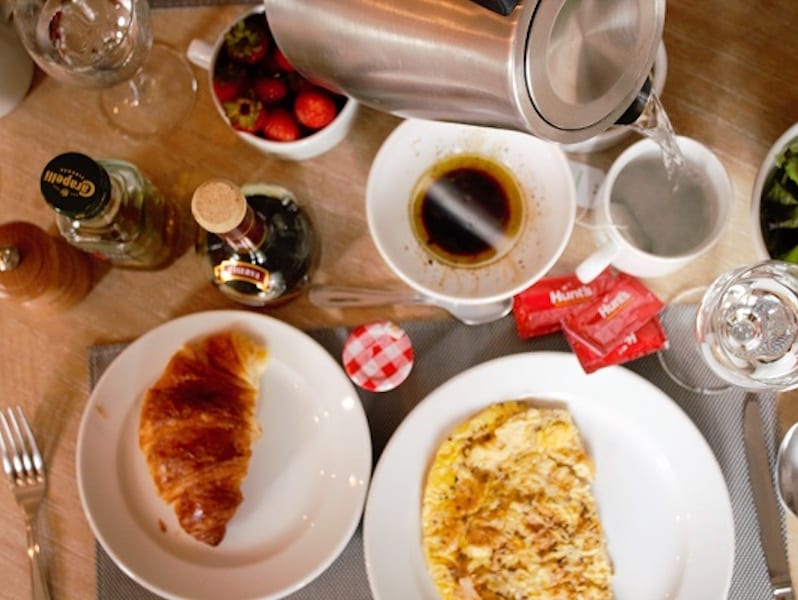 Desserts are the from the hands of Jessica Yang, who has cooked at some fairly heavy-duty spots. Our Paris Brest, a dessert that is not easy to make (if my attempts in cooking school were any indication), was fantastic – and averaging the cost in with the Comté, we're talking under $15 each – you can do the math.
As reported in all the food media, and as to be expected from the Pearl & Ash crew, the wine list is, shall we say, deep (1,500+ bottles). After cocktails, we enjoyed a nice half-bottle of Alsatian Riesling to go with our first course or two, and then a few by-the-glass suggestions to go with the rest of our food. Any wine geeks – this is the place for you. And on my next visit back, I plan on sitting at the bar and having some "snacks." There's a beef dish that's calling my name.
Go? Are you kidding – of course! Beautiful room, great food, great wine list, nice staff – what are you waiting for? In my opinion, Rebelle's already running on all cylinders…it should only get better.
Check out their web site, for info and lots of great pictures…Rebelle Web Site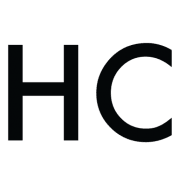 Mitch Weinstein
Mitch Weinstein is an avid seeker of good food, culinary school grad and writer of the blog Tasty Travails. When not cooking at home, he is on the hunt for that next delicious restaurant meal, great market or maybe even a cocktail. He regularly contributes to the food and drink forums on mouthfulsfood.com, eGullet.org, Chowhound.com and others.