We all know apple pie is as American as apple pie. But actually apple pie is originally not American at all. Confused?
by Ena Scheerstra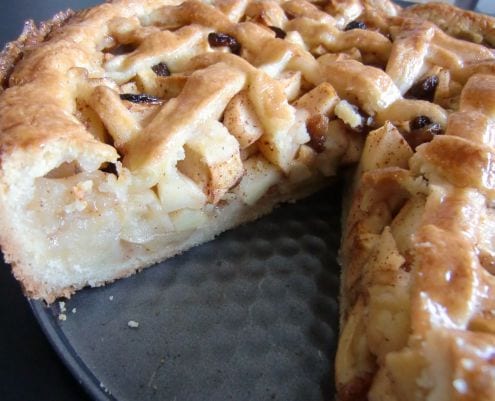 Apple pies were made in Europe long before the colonization of America begun, recipes dated as early as the 14th century have been found. It probably already existed before the recipe was written down and each region/country had their own way of making these pies, depending on their taste and the available ingredients. But when these people started to come to America in the 17th century as settlers, they did not find any apples, so they could not make their beloved apple pie. Seeds and seedling apple trees were brought from Europe, but did not flourish at first because there were no bees to pollinate the flowers. So bees were brought from Europe as well. When apples finally became available, they were mainly used for making cider. It wasn't until the 19th and 20th century that apple pie became a symbol of American prosperity and national pride, merging all the European regional varieties in one American favourite.
In the Netherlands, apple pie is one of the most popular pies. You can buy it everywhere in supermarkets and bakeries, and apple pie topped with whipped cream is the default option for having something nice with your cup of coffee in a café. A coffee house not serving apple pie is virtually unthinkable. And it is a favourite for serving on birthdays as well.
See Also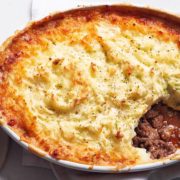 It is funny that if you search for Dutch apple pie recipes (in English) you find something that a Dutch person would not call apple pie at all, but 'appelkruimelvlaai or applekruimeltaart" (apple streusel pie), which is quite different from a real apple pie… also very nice, but not the real thing. The following recipe will give you the authentic Dutch apple pie: quite a thick, soft crust, filled with apple pieces flavoured with cinnamon, lemon, sugar and raisins, topped with a lattice, eaten either warm or on room temperature with or without whipped cream.
Print
The Real Dutch Apple Pie
The real Dutch apple pie, like you will find it in the Netherlands.
Author:

Ena Scheerstra

Prep Time:

1 hour

Cook Time:

1 hour

Total Time:

2 hours

Yield:

1

2

1

x
360 gram

flour

215 gram

butter

180 gram

sugar
pinch of salt

1

,5 eggs, beaten
zest of

1

lemon
Filling
1

kilo apples (firm and tart), cored, peeled and cubed

70 gram

sugar

70 gram

raisins
juice of

1

lemon

1 tsp

cinnamon
Glaze
0

,5 egg, beaten

2 tbsp

apricot jam
To serve (optional)
Instructions
Mix flour, sugar, salt and lemon zest.
Add butter, use two knifes to cut butter in small cubes.
Add egg, kneed with cool hands fast to a supple dough.
Flatten the dough into a disk, frap in cling film and place 30 minutes in the fridge.
Mix the apple with the sugar, raisins, lemon juice and cinnamon, set aside for 30 minutes.
Prepare a 24 cm spring form and preheat the oven to 180C.
Take 2/3 of the dough and roll it out to a thickness of 0.75 cm.
Cut out a circle with a 24 cm diameter, place in the bottom of the spring form.
Roll out the scraps to form a rectangle, cut strips from it to cover the sides of the spring form.
Seal the edge of the pastry case by pushing together the pastry layers.
Fill the pastry case with the apple-raisin mixture, take care not to add any of the fluids to prevent sogginess.
Roll out the remaining 1/3 of the dough, cut small strips and use these to form the lattice top.
Eggwash the top.
Bake for 1 hour in the preheated oven (the pie will get quite dark).
Add a little bit of water to the apricot jam, heat together and use this to brush the top of the pie after baking, this will give a nice glaze.
Leave the pie to cool for a bit.
Take of the spring form sides and serve warm or at room temperature.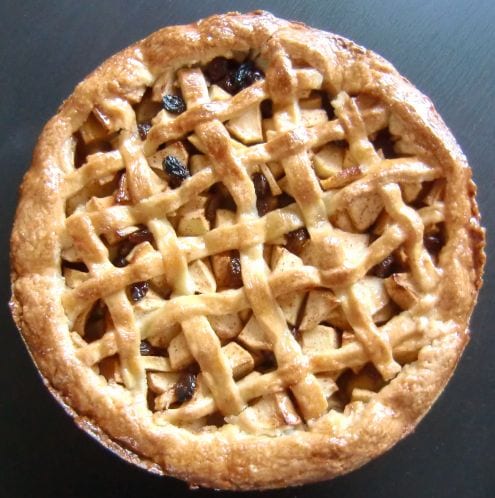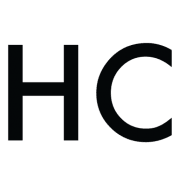 Ena Scheerstra
Ena Scheerstra has a lifelong love for food and cooking, starting to collect cookbooks at age 10. She spends most of her free time on cooking and everything food related. She is a strong believer of honest food, produced sustainable and sourced locally, and cultures her own vegetables on her balcony and in her small allotment. Her blog is very internationally orientated, reflecting the variety of food she cooks, but on Honest Cooking she is focusing on showing the world the wonders of Dutch food.