Raw Summer Roll Salad with Almond Butter Vinaigrette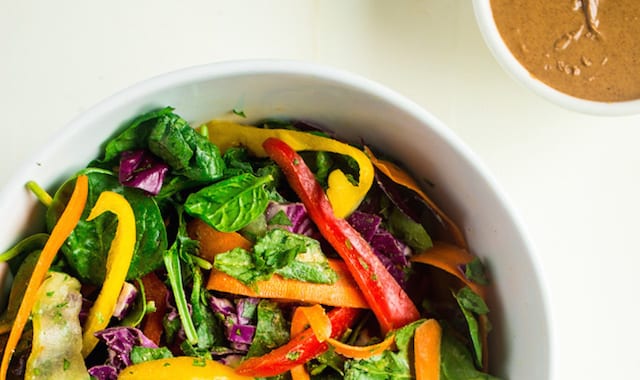 This easy, raw salad tastes just like a summer roll, but without all the work!
By Taylor Kiser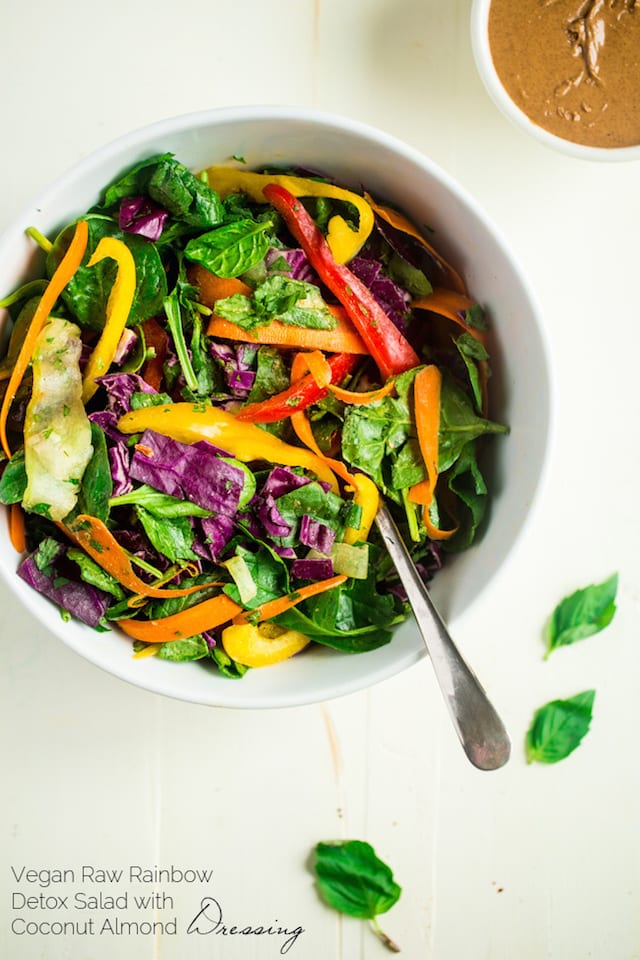 There's your boring bunny-food, leafy lettuce salad.
And then there is THISSSS salad.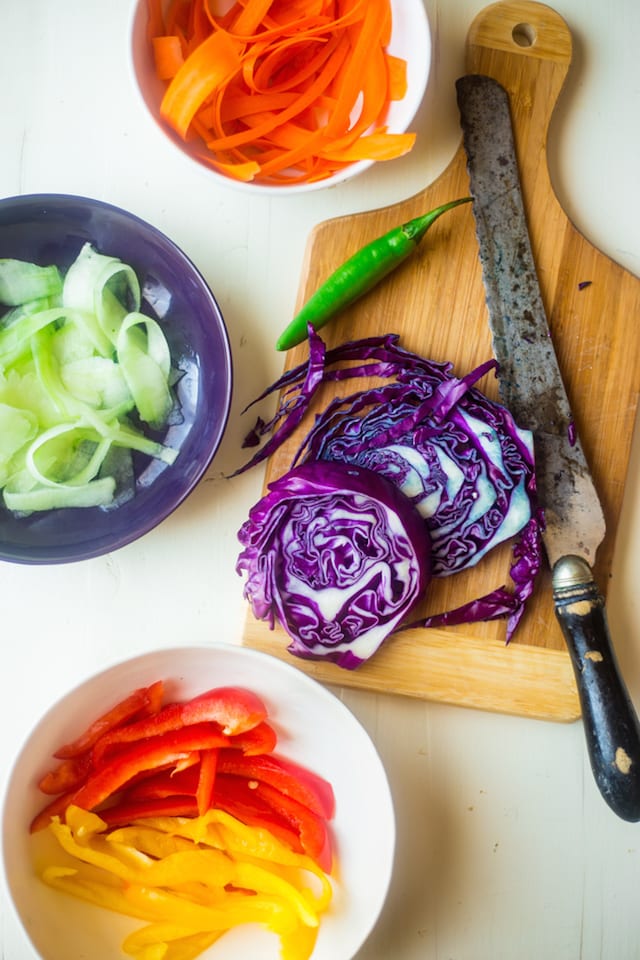 It's like eating a big bowl of New Year's resolutions. The tender crisp peppers, crunchy peeled carrots and fresh, thin cucumber with the creamyyyy, luscious, velvety-smooth almond butter vinaigrette.
HELLO
Who knew that all a bowl full of healthy veggie nums could be, like, SO addicting.
If you want to get all well-educated-person up on this bowl of crunchety-fresh-feel goodness, you could compare it to eating a deconstructed Summer Roll. Similar fixin's, same creamy almond butter goals being achieved. JUUUUUST no rice paper, or messy rolling business. Who got time fo' dat? <— NOT YOU.
Speaking of your busy life that has no time for such things as rolling Summer rolls, I bet your super-important-no-extra-time self ALSO does not have time for things that take eleventy billion years to cook before you can fill up your hungry belly right? Soooooo, how about this salad that required Z-E-R-O cooking time. We're talkin' shave some veggies, add in a little spinach (do it for the SUPERFOOD!) and then mix up that almond butter vinaigrette.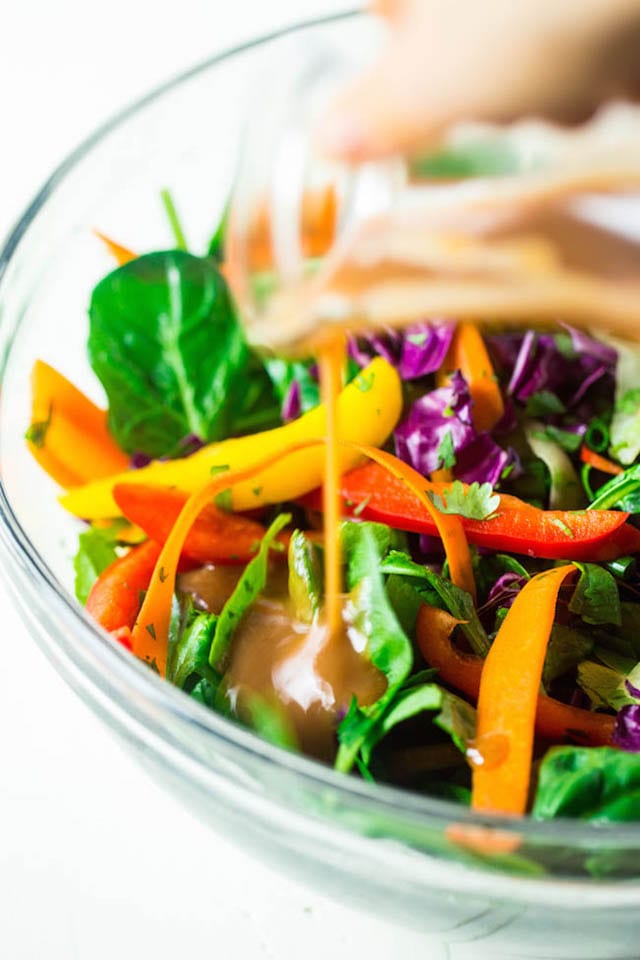 It's the only way to truly experience the magical, tingly-taste bud sensation that happens when deliciously smooth coconut oil and almond butter gets up close and personal with zesty lime juice, tangy rice vinegar and a little burst of sweet agave. S.I.M.P.L.E ingredients that make your nutrient-PACKED food loving mouth go WOAH.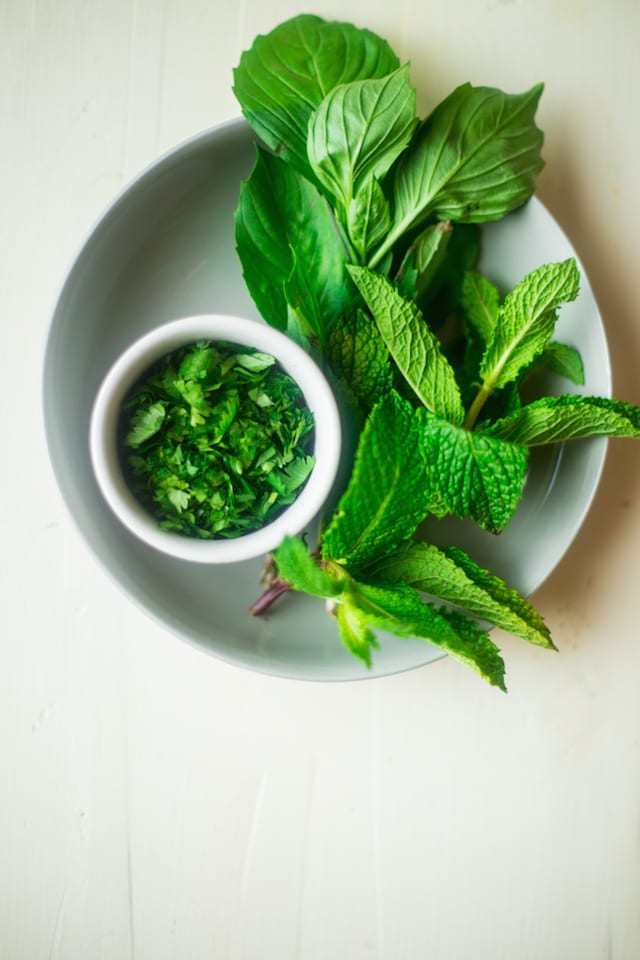 So. The herbage in this salad. It's superfresh and vibrant. The coolness of the mint action is preee much the perfect balance to the Serrano spice. You just sort of feel the heat go down the back of your throat, but you don't get the whole "red face runny nose" shenanigans happening at the end.
Not a good look for anyone.
Did you notice THAI basil though? This kind of basil is special. It's sweet and SUPER fragrant. I kid you not. This herb is BOMB.
So don't you get any notions about leaving it out capeesh? You'll be doing yourself a dis-service of the MAJORLY BAD variety. I mean, I'm going to go as far as to say that I thiiiiink I feel your newest obsession coming on too.
Now, take a moment of your busy-human life, take a pit-stop at the store and search out the fresh herbs, crunchy veggies and then do a little "no oven required" dinner dance.
I can feel the healthy FROM HERE.
Find recipe for dressing here.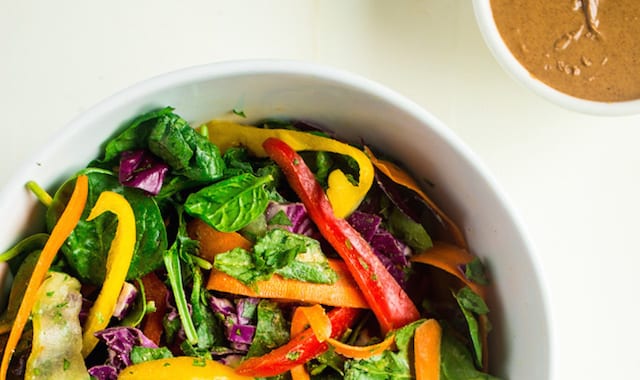 Raw Summer Roll Salad with Almond Butter Vinaigrette
Taylor Kiser
Ingredients
2

Small carrots

1

Medium Cucumber

2

Cups

Red cabbage

chopped

1/2

Red Bell Pepper

thinly sliced

1/2

Yellow Bell pepper

thinly sliced

2

Tsp

Serrano Pepper

minced (about 1/2 a pepper)

4

Cups

Spinach

firmly packed

1/2

Cup

Cilantro

roughly chopped

1/3

Cup

Green onion

sliced

2 1/2

Tbsp

Fresh mint

minced

2 1/2

Tbsp

Thai Basil

minced *

1

Tbsp

Fresh lime juice

1

tsp

Agave

Salt

to taste
Instructions
Peel the skin off the carrots and then, using a vegetable peeler, shave them into thin strips and place into a very large bowl.

Peel the hard, dark skin off the cucumber and shave the cucumber just like the carrots, only shaving until you begin to see the seeds. Place into the bowl with the carrots.

Add in the chopped cabbage, and red, yellow and Serrano peppers and toss to mix. Add in the spinach, cilantro, green onion, mint and Thai basil and toss together.

In a small bowl, stir together the 1 Tbsp of lime juice and 1 tsp of Agave and pour over the vegetables. Toss to coat evenly and season to taste with salt.

In a medium, microwave-safe bowl, heat the almond butter until it's smooth and melted. Stir in the lime juice, rice vinegar, ginger and agave until evenly mixed. While whisking, slowly pour in the melted coconut oil until the dressing thins out slightly and the oil is well mixed in. Stir in a pinch of salt.

Pour the dressing over the salad and mix very well until all the vegetables are evenly coated. The dressing is thick, so it helps to get your hands in there and really toss it!

DEVOUR immediately!

NOTES

* You can use Italian basil here, but Thai is much better if you can get it!
Taylor Kiser
Taylor is the blogger, recipe developer, photographer and general mess maker behind the blog "Food Faith Fitness." She is a Christian who is constantly trying to learn how to keep Christ at the center of her daily life. Taylor is also a health and fitness enthusiast who loves creating delicious recipes, with a healthy spin. However, Taylor also believes that moderation is key, so sometimes it's ok to just go and eat a cookie!