A famous Tuscan dish, and the favorite of Giulia Scarpaleggia's great-grandfather.
Text And Photos By Giulia Scarpaleggia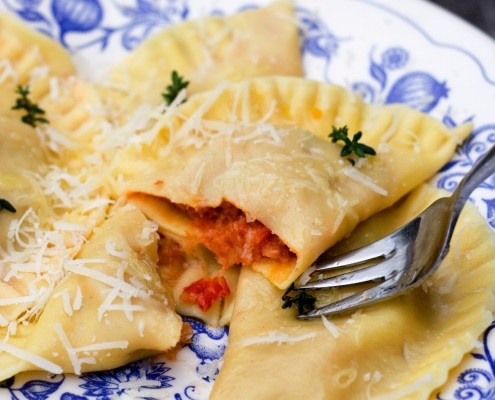 The tomato-bread soup (known also as pappa al pomodoro) is one of the most famous dishes of the Tuscan culinary tradition, with a large number of variations, I'd say every family has its own recipe. It used to be my great-grandad Pietro favourite dish. When I was a child he was already very old. His hands were huge, at least compared to mine: my little child hand seemed to disappear into his hand. He was a bit confused, so he kept on searching for the cows in my house, where there used to be the stable before. I used to run after him, take his hand and bring him back to Grandma Marcella, saying "Where are you going Grandad? There are no more cows here!" shaking my head as a grown-up little woman.
In Tuscany you can have pappa al pomodoro as a first course or even as a main dish. It is a hearty and simple dish, made according to the Tuscan golden rule: high quality ingredients, a simple cooking process and that's all. You don't need long cooking, dressing and many ingredients to make the most out of the freshest produce or the best quality ingredients you can find. This is a valuable example, in fact you need just stale bread, tomato purée and extra-virgin olive oil.
The first time I had my friends from London visiting me for a long weekend I decided to bring them in a typical trattoria in order to make them try the famous pappa al pomodoro. They came out with: what? do you want us to eat soggy bread? Well, actually it is almost soggy bread, but you need to taste it before you can judge. Their sparkling eyes and greedy hands, grabbing with a spoon the last crumbles from the pan, are the most accurate description of the final idea they had of pappa al pomodoro: something so delicious you don't want to leave any lefotver into the dish!
See Also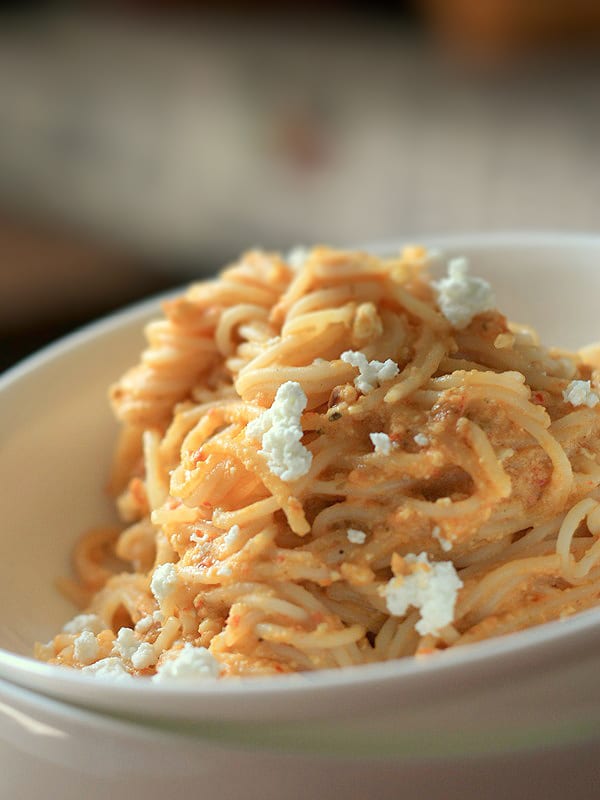 This is an innovative way to present a traditional recipe: the tomato bread soup becomes the filling of fresh pasta ravioli, a real surprise for your taste buds!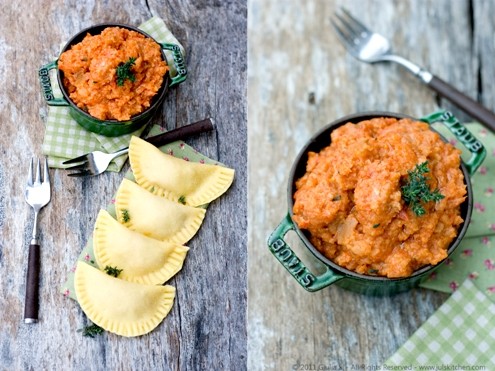 Ravioli filled with tomato bread soup
The famous Tuscan tomato bread soup is presented in a completely new way, as a filling for delicious ravioli.
Author:
Giulia Scarpaleggia
Recipe Type:
First course
Ingredients
2,2 lb (1 kg) stale Tuscan bread (plain bread without salt)
6 cups (1,5 kg) tomato purée
1 red onion
1 celery stalk
½ glass of extra virgin olive oil
1 clove of garlic
basil
Fresh pasta
2 cups (250 g) plain flour
2 cups (250 g) semolina flour
1 pinch of salt
1 tbs extra virgin olive oil
4 medium eggs
cold water
Instructions
Chop finely the onion, the carrot and the celery.
Sauté them with a few tablespoons of extra-virgin olive oil in a large pot
Soak the stale bread - cut into slices - into cold water.
When the vegetables are golden brown, pour into the pot the tomato purée and let it simmer for about 15 minutes.
Squeeze the stale bread with your hands to remove all the water and crumble the bread into the tomato sauce.
Let it cook for about 10 minutes.
Chop finely the garlic and add it to the tomato bread soup along with some basil leaves.
Remove from the heat and pour into half glass of extra-virgin olive oil.
Let it rest before serving or before using it to fill fresh ravioli.
Fresh pasta
Sift the plain flour with the semolina flour, place it on a wooden flat surface and make a well in the middle.
Whisk eggs with a pinch of salt and pour them in the middle of the flour.
Add in the extra-virgin olive oil.
Stir flour and eggs with a fork, then start kneading the dough, pouring cold water little by little, until the dough gets soft, elastic and it doesn't stick to your fingers anymore.
Let it rest for about 30 minutes at room temperature.
Now, roll the dough. You can use a classic rolling-pin or the pasta maker: keep rolling and flipping and rolling and flipping until you get a dough that is paper thin. Cut out round shapes with a cookie cutter.
Place a teaspoon of filling in the centre of each circle of pasta and crimp into a semicircle, sealing the edges.
Place them aside until you're done.
Boil them for a few minutes, until they float to the surface and the pasta is soft.
Serve them with a drizzle of extra-virgin olive oil, grated cheese and a leaf of basil.
Giulia Scarpaleggia
Giulia Scarpaleggia, Juls to friends and readers, is a Tuscany based and world oriented food blogger, writer and photographer. Her first passion was English and foreign countries: now she has deeply fallen in love with the vision that foreigners have of Tuscany. Simple and sunny, she has an insane passion for cooking.