Bocuse d'Or winner Rasmus Kofoed just received his second Michelin star within only two years at Restaurant Geranium in the corner of Copenhagen's national stadium. Rasmus Palsgård met him at his home field to figure out what makes his gastronomy so extraordinary.
By Rasmus Palsgård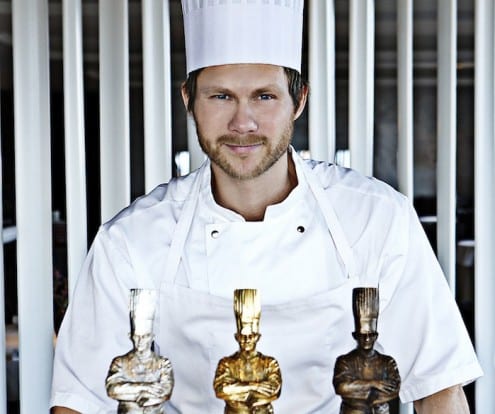 You can see Sweden from here. The green parks and the sea. Here, on the eighth floor of the Danish national stadium, Parken, everything is bright because of the panorama window facade, decor-wise beautifully perfected with a sleek and light kitchen where you can follow the wizardry cooking from your seat in the restaurant. "To get inspired you need to be in inspirational surroundings. I still remember the old days, where we, the chefs, were sweating in badly ventilated cellar kitchens," Rasmus Kofoed explains. In these inspirational settings, Geranium, currently #49 at San Pellegrino's 50 Best-list, has literally just received its second Michelin star after getting its first in 2012. It's Day 1 in a new league.
Chef Kofoed continues, "Because of the rising star in 2011 we had a feeling that we would get our first star last year. But the second star was a big surprise for us and of course we are very, very happy." Until the release of the Michelin Guide's 'Main Cities of Europe 2013', Noma, the world's best restaurant according to Top 50, was the only two star restaurant in Copenhagen. Without any other comparing between the two restaurants, Geranium is now on the same level Michelin-wise, and on the question about why Geranium has received its second star Rasmus Kofoed answers: "Of course, the food has to be great; but to us a dining experience already starts when you enter the restaurant. We intend to give our guests a sensory experience from the moment they enter the room with surprising elements and new flavors. We want to break with the conventional idea of how to build up a dinner. At the same time we've focused a lot on every single dish. Instead of serving 15 dishes where five of them are of average, it is important to us that every dish is great – otherwise there is no reason in serving it."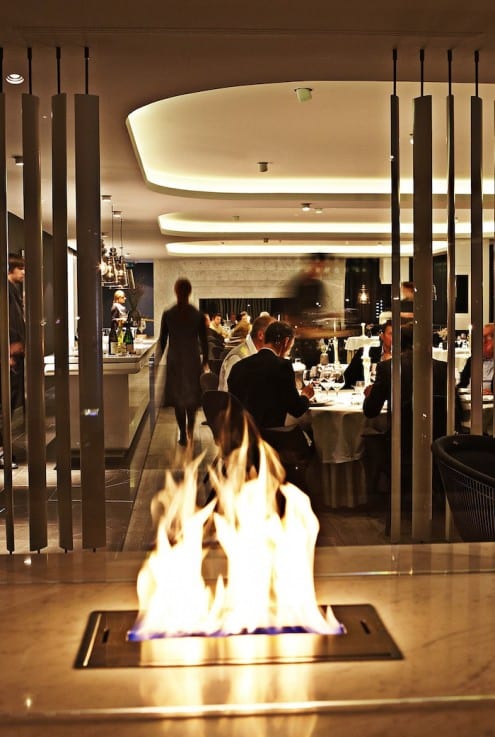 And you will surely be surprised during a dinner at Geranium. When you arrive, you receive an envelope with some of the ingredients you'll meet later on in your experience, but they are no more than hints to enhance your appetite. The dining room is furthermore full of small, secret elements, for example moss from the Danish island Samsø and also cow horns with biodynamic preparations, all to give small hints of what is coming. The number of servings you'll have is a secret (currently 26. red). "First of all, I serve food that I would like to eat myself. It's not an art to make people full. I want them to leave the restaurant with a light feeling in the heart."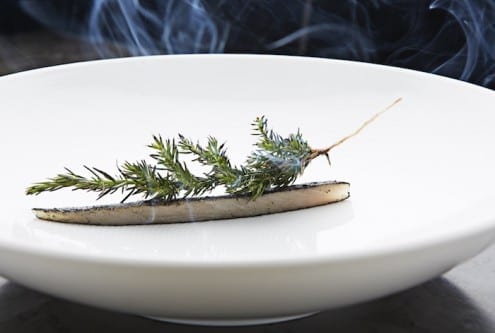 VISUAL THINKING, VISUAL EXECUTION
When spending time with Rasmus Kofoed it becomes quite clear to you that he's a child of nature. Growing up in a forest with his parents, he experienced his mother integrating a wide range of herbs, nettles, rosehip, dried tea and mushrooms in her cooking. "My mother used a lot of different ingredients and my father took me out fishing. We caught crayfish and eels which we smoked over juniper wood in our garden. Back then, I wasn't that conscious about how these conditions affected me, but today it's quite obvious where my inspiration comes from." Becoming a teenager, Rasmus Kofoed started to bake shrove buns, Spaghetti Bolognese and a lot of other classic dishes for his friends. "Just because I liked to do so", he explains.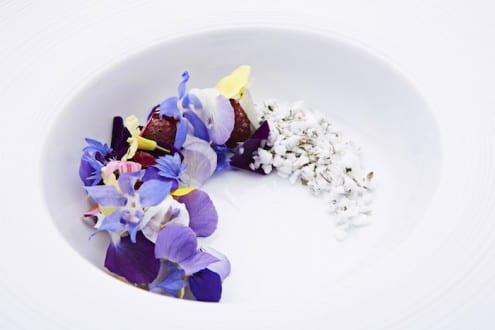 The real wake up call came when he in 2003 won the "Danish Chef of the Year" competition. "I've always loved to create ideas in my head and bring them to life with my hands, but when I won that contest I finally realized that I was really good at something and through gastronomy have a unique opportunity to express my ideas in shapes of flavours and sensual experiences, with the best ingredients nature has to offer. From that point I knew that I would never get tired of cooking."
His personal view on the best ingredients is by far a conventional one, and through his childhood he was never brought to exclusive restaurants with caviar, truffles and foie gras. His mother raised him on the ideas of Rudolf Steiner – the founder of the biodynamic way of thinking. Therefore he's never really fallen for the classic luxury ingredients though he is schooled in the French kitchen. "I am not really a fan of foie gras. I don't like the taste, neither the way it's produced. To me, choosing the luxury ingredients is the easy solution, and we don't do easy solutions at Geranium. At a restaurant like ours it's a walk in the park to work with every ingredient in the world, but instead we've set up a number of limitations for ourselves which strengthen our creativity, and I believe also sharpens the expression of our food."
That he would use for example pineapple in his cooking is unthinkable, because it has nothing to do with his immediate environment. Instead the nature around inspires him. Today, living in Copenhagen he seeks out of the city to follow nature's changing seasons, where seeds turn into sprouts and then blossom into its final stage before wilting again. And following the season is what it's all about for Rasmus Kofoed. Right now a dish with malt, dark beer, prunes and biodynamic cream soaked with beech wood is a great example on this. "Look outside the window. The trees are naked and the ground is covered in snow. It inspired me to make this dish in dark, simple colors, and it's actually one of the best dishes we've ever had on the menu. I get so enthusiastic about this dish when I serve it for our guests. To take a sensation from outside, recreate and refine it in your dish and express the actual moment is what it is all about. I value the simple things here in life. This counts for ingredients as well."
MORE SIMPLICITY
This simpler approach has become a keynote for the 38-year-old Danish chef, who for years have been accompanied by the skilled and prize winning sommelier Søren Ledet, overlooking service. When Geranium opened, the dishes were visually very complex with a large number of elements on the plate. Today, Rasmus Kofoed is aiming for a more clean expression. As an example, he mentions a lobster dish with warm beet root vinaigrette, beet root sprouts and a side dish with beet root in gel as he made it when he won Bocuse d'Or. Today, he makes the same dish with hand picked scallops from Norway but in a visually much simpler version. "Today we've reduced the elements on the plate significantly. Though it might seem easier, it's a much harder process because you cannot hide anything for the guest. Therefore, every single element on the plate has to be just perfect. And when you succeed, the expression of the dish is much stronger."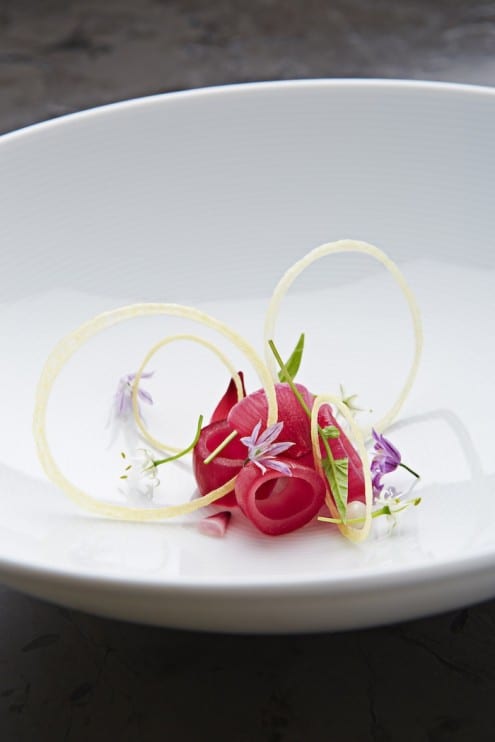 As Rasmus Kofoed describes it, then he has been on a 10-year extreme quest during his training periods before his participation in the three editions of Bocuse d'Or. Therefore he also has a pretty good sense of what works and what doesn't. Though he's no longer attending cooking competitions, he isn't satisfied yet and continues to develop new ideas. Geranium is still a young project and there is much more to achieve. "In gastronomy there are thousands of things you can do, – and because of all the competing I've done, I know very much about timing and techniques. Now, I want to go deeper into ingredients and food philosophy to impart a new layer to my gastronomic identity here at Geranium. It's time."
THE FUTURE
On my final questions what's next, – with all three Bocuse d'Or statues and now two Michelin stars, what is there more to achieve – but the third star, it quickly becomes clear that the third not is a goal in itself. Of course he would love to achieve it but it's by far the most important thing. "We don't make food with the goal to satisfy the Michelin Guide, but of course it's a good motivation. Actually, gaining the stars or the golden statue at Bocuse d'Or isn't what amazes me. It's the process where we attempt to make everything as perfect as possible that excites me the most."
Therefore future process and motivation is of no issue. "Everything has gone so fast. Here we are, just after two years having two stars. We are not done at all and there are lots of motivating events coming up. We are working on a new, al-round amazing book on the culinary story of Geranium, and in the end of April we're going to London for the World's 50 Best Awards, and who knows – we might have climbed up the list since last year," Rasmus Kofoeds ends.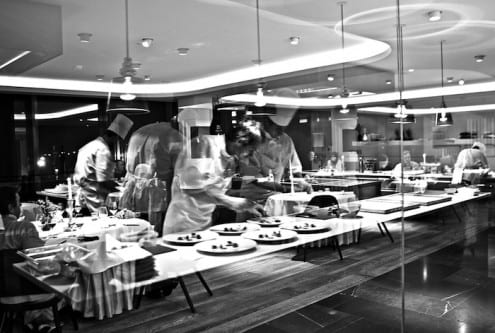 Three questions from Honest Cooking Editor in Chief Kalle Bergman
From your perspective, where do you see the New Nordic Cuisine going, and are we getting closer to the time when we can lose the "New" in New Nordic and just talk about Nordic Cuisine in general?
I feel certain that the New Nordic Cuisine has come to stay – it is no one-day-wonder, especially not as a formula. Amongst others, René Redzepi, Mads Refslund, Thorsten Schmidt and I have established this appreciation of our local produce, plants and herbs from nature. Earlier, it was unthinkable that young French chefs would come to Denmark to learn about gastronomy but they certainly do today. The New Nordic Kitchen began as a seed, which grew into a sprout before it became a flower. And this flower is still evolving. So yes, I believe we can skip the "New".

Aside from your many international appearances in competitions and festivals, do you have any ambitions of taking your gastronomy abroad (ie, opening restaurants outside of Denmark)?
You should never say never, but right now I have no plans to open a restaurant outside of Denmark. There is still so much we can do and develop here at Geranium in Copenhagen and I want to focus on that. Though, I have a dream of opening a gastronomic circus with the best Danish chefs, where we go to different spots all around the world, telling about our gastronomic mindset while presenting several dishes made out of local ingredients. The surroundings are crucial because they will set the whole scene. It could be on a meadow in New Zealand or on the streets on New York.
Previously, young Nordic chefs would venture to countries like Spain or France to get experience and inspiration. To a certain extent, they still do, but increasingly they are staying in the region to work with and learn from their local heroes (you being one of them). How do you see your role in schooling, mentoring and introducing the next generation of Danish and Nordic chefs?
First of all I'll continue to do what I am already doing: Leading the way and being an inspiration through my passion for gastronomy. It's true that Nordic chefs tend to stay home these years. But a lot of chefs from all over the world are coming to Denmark, and they are so hungry to learn from us while the young Danish chefs are sometimes too easy-going in my opinion. Therefore, I cannot avoid to get a little concerned about what will happen in the future, when all these talented chefs leave and go home to their own countries. Another problem is that the gastronomic business here in Denmark does not get political support despite the fact that tourists are flocking to Copenhagen just to eat. We need political support to continue the bloom of Danish gastronomy. 
Rasmus Palsgard
Rasmus Palsgård is Danish journalist by profession living in Copenhagen. He is one of the leading food and wine writers in Denmark contributing to the leading media in Denmark. Rasmus Palsgård is the Danish chairman of the sustainable restaurant list 360 Eat Guide. He also a passionate home cook and in 2016, he was one single mistake away from winning the Danish edition of MasterChef.