Rainbow Chard and Corn Fritters with Herbed Goat Cheese Sauce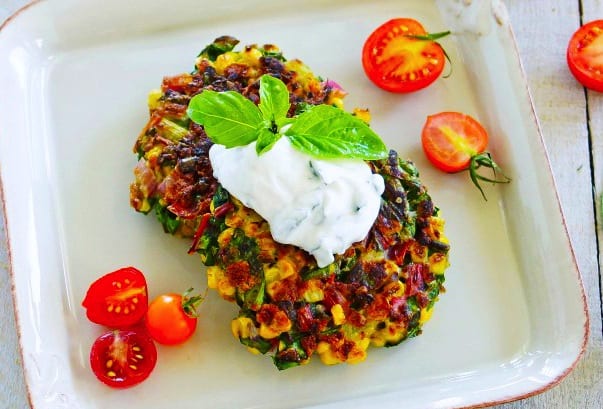 Summer corn and rainbow chard make for colorful fritters that will appeal to the whole family.
By Patty Price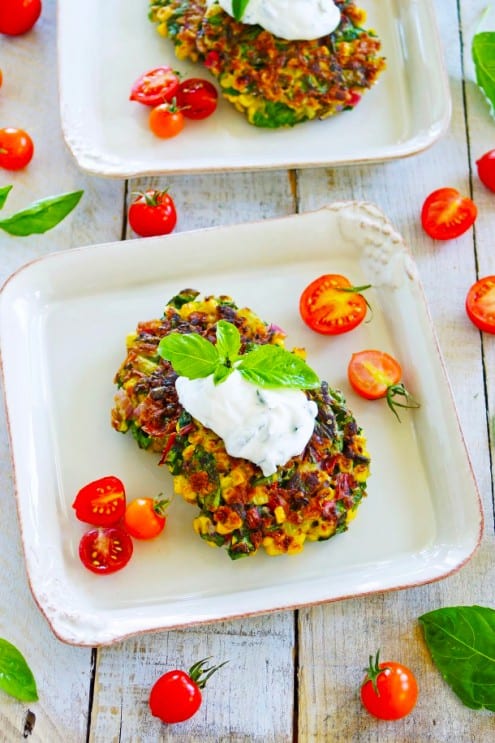 We are eating our way through a row of rainbow chard I planted in the garden about a month and a half ago. We also have this thing for fresh corn, especially the corn that comes from Brentwood. A big thanks to the farmer from Brentwood who brings his corn to the Novato Farmer's Market every Tuesday night, I just want to give you a big hug and kiss for helping to make our lives so delicious. Now we have another thing, a big thing for the mixture of chopped rainbow chard and grilled corn in any form I can come up with for a simple Summertime meal. My husband is a lover of anything with corn, add the fritter angle and I've got a huge winner on my hands.
As simple as these rainbow chard and corn fritters are to put together for a meal, they do put up a little fight when you form them into balls to place in the skillet to cook. The trick is to press the fritter mixture into balls (makes 12 fritters) and gently place them in the hot oil, cook the for 1-2 minutes until browned on the bottom before carefully flipping with a spatula and then pressing down into a flat shape before continuing to cook for 2-3 minutes on each side or until browned and cooked throughout. I cooked four fritters at a time in a medium size skillet. I served mine with the herbed goat cheese sauce on top and a few sliced cherry tomatoes on the side. It's a good thing we like cherry tomatoes because they are showing up at just about every meal at our house and from the looks of our garden they will be showing up for some time to come.
Rainbow Chard and Corn Fritters with Herbed Goat Cheese Sauce
Summer corn and rainbow chard make for colorful fritters that will appeal to the whole family.
Ingredients
For the Fritters
2 cups packed chopped rainbow chard, leaves and stems
2 ears corn, cooked in microwave or grilled. kernels stripped off cob
1 cup bread crumbs
4 large eggs
½ cup all purpose flour
¼ cup chopped sweet basil
Sea salt and freshly ground pepper to taste
Olive oil for frying
For the Herbed Goat Cheese Sauce
1 cup plain Greek yogurt
2 ounces soft goat cheese
3 tablespoons chopped sweet basil
1 small garlic clove, minced
Sea salt and freshly ground pepper to taste
Instructions
Make the Fritters
Place all the fritter ingredients in a bowl and stir together.
Make the Herbed Goat Cheese Sauce
Place all the herbed goat cheese sauce ingredients in a bowl and stir together, can be made ahead and kept in the fridge.
Fry the Fritters
Heat up enough olive oil to coat a medium skillet.
Make fritter balls by scooping up the fritter batter out of the bowl and pressing together (wants to fall apart) -gently place one fritter ball at a time in the hot oil and cook on medium high heat until browning on the bottom(1-2 minutes), carefully flip the fritter over and press down on the tops with a spatula.
Cook 4 at at a time for 2-3 minutes on each side, until deep golden brown and cooked throughout.
Serve hot with the herbed goat cheese sauce on top or on the side as a dip.
Patty Price
Patty Price is a former assistant pastry chef at Bizou (currently CoCo500) who was previously recognized for her signature dessert by The New York Times. She also spent time learning classic French cooking techniques at a three-star Michelin restaurant in France which she incorporates into her personal food blog, Patty's Food. Inspired by the diversity of seasonal vegetables, fruits and herbs available locally in the San Francisco Bay Area, Patty hopes to inspire her readers to cook seasonally and try new recipes.