Some might call drinking a Singapore Sling at the Raffles Hotel is "touristy". Marissa Sertich calls it "festive".
By Marissa Sertich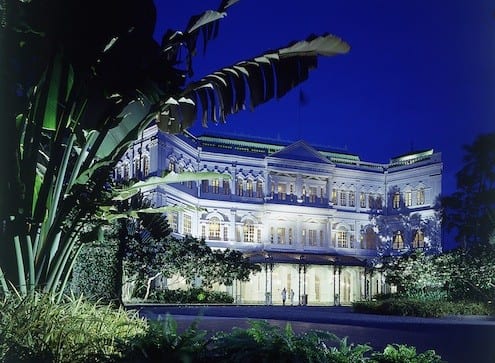 Drinking a Singapore Sling at the Raffles Hotel in Singapore is perhaps the most touristy activity on the island – and in Singapore there are enough tourist activities to sink Steamboat Willy. The Sling is a bit like sporting a fanny pack and buying the Mickey Mouse ears to wear around Walt Disney World – proudly and brazenly flying your tourist flag high.
Some might say "touristy," but I say "festive."   What can I say – I enjoy a good two-fold brochure and an informative tour-bus ride.  Hell, when I was Boston, I quacked back at the Duck Tours, and I lived there.  So, when I arrived in Singapore, I put on my figurative mouse ears and went directly to the Raffles Hotel.
The Raffles Hotel is truly a beautiful landmark that transports you to another era.  Reeking of refinement, the hotel's colonial architecture contrasts with giant palm fronds and feels more like a movie set than an operating hotel.  The history of the hotel dates back to 1887 and since has become one of the world's most famous hotels.  In 2004, Conde Nast Traveller rated the Raffles Hotel as its No.2 favorite hotel in the world.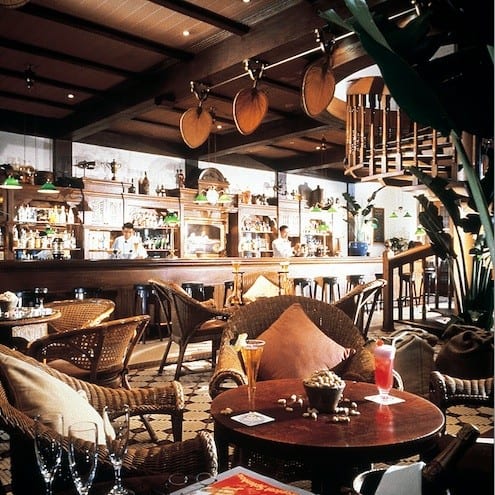 Move from the lush gardens and white balconies to the Long Bar and you've arrived at the invention site of the infamous Singapore Sling.  Tropical, pretty in pink and frothy on top – The cocktail is the type of dangerous drink that can be consumed as easily as fruit juice.   Be advised – too much festivity with the Singapore Sling and you might don a pith helmet and think you're with the East India Company.
The modern recipe contains gin, cherry brandy, Benedictine, Cointreau, pineapple juice, grenadine, and a splash of bitters.  Although this is the current mix, it is reported that the Raffles Hotel has altered the recipe since it first debuted around 1915.
Watching the hotel bar tenders turn out Sling after Sling is a show in itself.   They masterfully line up rows of glasses, shake, pour, and garnish.  Served in a branded hurricane glass with a slice of pineapple and a maraschino cherry, the Singapore Sling is a truly refreshing beverage for a hot, humid, Singaporean afternoon.  So, you can go on your backpacking, off-road excursion and I'll be keeping your seat warm at the Long Bar, sipping my cocktail.
The Singapore Sling: A Refreshing Sip of Tourist Juice
Author:
International Bartenders Association
Ingredients
60 ml Gin
30 ml Cherry liqueur
15 ml Cointreau
15 ml DOM Benedictine
140 ml Pineapple juice
30 ml Lime juice
20 ml Grenadine
a dash of Angostura bitters
Instructions
Combine all ingredients into a cocktail shaker and shake well with ice.
Strain the cocktail into highball glasses
Garnish with a slice pineapple and maraschino cherry
Marissa Sertich
Marissa Sertich Velie is a New York based pastry chef and graduate of the Culinary Institute of America. She passionately documents her adventures of baking and eating her way through the fascinating (and sometimes nutty) underbelly of the American pie. Velie has a Master's degree in Food Studies from NYU.