Add bright purple color to your winter table with radicchio. The elegant vegetable takes a simple dish of mashed potatoes to a whole new level.
By Veronica Lavenia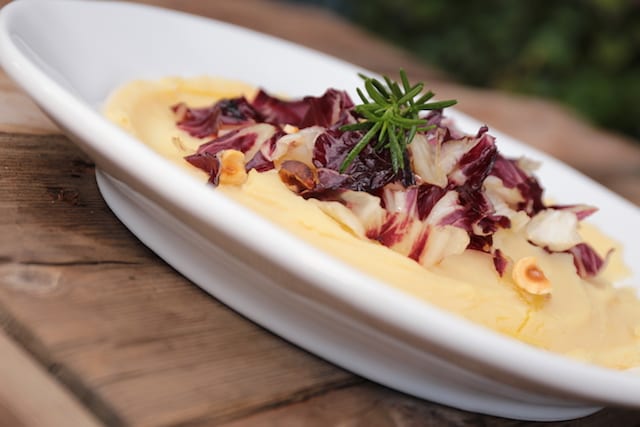 G. Giustolisi
Radicchio is one of the most valuable Italian vegetables. From autumn to late winter, it colors the table with its unmistakable deep red like its taste.? Radicchio is very versatile and elegant. Even a simple dish like this becomes simply delicious with the combination of a few but selected ingredients.

Radicchio and Mashed Potatoes
Add bright purple color to your winter table with radicchio. The elegant vegetable takes a simple dish of mashed potatoes to a whole new level.
Ingredients
5 potatoes
Pinch of sea salt
Pepper to taste
1 tbsp grated Parmigiano cheese
100 ml (3½oz) milk
1 onion
2 tbsp Extra virgin olive oil to taste
1 tbsp balsamic vinegar
1 tbsp brown sugar
1 round radicchio
1 sprig of rosemary
Instructions
Cook the potatoes steam. Once cooked, sieved them and add pinch of salt, grated Parmigiano and milk.
In a saucepan, cook the onion, cut into rounds, with a tablespoon of oil for about 10 minutes, adding water if necessary. Add vinegar and brown sugar and continue cooking for another 5 minutes.
Cut the radicchio into strips, sautéed for a few minutes with a tablespoon of oil. Remove from heat, add the onion and mix.
Pour the mashed potatoes into a serving dish, cover with vegetables and garnish with a sprig of rosemary soaked in oil.