It's quinoa time, and therefore you should try this quinoa stew recipe with roasted aubergine.
By Jehanne Ali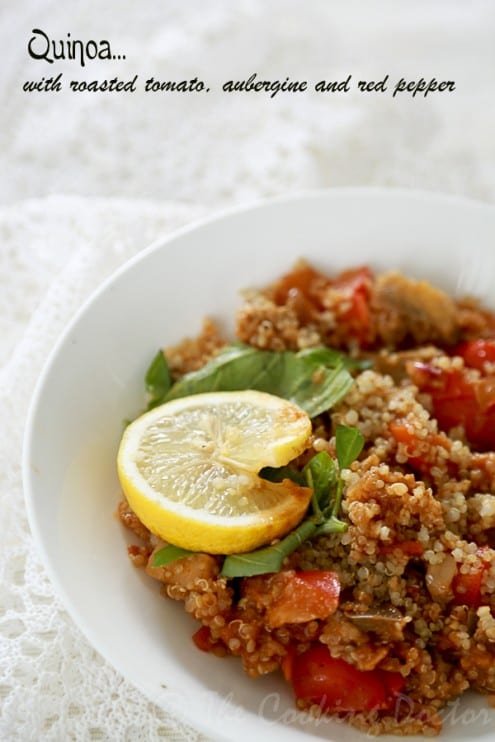 Quinoa Stew with Roasted Aubergine, Tomato and Red Pepper
It's quinoa time, therefore you should try this quinoa stew recipe with roasted aubergine.
Ingredients
2 cups quinoa
4 cups water
1 large aubergine- washed and cubed
1 large red pepper- diced
1 small carrot- diced
2 tomatoes- quartered
2 shallots- sliced
1 red onion- quartered
3 tbsp extra- virgin olive oil
1 tsp Kosher salt
3 cloves garlic
1 tbsp cumin seeds
1 tbsp paprika
few sprigs parsley leaves- chopped
200 ml passata
1 tbsp tomato puree
1 tbsp Italian seasoning
Juice from 1 lemon
salt and pepper to season
Instructions
In a rice cooker, cook the quinoa with water.
Place the aubergine, red pepper, carrot, tomatoes, red onion and garlic on a large roasting tray.
Drizzle 2 tbsp olive oil and sprinkle the kosher salt on the vegetables.
Roast for 20 minutes at 190C.
Once the vegetables are roasted, heat the remaining olive oil in a casserole or heavy bottomed pan.
Fry the shallots until fragrant.
Mince the roasted garlic and add into the pan together with cumin seeds, paprika and tomato puree.
Throw in the roasted vegetables, passata, italian seasoning, lemon juice and parsley.
Season with salt and pepper and simmer on low heat for around 10 minutes
Once the gravy is thickened, add in the cooked quinoa and mix well.
Serve warm, with salads by the side.
Jehanne Ali
Jehanne is an enthusiastic baker, food blogger, mother and wife all in one. She swaps her scalpel from her day job as a doctor to kitchen utensils in the evening and creates magical treatment of healthy treats for her family, which she shares in her blog, The Cooking Doctor. She is a firm advocate of healthy eating and always believes that honest and healthy food will steer you clear from the doctors.