Quinoa-Kale Bowls with Tahini Sauce and Salmon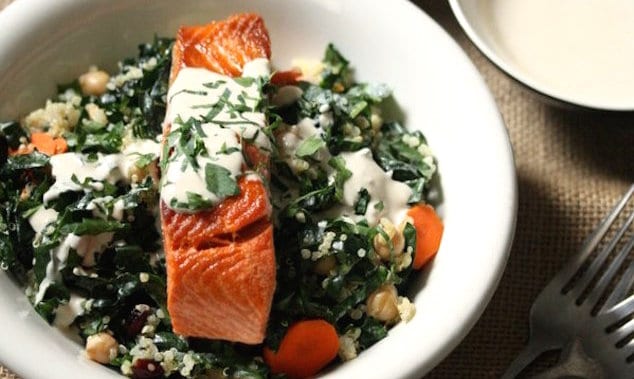 Make a basic quinoa bowl with delicious chickpeas, currants and carrots, and top with a peice of salmon and a yogurt and tahini sauce for an awesome meal.
By Phoebe Lapine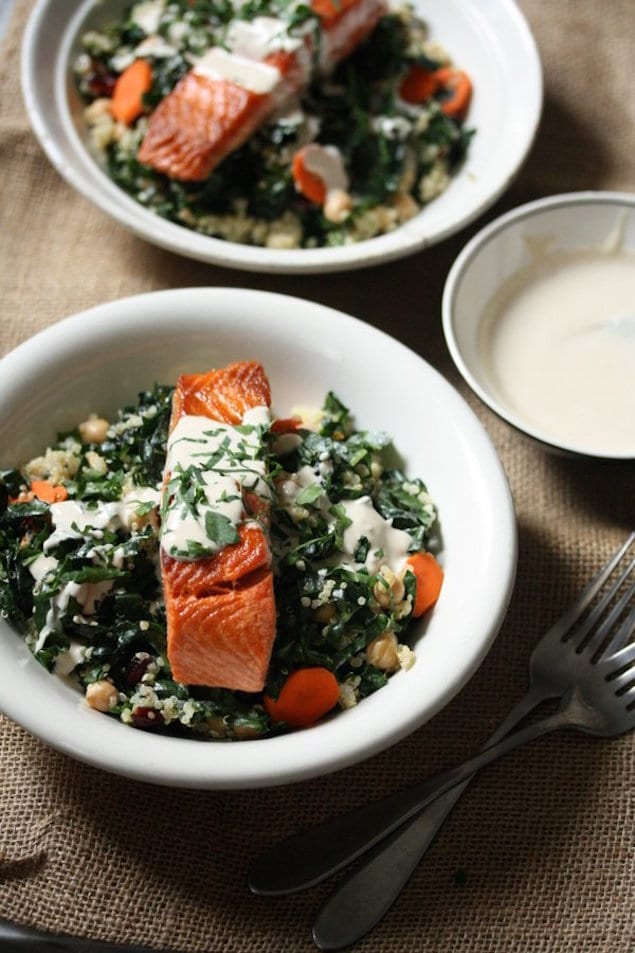 Making quinoa bowls is one way I like to make a little meat go a long way. In this case, I invested in some beautiful wild Sockeye salmon fillets. Instead of the usual 6-ounce portion, I had the fish counter cut these down into thinner fillets so I only had to buy a pound for 4 people. If you see wild salmon on sale, stock up! You can freeze extra portions and have them on hand for quick added protein for your quinoa bowls.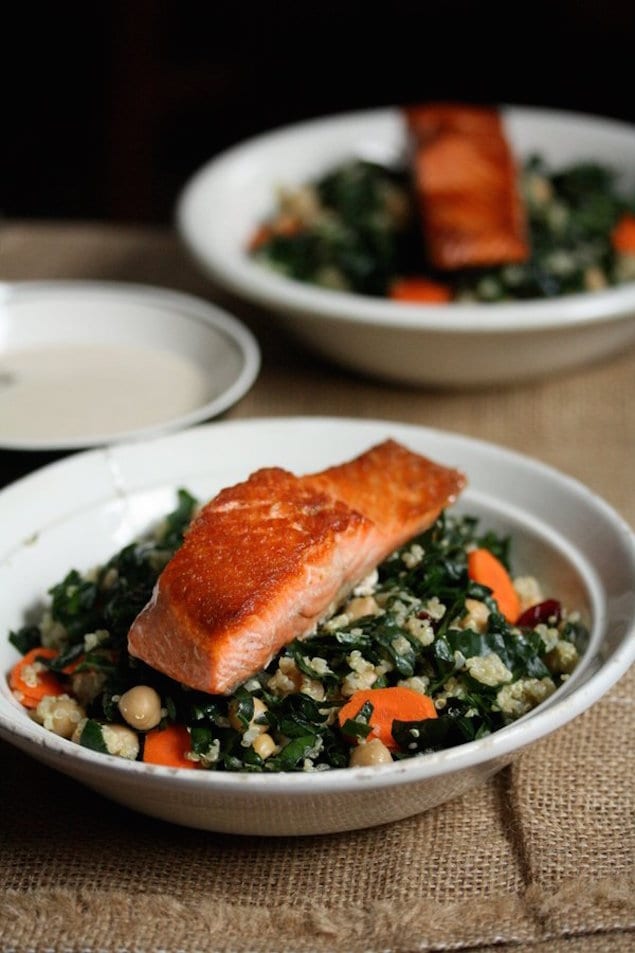 Below the salmon, my quinoa bowl is a riff on one of my favorite kale salads with chickpeas, currants and carrots. For even more healthy protein and omega-3's you can add a tablespoon of hemp seeds to the quinoa, which blend right in. The salad keeps really well as a make-ahead side for the week, as does the tahini yogurt sauce you'll want to generously douse it in.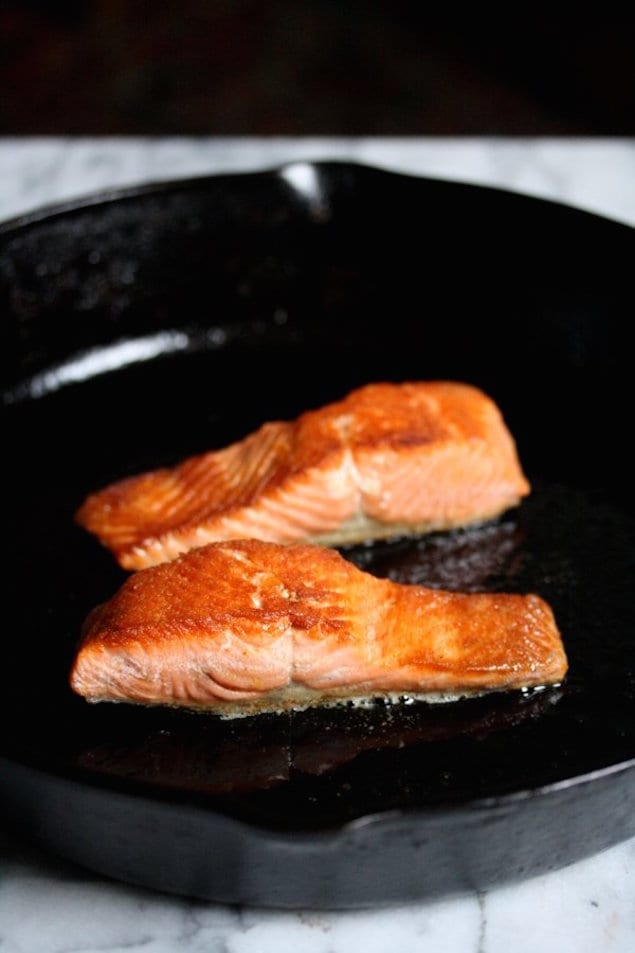 Quinoa-Kale Bowls with Tahini Sauce and Salmon
Make a basic quinoa bowl with delicious chickpeas, currants and carrots, and top with a peice of salmon and a yogurt and tahini sauce for an awesome meal.
Ingredients
1 cup white quinoa
1 bunch Lacinato, Tuscan or dinosaur kale, thick stems removed and thinly sliced
1 medium carrot, peeled and thinly sliced
2 tablespoons lemon juice
2 garlic cloves, minced
Olive oil
Sea salt
2 cups cooked chickpeas, rinsed and drained if canned
¼ cup dried currants, cranberries or cherries
1 tablespoon hemp seeds (optional)
Four 4-ounce sockeye salmon fillets (skin on)
For the sauce:
¼ cup tahini paste
½ cup water
1 tablespoon lemon juice
½ cup Greek yogurt
½ teaspoon sea salt
Instructions
In a medium saucepan, combine the quinoa and 2 cups water. Bring to a boil, cover, and reduce the heat to low. Cook for 15 minutes, then let stand covered for 10 minutes off the heat. Fluff with a fork and set aside.
Meanwhile in a large mixing bowl, combine the kale, carrots, lemon juice, garlic, 2 tablespoons of olive oil and ½ teaspoon sea salt. With clean hands, toss the kale until very well coated in the lemon and oil. Add the cooked quinoa to the kale along with the chickpeas, dried fruit and hemp seeds (if using). Mix until well-incorporated and taste for seasoning.
Heat 2 tablespoons of oil in a large nonstick or cast iron skillet. Pat the salmon dry and season with salt. Cook the salmon skin-side down over high heat until nicely browned, 2-3 minutes. Carefully flip the fish and cook for another 2 minutes, until opaque up the sides.
Divide the quinoa between 4 bowls and top with the seared salmon.
In a medium mixing bowl, whisk together the ingredients for the sauce until smooth. Add more water as necessary to make the sauce drizzle-friendly. Spoon over the fish and serve immediately.
Notes
The quinoa and tahini sauce can be made up to 3 days in advance.