This is a healthy and simple Bisibelabhat accompanied with Sweet Potato delight. Yummy!
By Anita Mokashi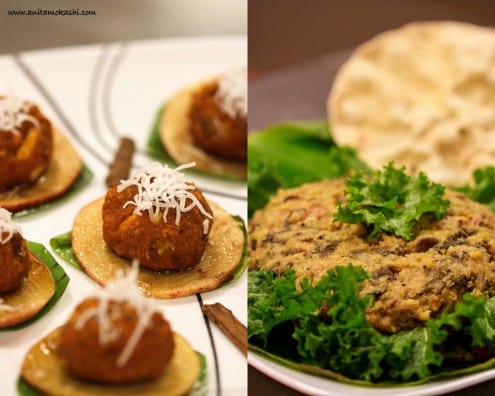 Quinoa Bisibelabhat and Sweet Potatoes
This is a healthy and simple Bisibelabhat accompanied with Sweet Potato delight. Yummy!
Ingredients
1 cup Cooked Quinoa
¼ cup Toor dhal
½ Onion
1 Tomato
1 piece Winter melon
3 small Eggplants
½ a piece Carrot
10 -15 Beans
2 tbs Sambar powder
2 tbs Bisibelabath powder
½ cup Tamarind water
½ tsp Oil
½ tsp Mustard
1 tsp Cumin
1 tsp Salt
2 Red Chillies
5 – 10 Curry leaves
Instructions
Cook Quinoa and Toor dhal
Sauté all vegetables with salt
Add Tamarind water & Sambar powder
Allow it boil well
Add cooked quinoa and dhal
Add the Bisibelabath masala & stir well
Simmer it until the desired consistency
Season with Mustard, Cumin, Red chilies
Serve it hot!
Anita Mokashi
Anita Mokashi is based in California, but born and brought up in Mumbai, India. Her blog Crave Cook Click is mostly about Indian cooking, but occasionally she shares recipes from other cultures and cuisines too. Anita is also the publisher of a popular photography blog.