PARTNER POST: Get ready for the months ahead with new potato recipes that will inspire your spring and summer cooking.
This quick gnocchi caprese dish is filled with fresh flavors and can be handmade in under an hour and served as an appetizer or main dish straight through the spring and summer seasons.
Potatoes and I have a special relationship. It might sound funny to some, but a lot of my memories and special life moments have involved food, particularly potatoes.
Growing up we often ate mashed potatoes and gravy on Saturday for lunch. As a child, my sister and I would go on yearly camping trips with my grandparents where I learned from my grandfather the proper way to load up and deck out a campfire baked potato. ps. No baked potato can compare to one baked on a campfire.
My first Valentine's Day with Roger in 2009 (WOW that seems so long ago!) I made homemade potato gnocchi for the first time. Also, the first time Roger and I decided we might someday want to open a soup and panini restaurant was after making (vegetarian) Creamy Gnocchi and Chicken Soup.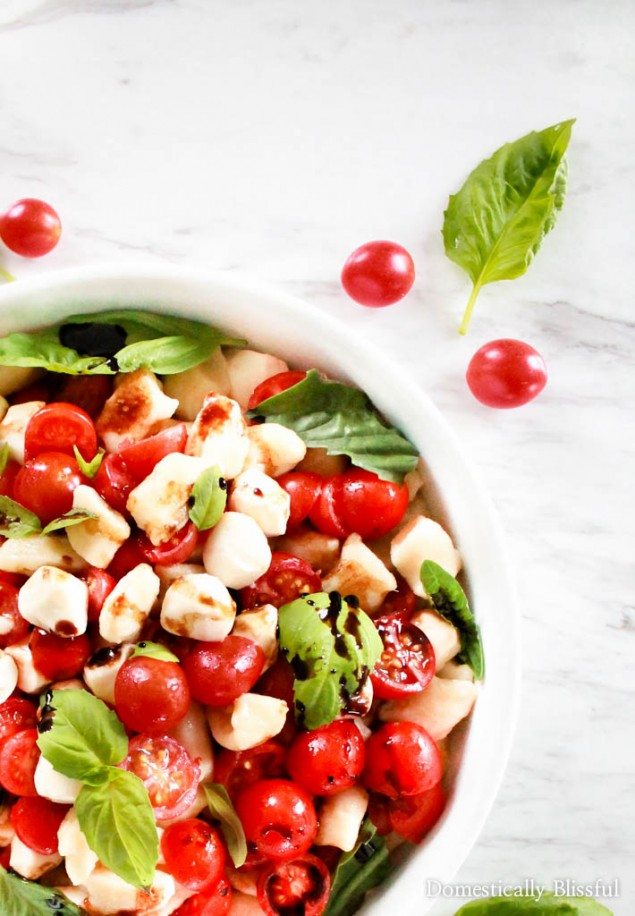 One thing that I have learned over the last 8 years of creating meals with gnocchi is that there are some tricks if you are in a hurry, but still want the soft pillows of potato goodness that only comes only from homemade gnocchi. And since I have been feeling particularly guilty about having not shared these gnocchi tips I have decided to share my quick homemade gnocchi secrets with you today!
And as you will only need 3 ingredients to make this quick gnocchi I have a feeling you are going to be making this more often than you expect. Especially since potatoes, the main ingredient, is filled with nutrients like fiber, vitamin C, potassium, and vitamin B6.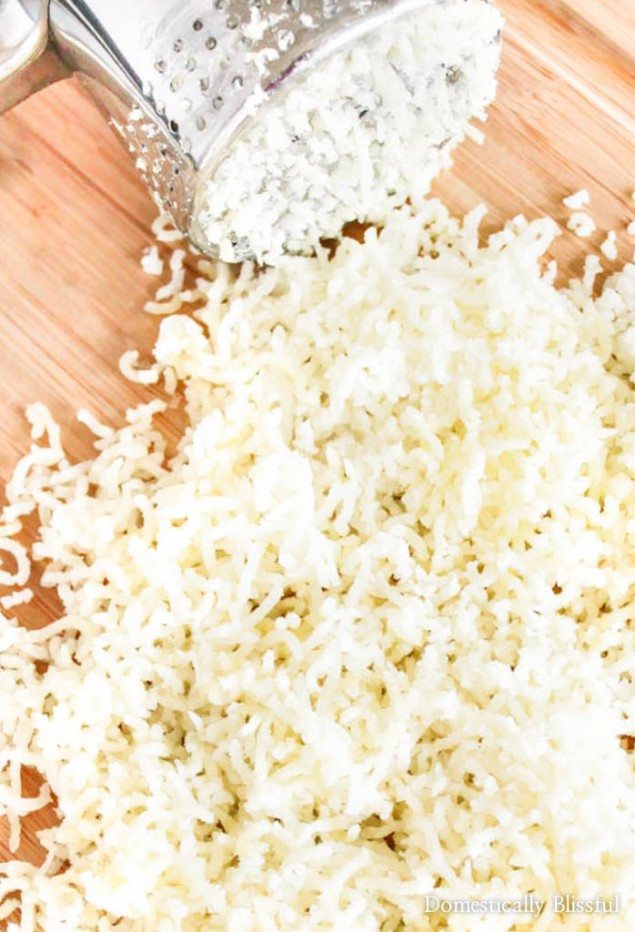 So here are 3 gnocchi tips to help you speed up your homemade gnocchi process.
1.Microwave the potato instead of boiling the potato. (I explain how in the recipe below.)
2. Use a ricer. I made homemade gnocchi once at my in-laws for his whole family without a ricer. I wasted over half an hour shredding the gnocchi (he has a large family) by hand. A ricer would have taken me 2-3 minutes.
3. Bring your water to a boil before you cook your gnocchi. I often forget to boil the water & all my cut gnocchi will have to sit & wait to be cooked until the water begins to boils.
Click the banner below for more delicious potato recipes.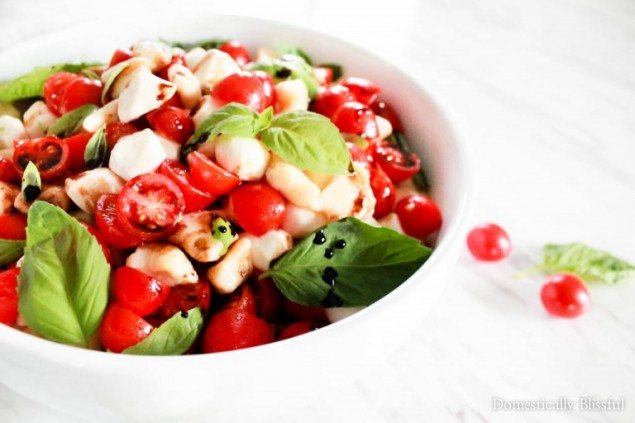 And since homemade gnocchi is now super quick and easy to make I thought I would share with you this super simple summer caprese gnocchi recipe below. I've already promised Roger to make this quick Italian dish a lot in the coming summer months and most likely I will be bringing this summer gnocchi to many family picnics, (vegetarian) BBQs, and lazy weekend get-togethers.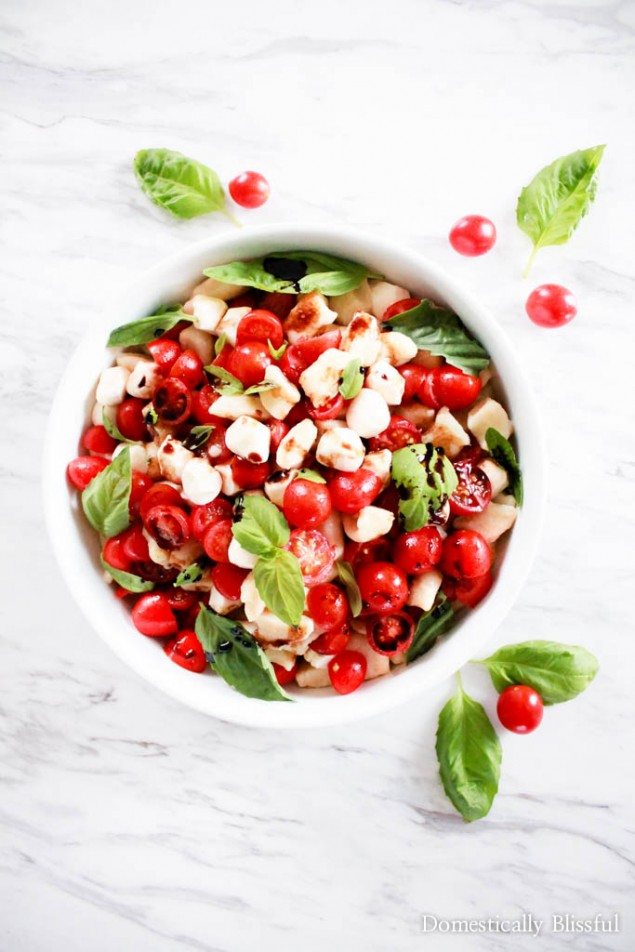 For another unique way to use potatoes, check out these truffles and find the recipe here.
Print
Quick Gnocchi Caprese
This quick gnocchi caprese dish is filled with fresh flavors and can be handmade in under an hour and served as an appetizer or main dish straight through the spring and summer seasons.
1

large Russet potato

1

medium egg

1/2

–

1

cup all-purpose flour

2 tablespoons

extra virgin olive oil
Mini mozzarella (8 oz)
Cherry tomatoes (approximately 10 oz)
Basil
Balsamic*1
Instructions
First clean your potato & then use a knife to make several small slits (10-12) around your potato.
Place the potato on a microwavable plate, covered by a wet (paper) towel,*2 & microwave for 5-7 minutes, rotating the potato halfway through, until the potato is tender on the inside.*3
While your potato is microwaving place a pot of salted water on the stove & bring to a boil.
When your potato is tender, work quickly to peel & rice the potato.
Once the potato has cooled heap the potato in a pile, add one egg, cover with 1/2 cup flour, & combine using your hands to create a dough ball. Add flour as needed until it is no longer sticky.*4
Roll out the dough into a rope like shape that is approximately 1/2 inch thick. Use a knife to cut the dough into gnocchi shapes, about 1/2 inch.
Once all of your dough is cut into gnocchi pieces boil your gnocchi until it rises to the top of the pot & then let it cook for an additional 2-3 minutes, stirring occasionally.*5
Strain your gnocchi & toss it with 2 tablespoons of olive oil.
Gently mix in all of the mini mozzarella, cherry tomatoes, & basil.
Serve warm or chilled with a drizzle of balsamic.
Notes
*1. If you prefer thickened balsamic simply pour the balsamic in a pan & bring it to a simmer at medium heat, then reduce the heat to low & let it simmer for 10-15 minutes until thickened.
*2. This keeps the potato from drying out.
*3. You can test this with a knife.
*4. The amount of flour will vary depending on the size of your potato, the moisture from the towel, & the egg. Also, try not to overwork your dough so that your gnocchi stays light & airy.
*5. Total cooking time is about 5-7 minutes.
Giustina Blissful
Hello! My name is Giustina and I'm a 20 something who is married to my best friend and love of my life. I think everything tastes better when made with love and a splash of lemon. Although love, life, and marriage is never easy I believe that it is always an adventure worth traveling!