Quick and Fresh Tomato Basil Soup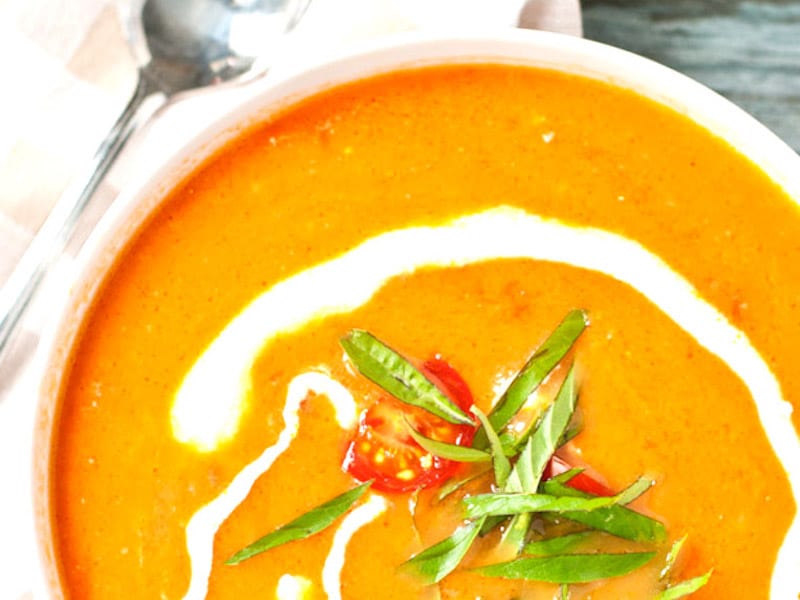 Summer brings in tomatoes, and that means soup. Quick and fresh, tomato basil soup tastes just like summer with every spoonful.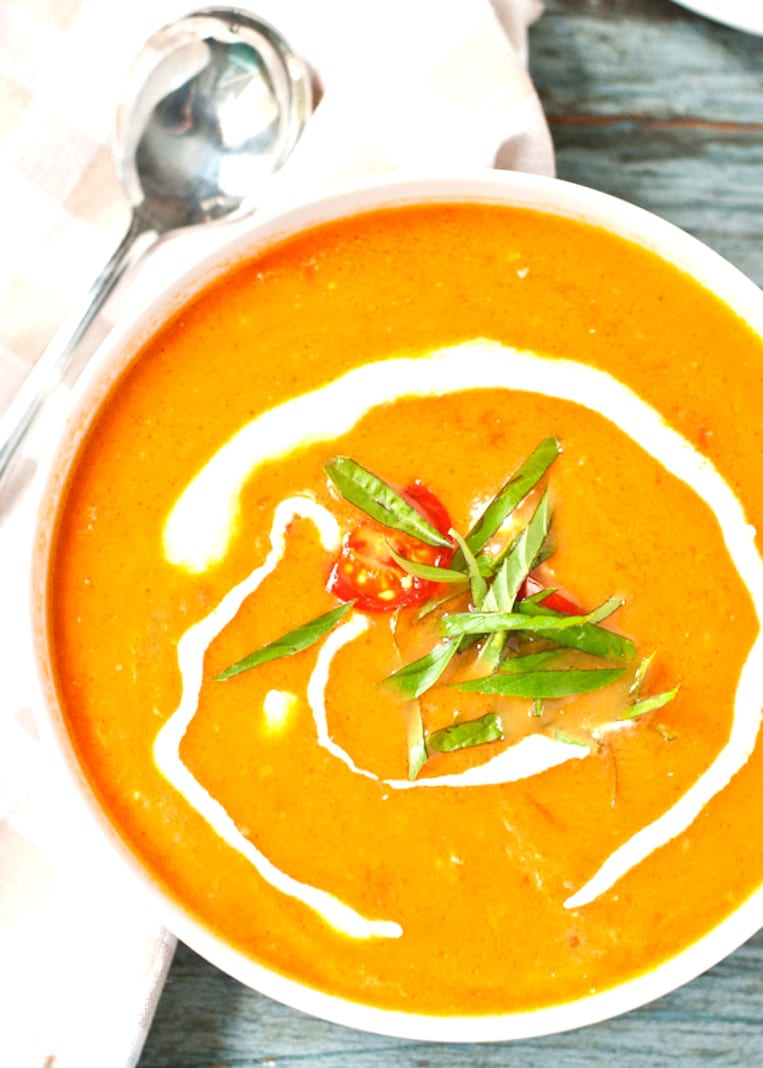 If I had to choose a single comfort food to live on for the rest of my life, I would choose tomato soup and grilled cheese. Some people go for mashed potatoes, melty macaroni and cheese, or burgers and fries. But on my weariest days, nothing seems to soothe my tattered spirit quite like a humble bowl of tomato soup.
It may seem like a strange time of year to be talking about a hot bowl of soup, but with droves of plump, ruby tomatoes appearing everywhere, I figure there's no better time to stock up on fresh tomato soup than right now.
I've been looking for an easy, from scratch tomato soup recipe for awhile. A long time ago I made a roasted tomato soup that was heavenly, but it was also time consuming and used canned tomatoes. I wanted a recipe that called for fresh tomatoes and could be made in about 30 minutes.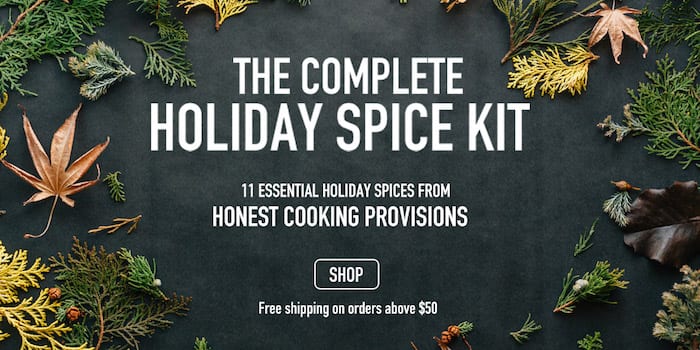 Luckily, this recipe fits the bill. Common pantry staples and about 40 minutes of your time is all it takes to make a giant vat of this stuff. The most time consuming aspect is chopping the tomatoes and onions, which I assume could be done with a food processor if you have one. Beyond that, all it takes is a lot of "add that to the pot" and the occasional stir.
For minimal effort, you'll be rewarded with sweet, flavorful soup that tastes like summer poured itself into your bowl. I was surprised how little seasoning the soup needed. It actually tasted quite good without any added salt, pepper, or basil, but I gave it a small dose of all three for good measure. The great thing about making your own soup at home is you get to control the flavor. Want it creamier? Replace some of the broth with milk or cream. Want it spicy? Stir in a little cayenne pepper. Want a little smokiness? Smoked paprika would be lovely.
I'm pretty low maintenance when it comes to things like this so I chose not to seed or peel the tomatoes. If you want a perfectly smooth soup, you'll need to do both. But if you like your soup to have just a bit more texture, this recipe is perfect. And by perfect, I mean it coats the outside of a grilled cheese sandwich like a champ.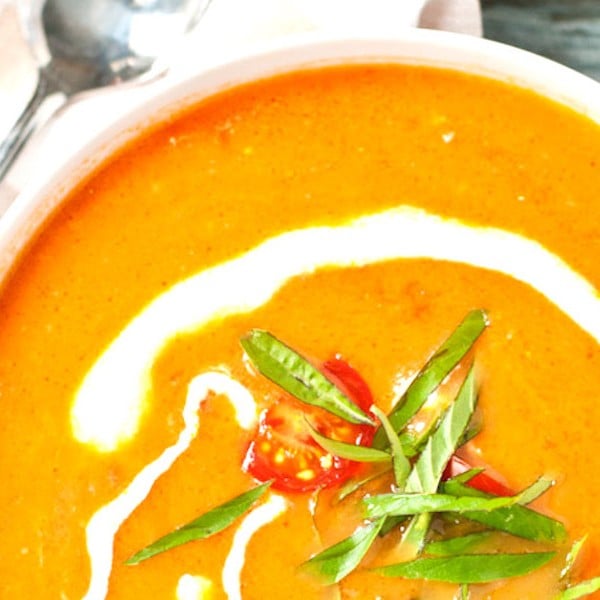 Courtney Rowland
Ingredients
¼

cup

olive oil

6

cups

chopped yellow onions

About 2 very large onions

2

Tablespoons

balsamic vinegar

2

Tablespoons

sugar

6

garlic cloves

minced

12

cups

chopped tomatoes

I used a variety of kinds and didn't peel, but you can peel if you like

6

cups

chicken broth

or swap vegetable broth

Salt and Pepper

to taste

Basil

to garnish

Cream

if desired
Instructions
In a large (at least 6 quart- bigger is even better!) heavy pot, heat the oil over medium heat. Add the onions and saute for 5-7 minutes, or until they've started to soften. Add the balsamic, sugar, and garlic and saute for an additional 2-3 minutes, or until garlic is fragrant.

Stir in the chopped tomatoes and bring the mixture to a simmer. Simmer for 10 minutes, uncovered, stirring occasionally.

Stir in the chicken broth and bring the mixture back to a simmer. Simmer another five minutes then taste. Season with salt and pepper as desired.

Use an immersion blender to blend the soup into the consistency of your choosing. You can make it totally smooth or leave some chunks. I personally like a few chunks. You can also blend this in your blender, but I recommend draining off the liquid and just blending the solids to avoid a blender explosion! Once the solids are blended, add them back to the liquid and stir to combine.

To serve, spoon the soup into bowls and top with sliced fresh basil. Swirl with half and half or heavy cream, if desired.

To freeze, allow the mixture to cool then ladle it into freezer safe containers or quart size freezer bags. Freeze bags laying flat. Thaw soup in the fridge overnight then reheat on the stovetop.
Courtney Rowland
Courtney is the author, photographer, and flour dusted girl behind the blog NeighborFood. She believes in using real butter, in season produce, and mismatched plates. She loves gathering people at the table and sharing stories, spills, and the occasional corny jokes.