This simple, but delicious little dish, was invented out some of Heather Sharpe's new flavour combination discoveries.
By Heather Sharpe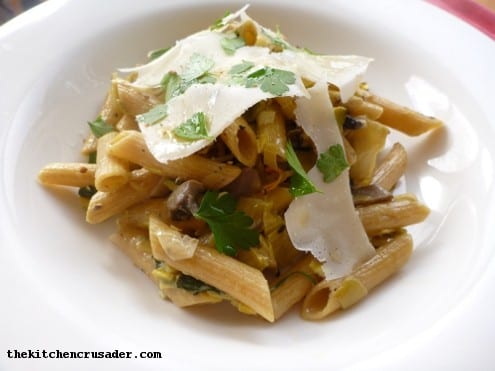 There are those days when you get home from work and all you can think of doing is resigning your sorry self to the sofa with something mind-numbing to consume on the television. On days like these it's so easy to pick up the phone and dial yourself a take-away. Let's be honest though, the last thing your body needs if you're feeling exhausted is the low nutritional value that most fast foods deliver. Personally, I'm also not entirely sure that I can justify spending money on take-away, when I should just be able to make something with the stuff in my fridge.
Last night I definitely felt that end-of-the-day-pang to just order take-away, but I dragged my sorry behind off that couch and instead of eating something unhealthy that I couldn't afford… my boyfriend and I made this in 20 minutes.
…and it was delicious.
One of the effects of eating more ethically is that you can't afford to eat meat as frequently, because ethically produced meat (free-range, organic, anti-biotic free, hormone free) is more expensive. However, during the learning process of becoming a more ethical eater, I've discovered that:
1) I really don't miss meat as much as I thought I would. In fact, I've barely noticed that I only eat it 2-3 times a week.
2) I've stopped taking meat for granted. I really enjoy it now and I'm more careful about how I prepare it because I don't get to eat it as frequently.
3) I really don't need to eat as much meat as I was eating. I'm healthier and more active than I was before I started eating in this way, I think I actually get a more balanced diet.
Of course all of this means that I cook more vegetarian food. For some strange reason there seems to be a perception that eating vegetarian means that you only eat lentils and all of your food is BORING and BLAND. This couldn't be farther from the truth. In fact, it's quite the opposite. When meat is no longer the star performer of your dish… suddenly you have to make your other ingredients gel so much better because they're going to be naked and exposed! Eating less meat has taught me more about flavour matching and preparing a good, nutritious meal than I could possibly have predicted.
This simple, little dish was invented out some of my new flavour combination discoveries. I hope that it saves you in a time of take-away-pang or lack of meat. I used wholemeal pasta here because it fills you up for longer and added a bit more "oomph" to the dish. I know it sounds a bit crazy, but it's actually really delicious when you put it with the right sauces. I encourage you to give it a go. I have been finding that's easier and easier to hold of organic wholemeal pasta (even from supermarkets!). It's more expensive, but not so much so that it puts it completely out of my budget, I paid $3.95 for a 500g bag, and you don't have to eat as much because it's more filling, so I thought that was a pretty good deal.
Reader opinion time (I want to hear from you!)
The daily consumption of meat
Contemporary Western society takes its consumption of meat on a daily basis for granted. I'm not pointing any fingers here, I'm just pointing out that we do. I used to myself! It's kind of entrenched. Yet only 50-60 years ago it was completely normal for people to only eat meat 3 times a week because of scarcity of supply. This increase in the availability of meat has come at a cost, the development and naturalisation of factory farming as a means of production. I will be writing other blog entries that go further into the details of factory farming and its drawbacks.  Suffice to say for this discussion: animals are kept in tightly packed conditions, often slaughtered in ways that might leave us feeling a little uncomfortable and treated in a manner to basically keep costs as low as possible while still keeping the animals healthy enough to stay alive. If you're interested to know more, and let's face it, we should all know where our food comes from, I find Michael Pollan's work really enlightening and Jonathan Safran Foer's Eating Animals, while initially a little emotive, is also a very insightful and intelligent rumination on the ethics of meat consumption and factory farming.
It's too easy to revert to an "ignorance is bliss" mentality on this topic, I certainly used to. However, I am more and more convinced that complete ignorance may well be bliss, but intentional ignorance is actually just ignorance. In fact it's possibly worse, it might even be negligent.
So what do we think? Should we be eating meat on a daily basis? Have we become too complacent about where our meat comes from and how it's produced? Is the development of factory farms small price to pay for the guarantee of affordable and readily available meat? Is it our right to treat animals as we do, as the top of the food chain? How often do you eat meat and what is your reasoning?
I'd love to hear your opinions!

Creamy Leek and Mushroom Pasta
Ingredients
1.1 lb (500g) dried wholemeal pasta of your choice
1 tbsp olive oil
1 tbsp butter
2 large leeks, thoroughly washed and thinly sliced
1.1 lb (500g) mushrooms (whichever kind you like)
1 cup canned artichoke hearts, roughly chopped (optional)
1½ cups vegetable stock or white wine, or a combination
½ cup water
a pinch of saffron (optional)
1tbsp plain flour
⅓ cup cream
2 tbsp cream cheese
2 good handfuls of baby spinach
zest of half a lemon
2 tbsp shelled pistachios or walnuts, roughly chopped
a handful of roughly chopped parsley to serve
shaved Parmesan cheese to serve
Instructions
Melt the butter with the olive oil in a large non-stick frying-pan over a medium heat.
Add the leeks and mushrooms, for about 5 minutes, until the leek is softening.
Add the wine/stock and water, bring to the boil, then lower to a low boil.
Add the saffron (if you're using it).
At this point you should start cooking your pasta, according to the instructions on the packet (keep an eye on it and don't allow it to over-cook).
While the pasta is cooking reduce the liquid in the leek and mushrooms down til there's barely any left, stir the tbsp of flour through the mixture.
Lower the heat, add the cream and cream cheese, simmer (don't allow to boil, it'll split the cream).
Allow the sauce to thicken, then remove from the heat and stir the spinach and lemon zest through.
If you haven't already - drain your pasta (it should definitely be done!)
Mix the pasta through your sauce.
Serve immediately, topped with the pistachios, Parmesan and parsley.
Heather Sharpe
A frequenter of farmer's markets and fan of things free-range and organic, Heather concerns herself with trying to live/eat/cook more ethically and sustainably. Her playful approach to flavour combinations promotes the idea that cooking healthy, more ethical food is an attainable goal, even with our hectic lifestyles. Heather's recipes have been published in Metior Magazine and Dash Magazine, Heather also not-so-secretly blogs as the culinary super-hero, The Kitchen Crusader.