A quick, easy version of the famous Vietnamese soup.
Today we're going to make some Beef Pho. The quick and easy version. Pho is a Vietnamese soup consisting of rice noodles called bánh ph?, herbs, and usually beef or chicken. Beef is my favorite, but the most important element of this soup is certainly the broth. For a great broth, you need to start with a great base, but this doesn't mean you have to spend all day cooking to achieve this. I have just the right store-bought solution.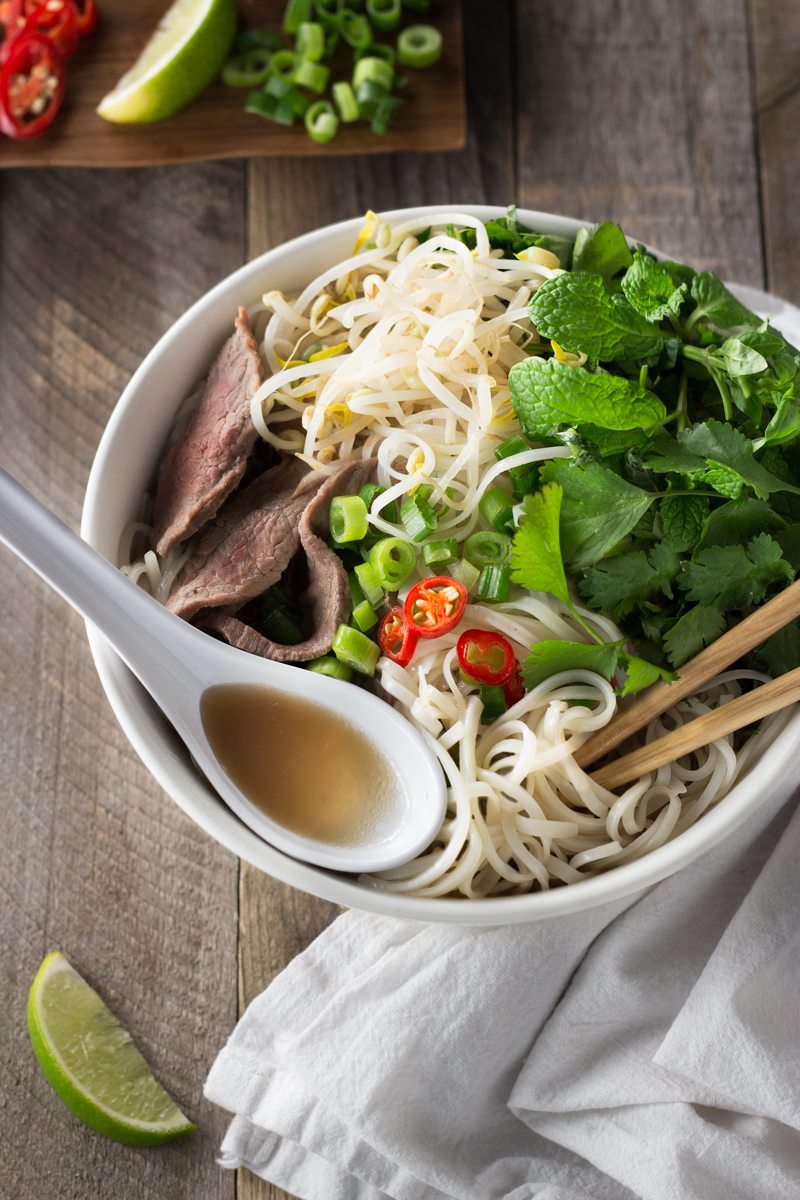 A good quality store bought broth, charred onions, garlic, ginger, warming spices, soy and fish sauce impart that classic pho soup taste. To build this soup, I first like to put thin slices of just-cooked beef, rice noodles and a healthy palmful of chopped up herbs into my bowl. Then I ladle in the broth and add lots of toppings, including scallions, spicy red chilies, bean sprouts and even more herbs!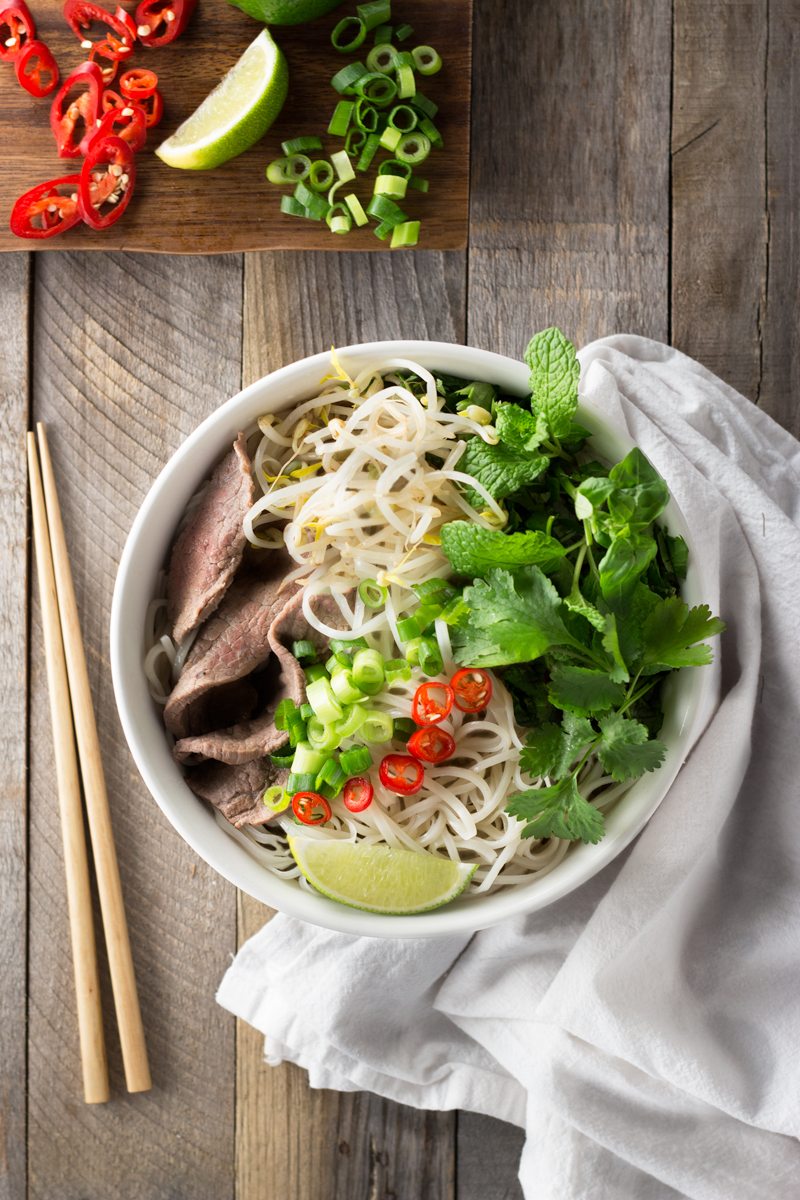 Quick Beef Pho
Ingredients
1T vegetable oil
½ medium onion, peeled with root intact
2 cloves garlic, smashed
2 inch piece of ginger, peeled and thinly sliced
1 whole star anise
1 cinnamon stick
3 whole cloves
4C Kettle & Fire Beef Bone Broth
1 tsp soy sauce or more, to taste
1 tsp fish sauce or more, to taste
4oz rice noodles (preferably Bánh Pho)
6oz beef eye round or sirloin, very thinly sliced
Toppings/additions (optional):
Bean sprouts
Basil, mint and/or cilantro leaves, chopped plus whole leaves for garnish
Scallions, thinly sliced
Red serrano chilies or other small hot chili, thinly sliced
Lime wedges, for serving
Instructions
Heat oil in a large pot over medium heat. Add onion, cut side down, and cook undisturbed until well-browned, about 3-5 minutes. Flip onion and add ginger and garlic to pan, stirring frequently for 30-60 seconds or until fragrant and slightly browned, but not burnt. Remove all ingredients from pan and set aside.
Add star anise, cloves and cinnamon stick to the pot. Toast about 3-4 minutes or until fragrant and lightly browned, but not burnt. Add broth to pot. Add back onion, ginger and garlic. Simmer for 20-30 minutes or until flavorful. If over-reduced (too bitter or salty tasting) add a few spoonfuls of water, as needed, to dilute broth. Strain and return to pot, discarding vegetables and spices. Stir in soy sauce and fish sauce, adding more if desired.
While the broth is simmering, cook the noodles. If using thin cut Bánh Ph? noodles, soak in cold water for 20-30 minutes. Bring a large pot of salted water to a boil. Drain noodles and add to boiling water. Cook 1-3 minutes or until al dente. Alternatively, cook noodles according to package directions. Drain, rinse and toss in a few teaspoons and vegetable oil to prevent sticking. Set aside.
If using bean sprouts, I suggest blanching for 10 seconds in the boiling water before cooking noodles in the pot. Remove using a spider or slotted spoon, reserving the boiling water for the noodles. Run sprouts under cold water or shock in an ice water bath until cool. Drain and pat dry.
When the broth is finished cooking, bring to a gentle boil and add beef. Boil until just cooked through but still slightly pink, about 1 minute. Remove from broth using a spider or slotted spoon and set aside.
To assemble soup bowls, add noodles, beef and chopped herbs to the bowl. Ladle in broth. Top with bean sprouts, scallions, chilies and additional herbs, if desired. Serve with lime wedges. Enjoy.