Summer in India is never complete without the preparation of this gorgeous and tasty mango delicacy.
By Nandita Nataraj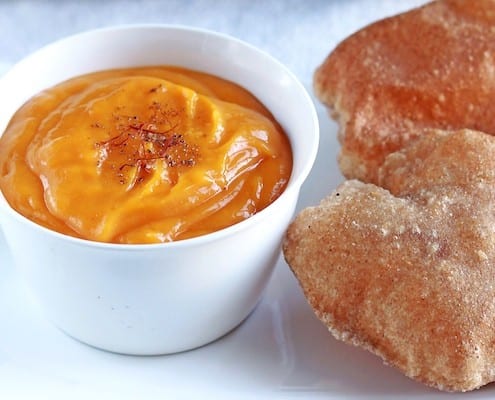 This smooth comforting dessert is not only delicious but extremely easy to prepare. All it takes is a few minutes of your time and very few ingredients and Voila! A scrumptious dessert is created.
It is sheer bliss to bite into the crispy puris which is dippedin the smooth mango pulp. This dessert is best if it is not too rich so as to not to overpower the flavour of the mango and allow the natural taste of the sweet fruit  to come through. So if you are one of those who like me is celebrating Christmas in Summer, I suggest that you give this recipe a try. You never know you might have another dessert to consider for the festivities.
Puri Aamras- Puffed fried bread with sweet mango sauce
Ingredients
For the Puri:
Whole wheat flour- 1-1/2 cup
Salt- ¼tsp
Water- about half cup or as required
Oil to deep fry
For the sweet mango sauce:
Mangoes- 3 med sized, peeled and chopped
Sugar- 6 tbsp
Milk- ¼ cup
Cardamom powder- ¼tsp
Saffron- 8-10 strands, lightly roasted and powdered (optional)
Instructions
For the Puri:
Mix the salt and flour in a bowl and add water gradually. Mix well until a soft pliable dough is formed.
Cover and allow the dough to rest for 10min
Divide the dough into 10-12 equal portions and roll each portion into a disc of 5-6 inches in diameter.
Heat oil in a wok and drop the rolled dough into the oil.
While the puri is slowly raising to the surface make sure to keep ladling hot oil on the surface. This helps the puri to puff up.
Repeat the same procedure with the remaining dough.
For the Mango sauce:
In a blender, mix the mango pieces and the milk and blend.
Add the sugar, cardamom powder, saffron, and blend again.
Pour the mango pulp into individual bowls and serve with hot puris
Notes
The quantity of the sugar used largely depends on the sweetness of the mangoes. Increase the sugar if the mangoes are sour and decrease if they are sweet. The aamras can also be served with vanilla ice cream. It tastes heavenly!!!
Nandita Nataraj
Nandita was born, bred and spread in India, but right now lives in Tanzania where her quest for simple and exotic pleasures of food led to the creation of the blog Paaka-Shaale. She believes that food is not just a means to feed a body. But it is also meant to appeal the mind and satiate the soul.