With a 2.5 month waiting list, Michelin-awarded Mexican cuisine and Europe's biggest selection of Mezcal, this savory superstar is once and for all raising Mexican food standards to the same level as European and Asian fine-dining.
When it comes to Mexican cuisine most people mistakenly think that tacos, burritos and tortillas is all that this rich cultured country has to offer, thanks to the many Tex-Mex-like Mexican restaurants around the world, that only carefully dips their toes in the vast ocean of different styles and flavors of Mexican cuisine. One notable restaurant however is swimming against the current and showing happy diners what else the Mexican kitchen has to offer – and to great success.
Located in the heart of Madrid, you will find Punto MX, spearheaded by Mexican chef Roberto Ruiz, whose goal and ambition is to change the way people perceive Mexican cuisine and steer them away from the stereotypes.
"I believe that the biggest misconception about Mexican food is that it's always cheap to produce, uses low quality ingredients and requires no technique to cook, which couldn't be further from the truth. At Punto MX we follow the values and traditions of the Mexican heritage, while adding new and innovative techniques and flavors to great Spanish products. We integrate the two while staying true to our Mexican culture," Roberto Ruiz explains to Honest Cooking.
Reinventing and revamping
Mexican fusion cooking is no strange thing to Roberto Ruiz. Before sharpening his chef's knives at Punto MX, he had opened his first restaurant, KOI, a fusion restaurant specializing in Mexican and Japanese cuisines. Before that he had worked in three of the most exclusive golf clubs in Mexico, taking care of both the restaurants and clubhouses, and has also worked in the development department of Sigla Group, which is a Food & Beverage group of roughly 900 restaurants spread across France, Spain and Europe.
His path led him to Madrid, when he received the distinct honor of being the private chef for Plácido Arango, who was president and board member of the "Museo Nacional del Prado". Yet as proven by the immense popularity of Punto MX, his love and craftsmanship of the Mexican cuisine led him to open the star restaurant. The name itself is an ode to Mexico and directly translates to "dot-m-x", the internet domain used for Mexican websites.
"It refers to a very modern Mexico in a cosmopolitan way. When we opened it was like all Mexican restaurants were named something like "El Chaparrito" (the little short one) or "El Borrachito" (the little drunk one). Very stereotypical names to describe Mexico, and although they do exist, we wanted to distinguish ourselves from the more stereotypical Mexico," Roberto explains about the name choice.
The "Carabinero"; Scarlet King Crab mixing high quality Spanish produce with Mexican flavors and techniques.
His inspiration comes from the many memories of his childhood in Mexico and the many flavors they have to offer, as well as his love for traveling the world, where he studies new ingredients and different techniques to use. This all adds up to a total revamp of classic Mexican food.
"To understand a kitchen, I question all the processes involved in creating each plate. The raw materials, the flavors, and the techniques used to create them. I update them with trends such as using organic and ecologic ingredients, sustainable produce and a slow food approach to cooking. Once we have done the groundwork we develop new and exciting recipes. One clear example is our Scarlet King Crab, 'Carabinero.' It's seasoned with Mexican citric and guajillo. So it's a local Spanish product, which isn't even available in Mexico, but prepared and seasoned with Mexican techniques and flavors. It's a cornerstone at Punto MX and a clear example on how to stay true to Mexican ways, while still preparing Michelin worthy dishes."
The story of Mexico told in the plates
Another notable thing about Punto MX is the interior. While most Mexican restaurants are colorful and cheery, and sometimes tend to be a little over the top when it comes to décor, Punto MX surprises you from the get go, and brings to mind the interior of a French or New Nordic restaurant, with it's minimalistic and subtle design kept mainly in white.
This is a conscious decision made by the creative team of the restaurant who made the decision based on two reasons. Firstly, they believe that the folklore and culture of Mexico should be told on the plate and not on the walls, so the complete focus of the diners would be on the food served in front of them.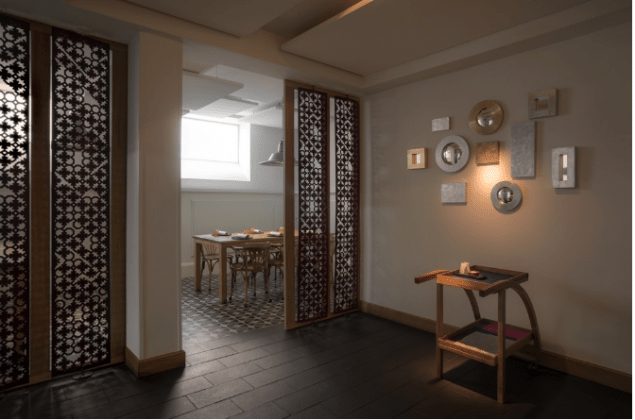 Secondly, it ties back to the misconception about Mexican food. Many believe that Mexico is a small country with very little cultural diversity in the different parts of the land. But actually, this country houses 127 million people, with a land roughly a quarter the size of the continent of Europe, which means that the country is far more than just sombreros and maracas. Architects like Barragán and Legorreta, who both had a minimal approach to design, are two clear sources of inspiration for the interior of the restaurant, subsequently leading Punto MX to actually honor Mexican legacy in a more subtle and distinct way.
The combination of how diners are visually presented the food and design is an apparent hit, as Punto MX were popular since they opened their doors in May 2012. Just three weeks after their grand opening, the restaurant, which seats 45 people and have both lunch and dinner service, were fully booked for both services and quickly became the restaurant in all of Spain with the second longest waiting list of a whooping 7 months, surpassed only by Girona's El Celler de Can Roca. Since then they have optimized and improved their booking system, to "only" now allow a wait of 2.5 months.
"The real changes were regarding our guests. People were starting to come around from all over the world to see what we were doing, as our reputation began to spread – and this was before the Michelin-star, which we were the first Mexican restaurant in the world to receive, in 2015. This also put pressure on us, as expectations kept growing. We were no longer just a Mexican restaurant, but part of gastronomical route and an essential "must eat" for global foodies visiting Madrid," Roberto explains.
An intangible heritage of mankind
The fine dining industry is extremely competitive and ever evolving. From one month to another critically acclaimed restaurant from around the world compete to make the coveted "Best of" lists compiled by experts all over the world. The long waiting list at Punto MX is according to Roberto a product of our taste buds constantly craving different flavors.
"In the 21st century, it is almost impossible to discover new and unique flavors, and that's what I think we have accomplished at PuntoMX over the last 5 years. Europe definitely has a lot of different flavors, but having a Mexican-Spanish high quality fusion is a first. And I think that's what makes people want to wait for this experience – the chance to try something new."
When asked why Mexican cuisine isn't held in as big regards as the Asian and European counterparts, Roberto explains that it's oversaturation of "Mexican" low quality food and the birth of the term "Tex-Mex", which Roberto ensures has nothing to do with real Mexican cooking.

"Tex-Mex was born in the south border of the US. It's mainly cooked with canned food (like beans and corn) and uses low quality ingredients. It has nothing to do with real and authentic Mexican food, because the Mexican kitchen is very technical, very sophisticated and requires a lot of cooking skills. For example, just think of how many different types of chilis alone we have in Mexico. To know the usage and benefits of every herb requires a lot of studying. Furthermore compared to other cuisines, Mexican cuisine is one of only 4 that has the distinguished honor of being named an "Intangible Heritage of Mankind" by UNESCO", Roberto points out and repeats that stereotyping has been holding Mexican food back from the Michelin guides so far, and that he hopes they can pave the way for more Mexican restaurants to be recognized globally.
A savory trip around Mexico
Once you've patiently waited for your table at Punto MX, you are in for a treat. Formerly known as an a la carte restaurant, the fine dining hot spot has updated their menus to only include tasting menus to coincide with their 5-year anniversary. Choose between 3 different menus: The 5 year anniversary menu, the Natural Evolution menu or the Cardinal Brothers menu, that offer a tasting of 9, 11 or 13 dishes respectively.
The decision to change into tasting menu was a deliberate choice. After their Michelin accolade they soon discovered that around 70% of their guests were visiting for the first time with the intent of trying out all the different tastes that this Mexican gem had to offer. Secondly with a team of highly ambitious and creative people, it was a natural way to evolve.
"We like to challenge the status quo and after 5 years we thought it was perfect time to stop of, reflect and plan where to go from now. We wanted to take advantage of our position and expertise as being the trendsetters of Mexican cuisine, but with a more fun and playful approach, without compromising our DNA. We used to offer fresh guacamole made by the tables to taste, but we knew we needed to switch it up a notch. And we were eager to do so. It was a natural evolution for us, which is why we named one of our menus "Evolución Natural." It's symbolizes the fruit of our works. There is nothing random at Punto MX. Everything is very carefully thought out."
The dishes are constantly evolving, changed and improved, so there according to Roberto there are several signature dishes at Punto MX, but one distinctive one is the bone marrow, that has been charbroiled in an ember oven.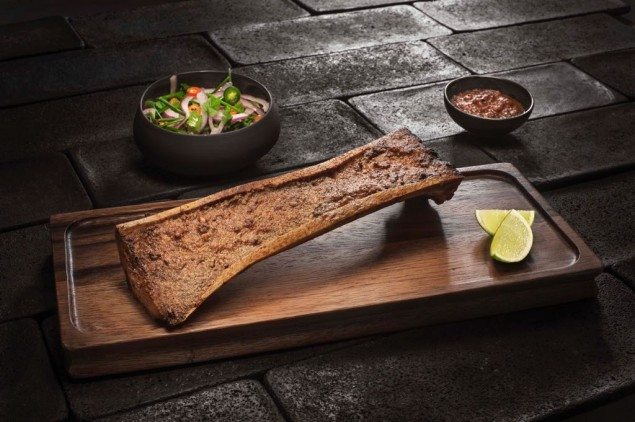 "We wanted to serve a very 'aggressive' dish that was still very sophisticated in the flavors. We were the first restaurant in Europe to serve this dish and it has been exiled here for the last 15 years because of mad cow disease. Ours is a Mexican take on it and we wanted to stay true to our DNA. It's a taste of an aged Galician beef, seasoned to perfection with tatemado chilies, fermented chilies and salsa. The final product speaks for itself, because since we opened we have served our guests more than 25.000 plates of the bone marrow," Roberto explains and adds that a lot of guests come to the restaurant to try this plate, because of the excellent reviews it gets.
"With this plate we reach our goal of highlighting the technical revolution of Mexican gastronomy and reducing the proverbial borders between Mexico and Spain. This is not the look of a typical Mexican dish, but the taste is Mexican to the core. We serve you true Mexican soul food. We constantly ask ourselves, 'how can we convey the essence of Mexico by reinventing the kitchen completely'."
Another notable thing about Punto MX is how they make everything from scratch. The ancient technique of Nixtamalization is used to prepare the corn-based products to make them more digestible. It elasticizes the mass and makes it become more flexible, allowing for example tortilla bread to be easily rolled and making it easier for the human body to absorb all the nutrients. The process dates back to more than 6000 years ago, and it's a crucial input to world gastronomy by Mexico.
Europe's largest selection of Mezcal
But the fun doesn't end there. If you are in Madrid and haven't secured yourself a reservation, go right upstairs where you'll find Punto MX's younger sister, the hip and trendy Mezcal Lab. Like it's older sibling, they are open for both lunch and dinner and seat 25 people in a cool and loungy setting, with cheaper prices to match, and they don't take reservations so it's first come first served.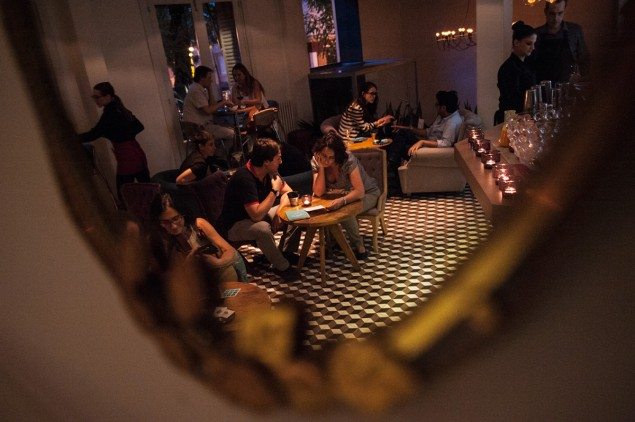 At Mezcal Lab the atmosphere is more informal, and the menu consists of the "greatest hits" served in Punto MX over the last 5 years. The pride of the place is that they can boast about having the biggest selection of mezcal in all of Europe. If you don't know mezcal, it's an agave-based liquor native to Mexico similar to tequila. Whereas all tequilas are mezcals, they are made in different regions (although with some overlaps), and tequila must be, by law, made only from the Blue Agave plant, whereas mezcal can be made from 30 different varieties giving it a more varied taste, often being more smoky than tequila. The popularity is increasing in Europe, where more and more cocktail bars offer it in their bar.
"It's the same with food – people are craving new and exciting flavors. Although bartenders and foodies are aware of mezcal, it is still a relatively new drink to people outside the industry. Like Mexican food, mezcal is being valued higher and people are getting more interested in it. Mezcal is a Mexican spirit that is a part of the culture in a lot of small towns and has been around for a very long time, so for us it's nothing new", Roberto says and adds that guests at Punto MX can, of course, choose any drink available in Mezcal Lab.
With house made creations, the team is taking the exact same approach to the bar as to the food – mixing Mexican with international classics. One classic is their Mezcaliña, which is inspired by the South American Caipirinha.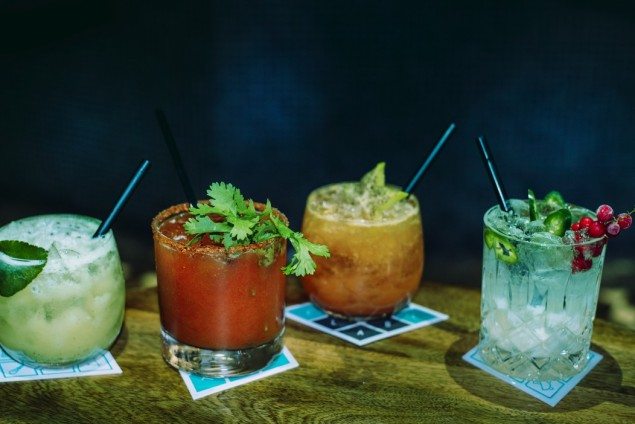 A selection of the Mezcal-based cocktails that Punto MX and Mezcal Lab has to offer.
See Also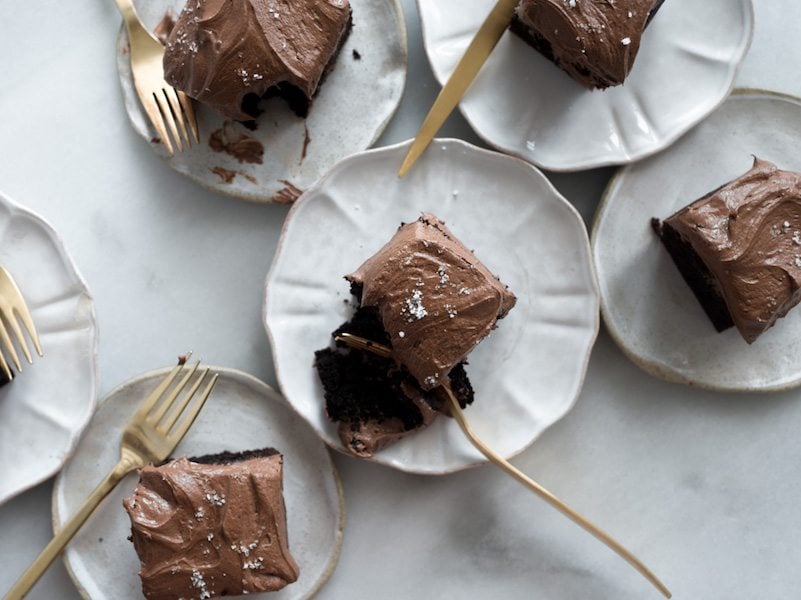 "With Mezcal as the main ingredient giving it a bit of smokiness, we've added chili to give it a bit of a spicy flavor and it's been a staple in all of our bars. Another is the Margarita Punto MX, which is a margarita with mezcal and strawberry mixed with jalapeño chili".
Academy Award-winning design and organic gardens
Punto MX and Mezcal Lab aren't the only places you can taste the delicious fusion cocktails. In Bogota, the team has Cantina y Punto, and in another part of Madrid you'll find Salon Cascabel – another younger sister to the two Madrid hot spots. It's a perfect place for a night out with your friends, and tends to lean more towards the traditional meal houses of Mexico.
"This is a place where we offer the everyday food that people crave – a more street food approach to everything. It's perfect place just to have fun and it's okay to be a little loud. Our neighbors are the street food venues Rocambolesc and StreetXo, operated by 3*Michelin restaurants Celler de Can Roca and Diverxo respectively. We need to be in consonance with our neighbors without losing the Punto MX feeling and the essence of Mexico."
Although it has a much more relaxed approach, Salon Cascabel has proven to be very popular both with guests and media. The place seats 45 people with a panoramic terrace with room for 70 people and serves an average of 350 people a day. Furthermore art director Eugenio Caballero, who won the Academy Award in Art Direction for the 2006 movie Pan's Labyrinth, created the cool, futuristic design, which won the Interior Design Award by AD Magazine in 2015.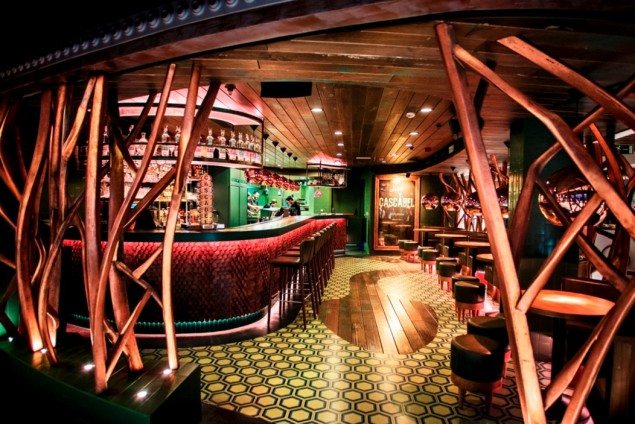 Most of the ingredients used to create the food at these ambitious places come from Punto MX's ecological garden – a 3,5 hectares of organic haven located around 65 miles to the north of Madrid. With a vision to bring a piece of Mexico to Spain, this amazing space grows over 20 different special Mexican seeds including the habanero chili.
"To fulfill our vision of true Mexican food, we needed to have easy access to the fresh ingredients. It was not an easy task as the temperatures are very different, so to sustain the life of these proved to be hard and technical. Some of the species are almost gone in Mexico, like the chilhuacle negro, which is only found on 2 hectares in all of Mexico, yet we managed to harvest 2 kilos of it ourselves. We also have the black corn that has never been grown in Europe before. Our gardeners have traveled all through Mexico to find these, and we took a big chance in growing these seeds and plants, but we only wanted the very best for our restaurants".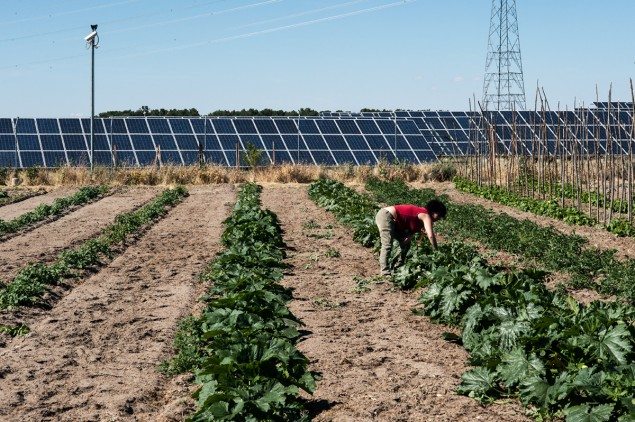 These are all the components that make Punto MX a world-renowned place for foodies. As Roberto explains it he often hears guests and reviews use the words "unique" and "one of a kind." The first one to do nixtamalization in-house, the first to have a grand mezcal selection in Europe, the uniqueness of growing Mexican seeds in Spain. This is what makes it worth a visit.
Bright future ahead
Other than a new and exciting tasting menu, the 5-year anniversary of Punto MX has a lot of new things to offer, so make sure to reserve a seat now if you plan to visit Madrid.
As a way of introducing more of Mexico's rich heritage and culture to Europe, they are inviting a series of Mexican chefs whom they admire to come and cook with them.
"This month we will be visited by a traditional cook from Oaxaca, Juana Amaya. She is a legend in Mexican cuisine, and putting her skills in a Michelin context in Europe is definitely new. In June, Edgar Nuñez will show off his avant-garde Mexico City-style, and in July we will travel back to Northern Mexico to work with Diego Hernandez Baguedano. Finally in September it's back to the Oaxaca kitchen, but a way more modern approach with star chef Jose Manuel Baños. As the ambassadors of Mexican cuisine in Europe, we really want to invite this group as we admire their work, but also to showcase the different and varied cuisine that Mexico has to offer".
With a bright vision, big talent and other projects up his sleeve, Roberto Ruiz and his brilliant team are not going to slow down anytime soon. Roberto sees himself using the coming 5 years evolving, creating and developing new and bright ideas.
"I want to develop the future of Salón Cascabel. It is a place that is very fun, where you can visit without even eating, just to enjoy some great music and a laid-back atmosphere. I see myself creating new concepts, be it solely Mexican or more international".
When asked who would be the perfect chef's table could he choose anyone living or dead, Roberto already has a guest list and a menu set up;
"Francois Vatel (French chef), Albert Einstein, Gustavo Cerati (Argentine rock star) and my grandfather. I would serve Zarandeado fish with a sauce taught to me by my grandfather and of course the signature Punto MX bone marrow".
www.puntomx.es
All photos: Rodrigo Vásquez
Daniel S. Bahrami
Daniel S. Bahrami is a Barcelona based writer with a background in digital communication and journalism in Copenhagen, Denmark. He has been part of the editorial staff of the biggest Danish fashion magazine, Eurowoman, and has worked freelance for several other publications as well as experience in fashion and gastronomy PR.