This recipe combines the classic summer quick bread with the comforting fall quick bread into a late summer/early fall treat.
By Taylor Kadlec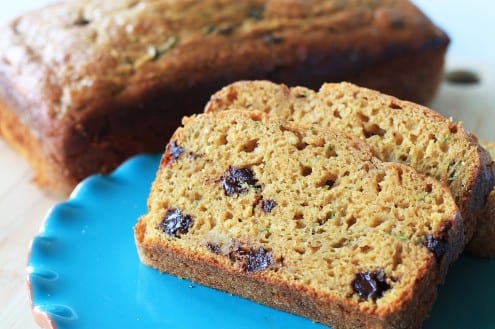 Pumpkin Zucchini Bread with Chocolate Chips
This recipe combines the classic summer quick bread with the comforting fall quick bread into a late summer/early fall treat.
Ingredients
3 large eggs
1 cup granulated sugar
1 cup brown sugar
1 cup canned pumpkin puree
1 cup plain Greek yogurt (I used Chobani)
2 tsp pure vanilla extract
3 cups all-purpose flour
1 tsp baking soda
1 tsp baking powder
1 tsp salt
2 tsp ground cinnamon
1 tsp ground nutmeg
½ tsp ground cloves
2 cups shredded zucchini
1 cup semi-sweet chocolate chips
Instructions
Grease and flour two 9x5" loaf pans. Set aside.
Preheat oven to 350 degrees F.
In large bowl, combine flour, baking soda, baking powder, salt, cinnamon, nutmeg, and cloves. Whisk to combine.
In large bowl with electric mixer, beat together eggs, granulated sugar, and brown sugar.
Add pumpkin, Greek yogurt, and vanilla extract, beating until well combined.
Slowly add dry ingredients, just until combined.
Fold in shredded zucchini and chocolate chips.
Pour batter evenly into prepared loaf pans.
Bake in preheated oven for 40-50 minutes, or until knife or tester comes out clean.
Cool in pan for 20 minutes, then remove from pan and cool on wire rack completely.
Enjoy!
Taylor Kadlec
Taylor Kadlec is a lover of all things food including baking, cooking, and of course, eating. She is a self-taught baker and cook, and she shares her kitchen adventures on her blog Greens & Chocolate, where healthy cooking meets sinful indulgence.