Check out these lovely little mini pumpkins from Amrita Rawat, filled with a delicious risotto.
By Amrita Rawat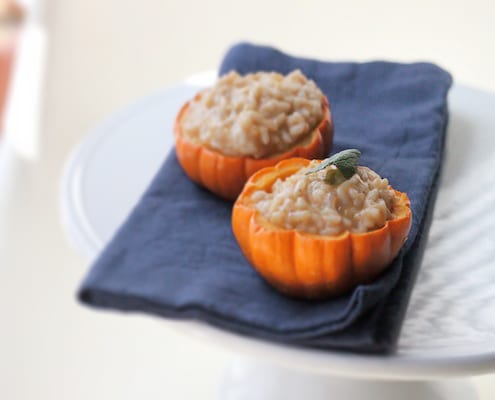 This year seems to be all about learning to cook with foods I never knew much about. I know every October is all about the pumpkin in America, but it wasn't till this year, spending every weekend in a farmer's market, that really drew my attention to it. I've only ever had one pumpkin pie in my entire life, I've still never gotten the pumpkin spice latte from Starbucks (although we were just given a gift card there so I may finally try it).
When I saw an adorable photo of risotto served in mini pumpkins in a local St Louis magazine called Feast, I really really really wanted to try it.
So I found 4 impossibly adorable mini pumpkins last week… and one Sunday morning, I put in some time and effort making the most delicious and satisfying risotto in this unexpectedly chilly weather.
Risotto is basically a rice cooked in broth, resulting in a creamy, thick soup-like dish. 
I don't know what I was expecting while making this, but I certainly didn't expect it to be as delicious as it actually turned out. But the overall result was amazing, and I should probably have a bit more faith in my cooking skills. I upped the spices (you know I'm a spice fiend) so every bite left the most glorious flavor punch. I also didn't add the entire amount of stock because I didn't want it completely wet. It was also much tastier eating them inside the mini pumpkins than on a plate. The inside of each pumpkin is delicately coated with some oil and truffle salt, and so tender that it blends seamlessly into the risotto.
This is definitely one for the repertoire and would make a great dish to serve at your next dinner par-tay.
A simple and delicious spicy pumpkin risotto, adapted from a recipe in Feast, a local St Louis magazine.
Recipe Type:
Entree, Main
Ingredients
4 small pumpkins + ¾ cup pure pumpkin puree*
2 tbs + 1 tbs canola or grapeseed oil
1 tbs + 1 tbs unsalted butter
2 tbs + ½ cup finely chopped shallots
⅛ tsp allspice
⅛ tsp nutmeg
1 cinnamon stick
2 whole cloves (or ½ tsp cloves)
1 tsp ground white pepper
6 cups chicken or vegetable stock
2 cups white rice
⅓ cup Riesling or white wine
½ cup parmesan
2 tsp chopped sage
Instructions
Add the allspice, nutmeg, cinnamon stick, cloves, and white pepper to a small pot with the stock.
Heat until steaming and then reduce heat to low.
Preheat oven to 400 degrees F.
Slice off the tops of each pumpkin and hollow them out by scooping out the meat and discarding the seeds.
Place flesh in a bowl and place the hollowed pumpkins on a baking sheet.
Pour a teaspoon of oil inside each pumpkin and then use your fingers to rub the inside and outside of each pumpkin with it.
Sprinkle the insides lightly with truffle or regular salt.
Bake for 15 minutes and then remove from the oven and let cool.
Chop the pumpkin flesh into small pieces.
Bring a large frying pan to medium heat and add 2 tbs oil and 1 tbs butter.
Cook the pumpkin and 2 tbs of shallots on medium to low heat, until tender... about 7 minutes.
Season with salt and adjust, according to taste.
Set aside in a separate bowl.
Using the same pan, add another tablespoon of oil and the rest of the butter.
When the butter is melted and bubbly, add the remaining shallots and cook till translucent.
Add the rice and saute for a few minutes until you hear the rice sizzle and crack.
When the rice becomes about 70 percent translucent, pour the Riesling into the pan and stir until entirely evaporated.
Add ½ cup of seasoned stock and stir until absorbed.
Continue to add stock and stir until the rice is cooked through, about 20 minutes total.
Try not to overcook the rice by tasting occasionally and constantly stir to prevent the rice from burning.
Once cooked, stir the pureed pumpkin mixture along with the parmesan cheese into the rice.
Stir in half of the sage.
Place the finished risotto into the hollowed pumpkins and garnish with sage.
Serve warm; reheat for 5 minutes in the oven if need be.
Notes
*I didn't have that much flesh inside the pumpkins so I added extra puree that contained no added sugar* *If making this without real pumpkins, I would use a whole can of puree* *You may or may not use the entire stock, I had a little bit left over and only used as much as I needed for the rice to cook through. I also didn't want my risotto too watery, which is the traditional way (Sorry, Tom!) *Halfway through cooking, I added ground cinnamon, ground cloves, allspice, nutmeg, and white pepper to the rice to amplify the spices, but that's up to you. *Always add hot or warm stock to risotto, or you may result in unevenly cooked rice. *You can reserve the stock so that if you have leftovers of the risotto and need to reheat it, you may add some stock to keep it from drying out.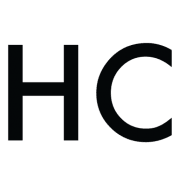 Amrita Song
Amrita Rawat is the author of the blog Chai and Dumplings. Born in India and a lifelong resident of Atlanta, she recently moved to Saint Louis. Her love for food stems in part from its ability to bring cultures together and in part from how darn good it feels to eat a delicious meal. She loves traveling and has eaten her way through cities like Hong Kong, Paris, Budapest, Mumbai, and Shangri-la. Amrita is also a contributor to Sauce Magazine in St Louis.