Pumpkin Pie with Pecan-Chocolate Topping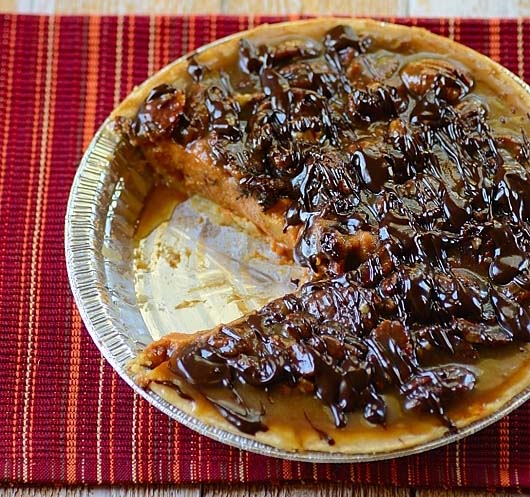 This dessert does double-duty on your Thanksgiving spread, combining pecan pie and pumpkin pie and topping the whole thing in gooey chocolate.
By Denise Browning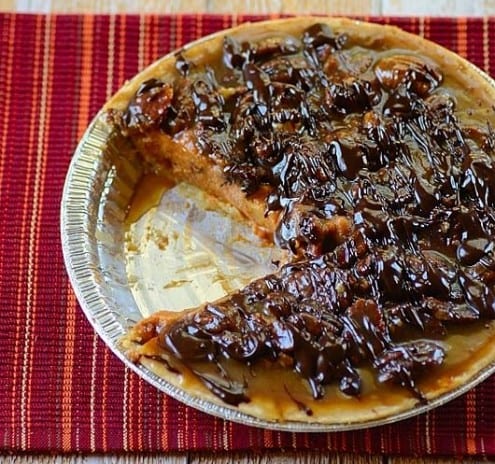 Pumpkin Pie with Pecan-Chocolate Topping
This dessert does double-duty on your Thanksgiving spread, combining pecan pie and pumpkin pie and topping the whole thing in gooey chocolate.
Ingredients
For the Pie:
1 (9-inch) pie shell, thawed or make a homemade dough
2 cups of canned pumpkin puree
? cup firmly packed light brown sugar
2 large eggs, at room temperature and lightly beaten
2 tablespoons unsalted butter, melted
2 tablespoons dark corn syrup (or unsulfured molasses)
3 tablespoons all-purpose flour
1 teaspoon pure vanilla extract
¾ teaspoon salt
1 tablespoon pumpkin pie spice**
½ cup sweetened condensed milk
** If pumpkin pie spice is not available at your local supermarket, make your own by mixing together 4 tablespoons ground cinnamon, 4 teaspoons ground nutmeg, 4 teaspoons ground ginger, and 3 teaspoons ground allspice. Store in a small sealed container and use 1 tablespoon of this mix in our pumpkin pie.
For the Gooey Pecan-Chocolate Topping:
¾ cup firmly packed light brown sugar
3 tablespoons unsalted butter
2 tablespoons dark corn syrup (or unsulfured molasses)
5 tablespoon heavy cream, divided
1 teaspoon pure vanilla extract
1 cup toasted pecans, roughly chopped
? teaspoon salt
½ cup dark or semi-sweet chocolate chips, melted according to the package instructions
Instructions
Preheat oven to 350 degrees F (about 177 degrees C).
Using a fork, prick bottom of the thawed, plated pie and then line all of the pie crust on top with parchment paper, letting ends extend over edges. Fill with pie weights.
Bake until lightly golden (approximately 15 minutes). Carefully remove pie weights and parchment paper. Let cool completely.
In a large bowl, whisk together pumpkin puree, brown sugar, lightly beaten eggs, melted butter, corn syrup or molasses, flour, vanilla, salt, pumpkin pie spice, and sweetened condensed milk. Pour mixture into cooled pie crust and cover pie loosely with aluminum foil to prevent excess browning of crust. Bake for 30-40 minutes or just until center is set. Let cool on a wire rack. Meanwhile, make the topping.
To make the Gooey Pecan-Chocolate Topping: In a small saucepan, heat brown sugar, butter, and corn syrup or molasses over medium heat, stirring until sugar dissolves and mixture just starts to boil. Add 1 tablespoon of heavy cream and vanilla, stirring constantly until incorporated. Stir in the chopped pecans and salt and bring mixture to a boil, stirring constantly. Remove from heat and pour hot gooey pecan topping over the pumpkin pie layer, spreading gently to cover edges of the pumpkin pie. Refrigerate pumpkin pie for at least 8 hours.
Right before serving the pumpkin pie with gooey pecan topping, melt the chocolate with 4 tablespoons of heavy cream and stir well until combined. Then, drizzle the warm chocolate sauce on top of the pumpkin pie and enjoy!
Denise Browning
Denise Browning is a native Brazilian foodie, trained Chef, cooking instructor, restaurant menu/recipe developer, and former lawyer. She is also the author of From Brazil To You - a blog that features Brazilian, fusion, and international dish recipes, stories, and photography of Brazil. Her writing has appeared in Cia Brasil Magazine, while her photography is frequently featured on Foodgawker, TasteSpotting, and Foodepix. She lives in Texas with her American husband and two children.