Pumpkin Pie with Chocolate and Caramel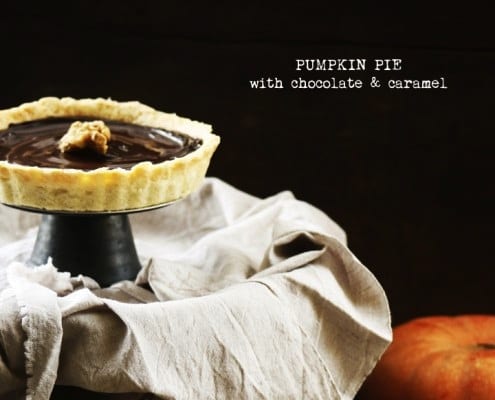 A decadent fall pumpkin pie with chocolate and caramel, from Pallavi Gupta.
By Pallavi Gupta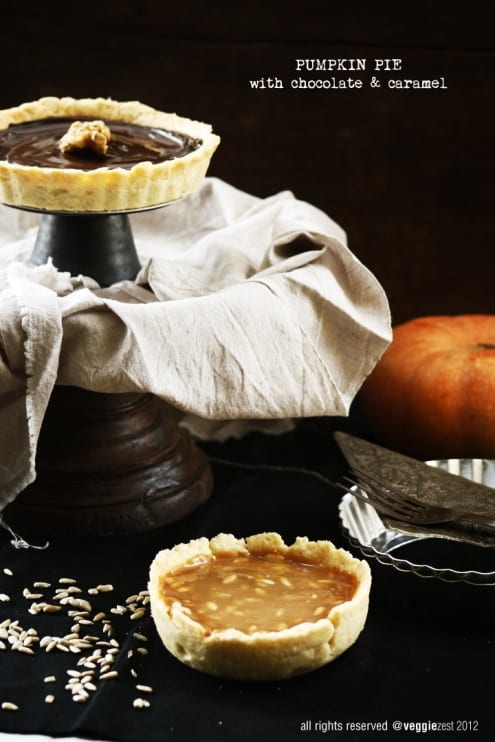 It took me a little while to put the pie together just because we don't get things like ready made pastry dough and pumpkin puree here in India. You can always make this recipe from scratch – like I did but it will save you oodles of time if you just get these two things from the store.
The pumpkin filling that I made was more like a custard that I flavored with ground pumpkin seeds. Initially when I was developing this recipe, I wanted to combine tahini with it somehow, but as I thought more about it I felt that putting pumpkin seeds in pumpkin pie makes much more sense than putting sesame seeds. The result was a creamy & light custard with a beautiful color.
Once you have the basic custard pie ready, you can do various combinations with it. I added a layer of chocolate ganache in two of them and a layer of salted caramel sauce mixed in with toasted pumpkin seeds on the other two. You can also sprinkle some brown sugar on top of the pie and blowtorch it to make a creme brulee like topping….I bet that would be delicious!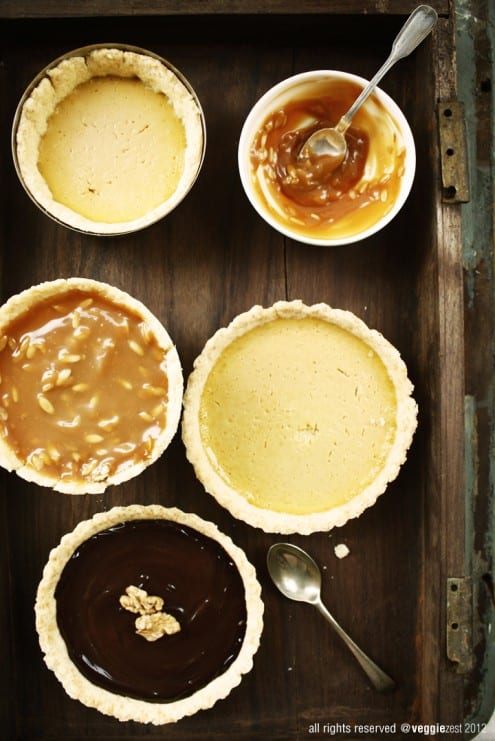 Pumpkin Pie with Chocolate and Caramel
Ingredients
For the pastry dough
2¼ cups all purpose flour
¾ cup cool butter, cut into small pieces
2 tbsp sugar
¼ cup ice cold water
For the pumpkin filling
1 medium pumpkin or two cups plain pumpkin puree
¼ cup brown sugar
½ cup pumpkin seeds, toasted and ground
2 eggs
1 cup heavy cream
For caramel sauce
½ cup sugar
1 tbsp butter
1 cup heavy cream
2 tbsp pumpkin seeds, toasted
For the chocolate ganache
1 cup dark chocolate, chopped into small pieces
1 cup heavy cream
Instructions
For the pastry dough
In a large bowl add all the ingredients except water.
Mix the butter into the flour using your hands. Rub the mixture between your palms till it starts resembling bread crumbs.
Adding 1 tbs water at a time, mix till the mixture comes together as a dough.
Wrap in a cling film and refrigerate for 2 hour.
Divide the dough into 4 equal parts.
Roll out each part into a round shape of about ⅛ inch of a thickness or large enough to cover the tart pan.
Place the dough on the tart pan and trim the excess (if any).
Makes 4 medium pies or 1 large pie.
Bake in the oven at 350 F with pie weights or dried beans for about 30 to 40 minutes or till the the dough becomes golden.
For the pumpkin filling
Preheat the oven at 400 F.
Slice the pumpkin into 4 pieces and remove the seeds and the fiber attached to the seeds.
Place on a baking tray, and fill a quarter of the tray with water. Bake for about 60 minutes or till the pumpkin is soft. Remove from the oven and let cool.
Using a steel spoon remove the fruit from the skin – you need about two cups of the fruit.
In a blender add all the ingredients and blend till you get a smooth custard like puree.
Pour the pie shells half way with the custard and bake at 325 F for 20 minutes.
Let cool. Once you have this basic pie ready – you can add a layer of ganache (see below) or caramel (see below) or both if you like.
For caramel sauce
In a saucepan set over low heat, combine the sugar and butter.
Cook until it reaches a golden caramel color.
Remove from the heat and add the cream. Whisk till everything is well combined and put back on the heat.
Let it come to a boil again over low heat and cook until you reach a sauce like consistency.
Add pumpkin seeds and let cool.
For the chocolate ganache
Place chocolate in a bowl – big enough to mix.
In a sauce pan over medium heat bring the cream to a boil.
Pour over the chocolate. let it sit for a couple of minutes.
With a help of a whisk mix together the cream and chocolate till you get a smooth chocolate ganache – free of any chocolate chunks.
Pallavi Gupta
Pallavi is a vegetarian globetrotter, who currently lives in the southern part of India. Past ten years of her life includes living in six cities in three different countries. It has added to her vast exposure of cuisines from different parts of the world which is now reflected in her cooking. She shares her knowledge of vegetarian and vegan recipe from around the world via her blog Veggie Zest. When not cooking or photographing, she does graphic design.