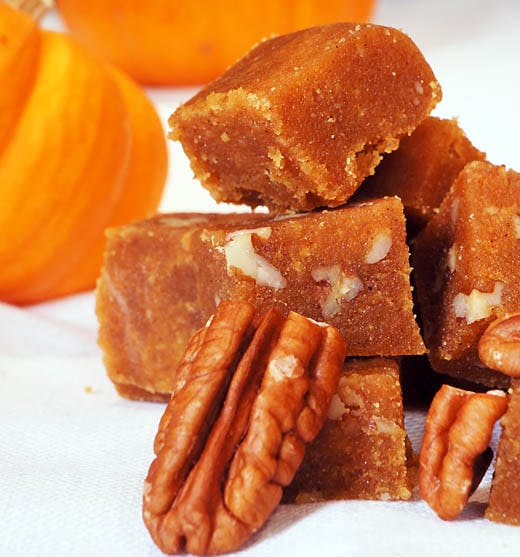 The key to fudge is patience: letting the mixture boil to the right temperature without stirring and waiting for it to cool over the course of hours.
By Ariel Rebel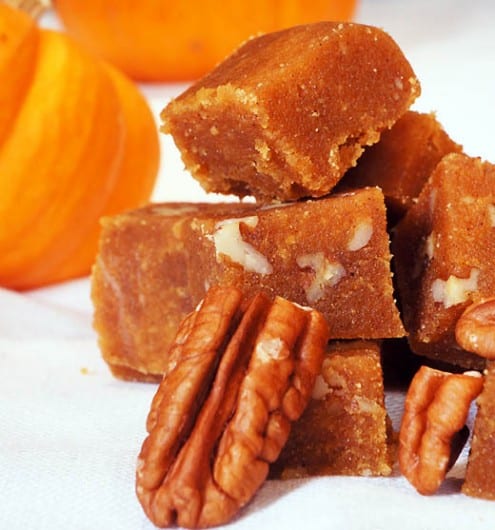 Pumpkin Pecan Fudge
The key to fudge is patience: letting the mixture boil to the right temperature without stirring and waiting for it to cool over the course of hours.
Ingredients
2½ cup of tightly packed brown sugar
½ cup of cane sugar
½ cup of skim milk
½ cup of evaporated milk (skim, fat free version)
¾ cup of pumpkin puree
¼ teaspoon of salt
3 tablespoons of light corn syrup
½ cup of margarine
1 teaspoon of cinnamon
½ teaspoon of cardamon
¼ teaspoon of ginger powder
¼ teaspoon of grounded nutmeg
½ cup of pecan, finely chopped
Instructions
Prepare a 9×9 inches pan with parchment paper. On the stove, in a medium/big sauce pan mix together the 7 first ingredients. Bring it to a big boil on HIGH heat while stirring constantly.
Reduce the heat to MEDIUM and let it boil till the mixture get to 234F – 236F. DO NOT STIR.
Remove from heat, mix in the rest of the ingredients till everything is well mixed. Stop stirring and let it cool down till it gets to lukewarm (110F). This takes time, but your patience will be worth it.
BEAT the mixture so it lose some of it's glossy look before pouring it in the 9×9 inches pan. Let it cool down completely before cutting it. Enjoy!
Ariel Rebel
Canadian food blogger, model and web designer Ariel Rebel was born in Montreal in 1985. Her love for food started at a young age by looking at her grand mother cooking pie after pie while she was trying to steal some uncooked dough from the counter. Ariel inspiration for recipes comes from her French Canadian roots mix with all her traveling memories and the countless hours she spent running around Montreal to taste all the different culinary cultures. Her passion for cooking big dinners for her friends and family never ceases to increase every year and that's what motivate her to keep learning new skills while experimenting in her kitchen at much as she can. On her blog (ZestyandSpicy.com) Ariel shares with the world her passion for flavorful and healthy recipes while blogging small pieces of her life as a model and a web entrepreneur.