Pumpkin and Pastis Oatmeal Cream Pies
These pumpkin oatmeal cream pies feature pastis, the French star anise apéritif. This liqueur serves as a subtle complement to the warm spices of cinnamon, ginger, and nutmeg already found in the oat cookie.
By Meagan Burke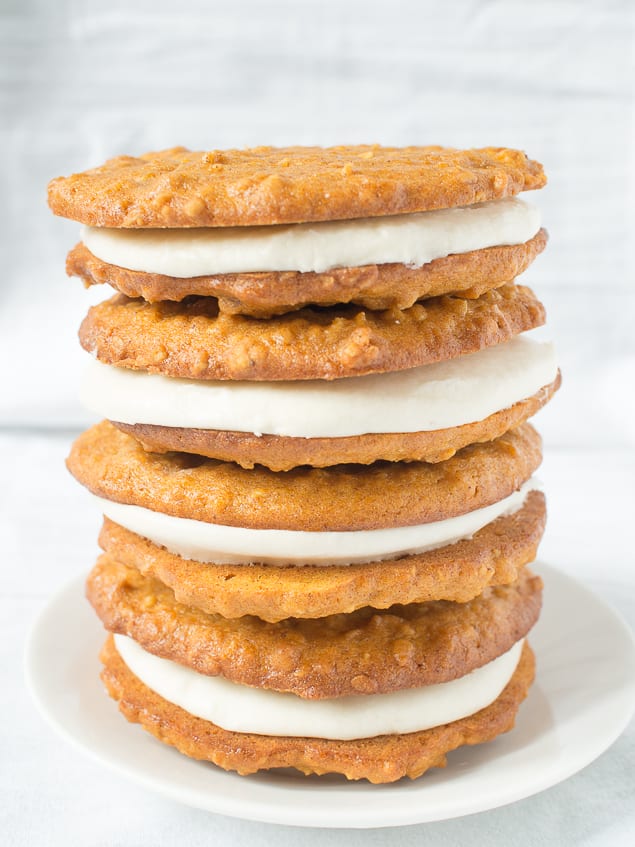 These pumpkin oatmeal cream pies feature pastis, the luscious French apéritif which obtains its flavor from star anise. This liqueur serves as a wonderfully subtle complement to the warm spices of cinnamon, ginger, and nutmeg already found in the pumpkin cookie.  The inclusion of hearty oats makes this treat a mature throwback to the individually-wrapped oatmeal sandwich cookies of childhood.  I'm tempted to wrap them in plastic and feature them in an Adult Bake Sale.  Is that a thing?  Let's make it a thing…

Pumpkin and Pastis Oatmeal Cream Pies
A pumpkin oatmeal cookie sandwich filled with pastis buttercream
Author:
Meagan Burke (The F&B Department)
Serves:
7 large sandwich cookies
Ingredients
For the cookies:
1 cup flour
¾ cup quick oats
2 tsp cinnamon
1 tsp ginger
½ tsp nutmeg
½ tsp baking powder
pinch of salt
½ cup (1 stick) butter
½ cup light brown sugar
½ cup granulated sugar
1 egg
½ tsp vanilla bean paste (or vanilla extract)
¾ cup pumpkin puree (approximately half of a can)
2 tbsp pastis, for brushing
For the buttercream:
¼ cup (1/2 stick) butter
2 cups confectioners sugar, sifted
½ tsp vanilla extract
¼ cup Pastis
Instructions
For the cookies:
Preheat the oven to 350 degrees F. Line 2 baking sheets with silpats or parchment paper. Whisk together flour, oats, spices, baking powder, and salt.
Using an electric mixer, cream together the butter and sugars. Add the egg and vanilla and mix until combined. Add the flour mixture and pumpkin, alternating, beginning and ending with the flour mixture.
Scoop dough onto prepared baking sheets and press the dough down to flatten a bit (these cookies won't spread very much). Bake for 25-30 minutes, just until the edges start to brown, rotating the pans halfway through. After removing cookies from the oven, allow them to cool on the pan for about 2 minutes. Place the cookies upside on a cooling rack and brush the bottoms with pastis.
For the buttercream:
Cream the butter using an electric mixer. Add the confectioners sugar, and mix until smooth. Add the vanilla and pastis, and mix until well combined. Pipe the buttercream onto half of the cooled cookies and top with the remaining cookies.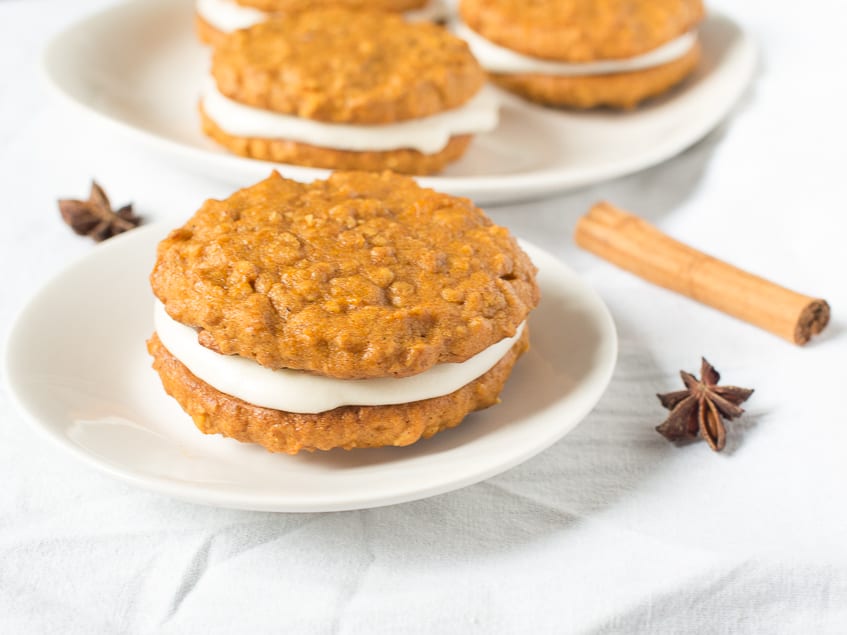 Meagan Burke
Meagan has lived in the New Orleans area most of her life. She first learned how to bake as a young girl by helping her mother prepare sweets for her family's holiday celebrations. As an adult, she's bartended the last few years in high-volume cocktail bars, namely the Carousel Bar in the Hotel Monteleone. She's now combined her passion for baking with her ever-growing cocktail and spirits knowledge to develop sweet and savory recipes using liquor.