These bite-sized treats have the flavor of pumpkin pie in a protein- and fiber-rich snack.
By Robin Runner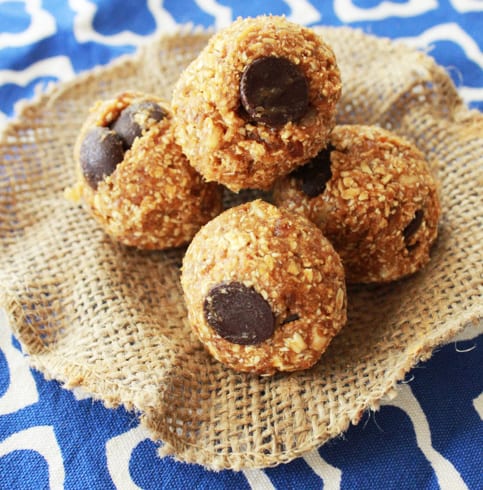 These energy balls are a great pre or post workout snack. Great breakfast or snack on the go! They are also great in lunch boxes. Any time I can get extra protein and fiber into my kids – I'm all over it. This week I made another pumpkin recipe and had some leftovers in the fridge that I wanted to use up. I thought energy bites would be awesome. These take about 5 minutes of prep, 30 minutes of chilling and then rolling them out. They keep in the fridge for about two weeks. Bite-sized goodness!

Pumpkin Date Energy Balls
These bite-sized treats have the flavor of pumpkin pie in a protein- and fiber-rich snack.
Ingredients
1 cup of Medjool or fancy dates, pitted
¼ cup of agave, maple syrup or honey (your choice)
¼ cup of pumpkin puree
2 tablespoons of flaxseed meal
1 scoop of protein powder (I used Cabot's whey protein)
Scant ½ teaspoon of pumpkin pie seasoning (I use King Arthur Flour's version)
⅛ teaspoon of salt
1.5 cups of rolled oats (I use gluten free but you don't have to)
1 cup of nuts (I used slivered almonds)
Instructions
Into your food processor, add the dates, whatever syrup/honey you decide to use and pumpkin. Plus until the ingredients are pretty much pulverized.
Then add the remaining ingredients.
Run the machine until the dough forms a large ball.
The mixture is a bit wetter and you can add additional oats if needed but it should be tacky.
Scoop out and place the dough into a tupperware container.
Cover and refrigerate for at least 30-45 minutes or until it firms up.
Scoop out the dough with a melon baller and roll with your hands into bite-sized balls.
Place back in a tupperware container and store in the fridge or freezer.
Robin Runner
Robin Runner is the blogger behind www.kneadtocook.com. She grew up around two of her greatest inspirations, her Italian grandmother and her aunt. Both believed in farm to table foods, purity in nature and love as the main ingredient for anything on their menu. Today, Robin is a strong advocate of farming and buying local ingredients, as well as composting to help repurpose food scraps into rich soil for our garden.