Pumpkin Chocolate Chip Bars with Cream Cheese Glaze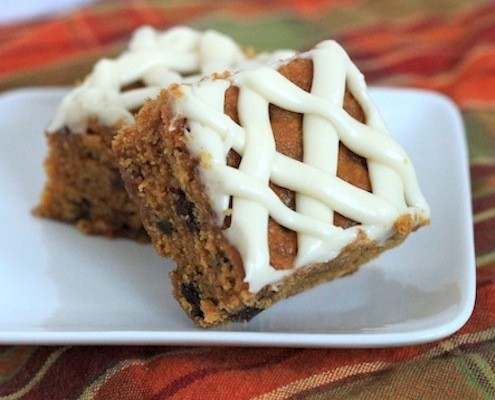 These pumpkin bars are perfectly spiced, studded with chocolate chips, then drizzled with a cream cheese frosting.
By Taylor Kadlec
In case you've been living under a rock the past few weeks, you're aware that pumpkin is all the rage right now. There are pumpkin cookies, pumpkin pancakes, pumpkin bread, pumpkin pudding, pumpkin cake, pumpkin smoothies, even pumpkin in chili! It is complete madness, I'm telling ya!
I couldn't pass up jumping on the pumpkin-loving wagon, and so far I've made pumpkin snickerdoodles (yum!), pumpkin streusel bread (heavenly!), and now these pumpkin chocolate chips bars. With a cream cheese glaze. Oh yes I did. This dessert is by far my favorite pumpkin creation yet this fall. The bars are dense, moist, and studded with dark chocolate chips. Of course, the cream cheese glaze just puts them over the top. I mean, can you really ever go wrong with a cream cheese glaze? I think not.
Pumpkin Chocolate Chip Bars with Cream Cheese Glaze
These pumpkin bars are perfectly spiced, studded with chocolate chips, then drizzled with a cream cheese frosting.
Ingredients
2 cups all-purpose flour
1 tsp baking soda
¾ tsp salt
1½ tsp ground cinnamon
¾ tsp ginger
½ tsp ground nutmeg
⅛ tsp allspice
⅛ tsp ground cloves
1 cup unsalted butter, at room temperature
1¼ cup granulated sugar
1 large egg
2 tsp pure vanilla extract
1 cup pumpkin puree
12 ounces chocolate chips
Cream Cheese Frosting
4 ounces cream cheese
4 ounces unsalted butter, at room temperature
1 cup powdered sugar
1 tsp pure vanilla extract
3-4 tablespoons of milk
Instructions
Preheat oven to 350 degrees F.
Line 9x13" baking dish with foil, covering the bottom and sides of the pan.
Spray with cooking spray and set aside.
In medium bowl, combine flour, baking soda, salt, cinnamon, finger, nutmeg, allspice, and cloves and whisk together.
In separate large bowl, cream together the butter and sugar with electric mixer until smooth, about 2 minutes.
Add egg and vanilla and beat to combine.
Beat in the pumpkin puree.
Add the dry ingredients and mix on low until just combined.
Stir in chocolate chips.
Pour into prepared baking dish and smooth with spatula so it is even.
Bake in preheated oven 35-40 minutes, until a toothpick comes out clean, or with just crumbs.
Cool completely in pan.
Cream Cheese Frosting
Beat cream cheese and butter together with electric mixer until very smooth.
Add the powdered sugar and vanilla and beat until blended. You may need to scrape down the sides of the bowl a few times to make sure it is all combined.
Add milk until the frosting reaches your desired consistency.
Spoon frosting into ziploc bag or piping bag. If using a zip loc bag, cut one of the corners of the bag and drizzle over cooled bars.
Taylor Kadlec
Taylor Kadlec is a lover of all things food including baking, cooking, and of course, eating. She is a self-taught baker and cook, and she shares her kitchen adventures on her blog Greens & Chocolate, where healthy cooking meets sinful indulgence.