A velvety smooth pumpkin soup velvety with an added hint of Asian-inspired flavours.
By Martyna Candrick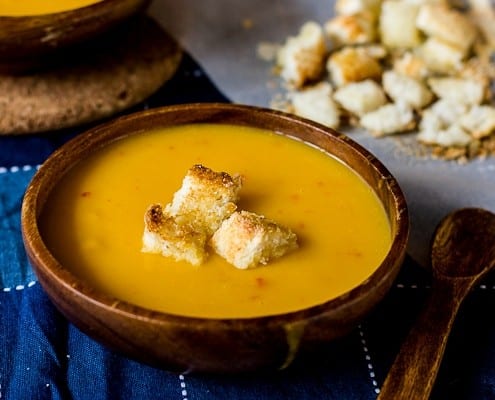 This vegan recipe has a simple twist on the traditional pumpkin soup and is one of my favourites and one of the easiest soups to make. It's just so warm and comforting.
The chilli adds a little warmth without being too spicy, while the coconut cream adds a wonderful fragrance to the mix. It still produces a creamy, velvety texture but with an added hint of Asian-inspired flavours and an immunity-booster kick.
It freezes well, so it's a perfect meal to keep on hand for work lunches or last-minute warming dinners.

Pumpkin, Chilli and Coconut Soup
If you like extra heat, leave the seeds in your chillies. Serve with a side of crispy garlic croutons.
Recipe Type:
Soup, Main, Dinner
Ingredients
For the Pumpkin Soup:
• 1.2 kg (2.6 lbs) pumpkin
• 1 carrot
• 4 cups of vegetable stock // or chicken stock
• 1 red long chilli, seeds removed
• 1 tsp powdered ginger
• 1 (165ml) can of coconut cream
• 1 tbsp vegetable oil
For the Side of Garlic Croutons:
•2 slices day old white sourdough
•1 clove of garlic
•1 tbsp butter
Instructions
To make the Pumpkin Soup:
Peel carrot and pumpkin. Cut into medium 2in chunks.
Heat 1 tbsp oil in a large stock pot over medium high heat. Add pumpkin and carrot and cook, stirring, for 3 minutes or until lightly browned.
Add 4 cups of stock, along with ginger and chopped chilli and allow to simmer for 20 minutes or until vegetables are soft.
Take the soup off the heat and blend, using a stick blender.
Mix in coconut cream and heat until the soup comes back up to the boil. Turn off heat and set aside until serving.
To make Garlic Croutons:
Cut garlic clove in half and rub on both sides of the bread slices to flavour. Be generous. Chop bread into small 2cm cubes.
Heat butter in a small frypan until bubbly. Add bread squares and cook, stirring, until lightly browned and crisp on all sides.
To serve:
Divide soup between bowls and serve croutons on the side. You can drizzle extra coconut cream over the top if you like.
Sprinkle a handful of croutons into the soup at a time – they will remain crispy in every bite.