Built like a cinnamon bun, these rolls are comprised of a traditional scone dough layered with a filling of pumpkin butter, ground pecans, cinnamon, cloves, and a touch of brown sugar.
By Laura Davidson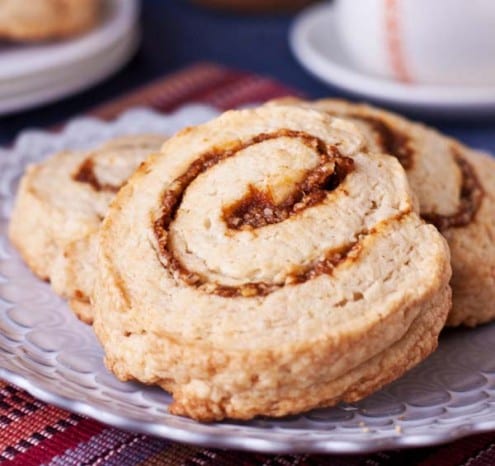 Pumpkin Butter and Pecan Rolls
Built like a cinnamon bun, these rolls are comprised of a traditional scone dough layered with a filling of pumpkin butter, ground pecans, cinnamon, cloves, and a touch of brown sugar.
Ingredients
Scone Dough:
2½ cup all-purpose flour
½ cup sugar
2½ teaspoons baking powder
½ teaspoon salt
¼ teaspoon ground cinnamon
4 ounces (1 stick) cold unsalted butter, cut into ¼" cubes
1 cup + 1 tablepoon chilled heavy cream
Filling:
⅓ cup canned pumpkin butter (I used Trader Joe's brand)
¼ cup roasted whole pecans
1 teaspoon packed brown sugar
⅛ teaspoon ground cinnamon
pinch of ground cloves
pinch of salt
Instructions
Before starting, place the butter and cream in freezer for 5-10 minutes to chill.
Grind the pecans in a small food processor until it resembles wet sand, set aside in a bowl and mix with ⅛ teaspoon cinnamon, brown sugar, and pinch of salt.
Place flour, sugar, cinnamon, baking powder, and salt in (large) food processor bowl. Pulse several times to combine thoroughly. (Alternatively, rub the butter into the flour mixture using your fingertips. Work quickly until the butter resembles grains of rice and is distributed evenly among the flour.)
Add the cold, cubed butter to the flour mixture and pulse several times quickly until the butter pieces are no larger than the size of a pea.
While pulsing, pour in the cream and continue to pulse until the dough just comes together--if necessary, add an additional tablespoon of cream.
Flour your hands lightly and move the dough to a well-floured counter top. Press together and knead briefly. Using a lightly floured rolling pin, roll the dough into a 8 inch x 10 inch rectangle. Move the dough with a bench scraper periodically as you do this to ensure that is not sticking to the counter top--continue flouring lightly if necessary. Use your hands to square the corners.
Using an offset spatula, spread the pumpkin butter on the top of the dough--leaving a ½" border on all sides. Sprinkle evenly with the nut mixture.
Roll the long edge of the dough up, patting the dough as you go, until the dough forms a long 10" log. Place seam side down to seal. Cut evenly in half, wrap the respective pieces with plastic wrap, place on a plate or baking sheet and allow to chill in the refrigerator for 1-2 hours or preferably, overnight (if the dough is too warm, the scones will spread more in the oven).
Preheat the oven to 350 degrees. Line a full baking sheet with parchment paper (or Silpat). Bake 5-6 at a time (allowing the baking sheet to cool completely between batches).
Remove the logs from the fridge and slice each respective half into 5 equal rolls--about 1½" wide.
Place the scones spiral side up on the baking sheet. Squeeze the dough with your hands to shape them into rounds.
Bake for 30-35 minutes. The scones are ready when the bottoms are golden brown.
Best served hot out of the oven or within the first day of baking (they can be stored in an airtight container at room temperature for an additional 2-3 days).
Laura Davidson
After deciding to take a leap of faith, Laura enrolled in culinary school to pursue her passion for all things food. On her blog, Blogging Over Thyme, she shares her experience as a culinary student, her favorite recipes, stories, and photography!