With just a few simple ingredients, these cheddar straws make for an easy hors d'oeuvre or snack that pairs perfectly with wine or beer.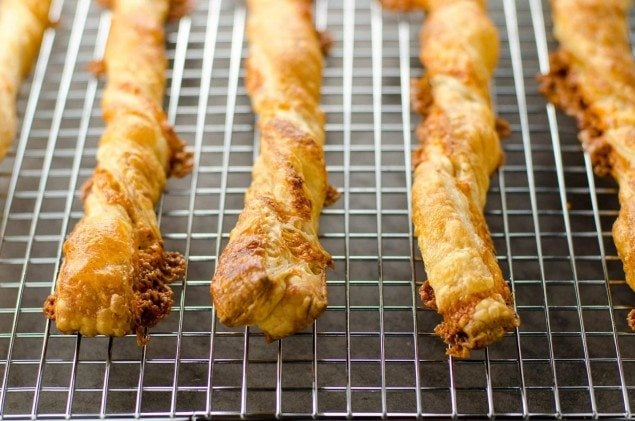 Last night during choir rehearsal our director joked-not-joked, "It's 2017! Be BETTER!" I love that wry take on new year mentality. I do want and strive and work to improve. But dude. What's it all for if you don't chill out once in a while, right? And hey, if there's a cold glass of Kim Crawford and a cheese straw or two in my general vicinity while the chilling goes down, all the better. I'll have a Buddha bowl for dinner.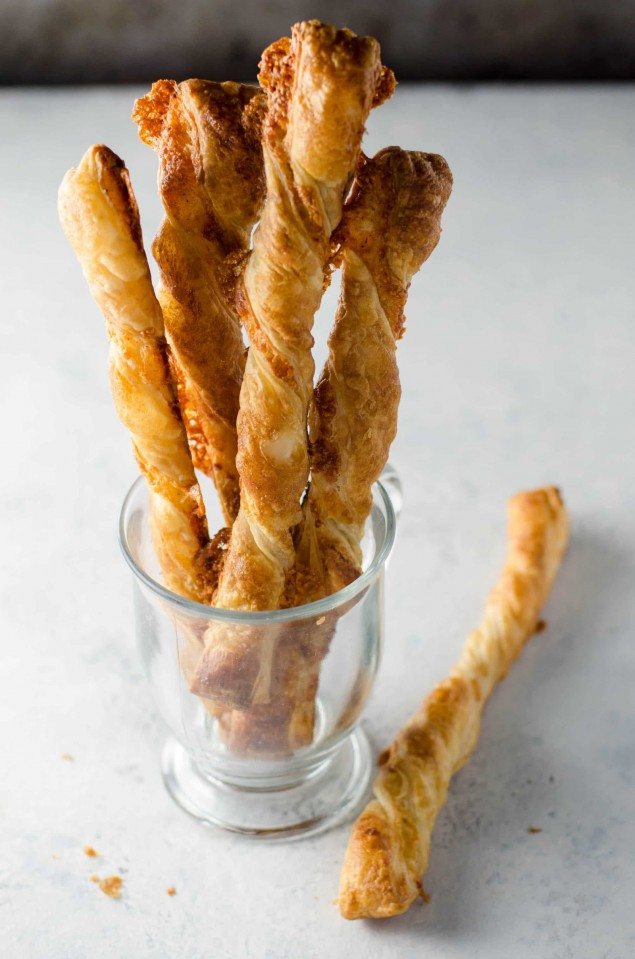 This super-easy recipe is a real crowd-pleaser. Like anything made with puff pastry, it's substantial and can fend off guests' hunger while you finish making dinner. It doesn't hurt that it pairs brilliantly with both wine and beer.
Print

---
Author:

Carolyn Cope

Total Time:

30 minutes
---
Instructions
Preheat oven to 400°F with two racks close to the center.
On a piece of parchment, roll out the puff pastry sheet(s). If you're using one 14-ounce sheet, roll it out into a 16-inch square. If you're using two 8 1/2-ounce sheets, roll each out into a 12-inch by 14-inch rectangle.
In a small bowl, mix together the salt, cayenne, nutmeg and black pepper. Sprinkle over puff pastry. Next, sprinkle the shredded cheese over the puff pastry. It's best if you vaguely aim for even distribution but inevitably don't achieve it, which will make each bite a little different in a good way. Press down lightly with your hands to stick the toppings to the pastry.
Fold each sheet in half (if using the two puff pastry rectangles, fold over the longer side to make 12-inch by 7-inch rectangles), then roll out again until the short side reaches 12 inches. Slice each sheet into 1-inch by 12-inch strips.
Line two baking sheets with parchment. Twist the two ends of each strip in opposite directions a few times and place twists on baking sheets with a little space in between. Brush with cream or egg wash.
Bake for about 15 minutes, until puffed and light brown. Rotate the pans and swap their oven positions halfway through. (Alternatively you can bake the pans one at a time in the center of the oven.) Cool slightly or completely, whichever you prefer, before serving. They're best on the day you make them.
Notes
* I almost always use Dufour puff pastry, which is so damn good. (Bonus: the company is proudly run by women.) A box of Dufour contains one 14-ounce sheet of puff pastry, but if yours is within a few ounces, don't worry about the difference. A common brand comes in a 17-ounce box with two separate sheets. In that case you would use both sheets for this recipe.
Prep Time:

15 minutes

Cook Time:

15 minutes

Category:

Appetizer
Carolyn Cope
Carolyn is the voice behind the popular blog Umami Girl and writes frequently for other food-related publications. Equal parts live-to-eat and eat-to-live, she holds certificates from both the French Culinary Institute and the eCornell Plant-Based Nutrition program. Carolyn has lived and worked in New York and London and currently resides with her husband and two daughters in a sweet little seaside town in New Jersey.