Everyone has their own trick for making the perfect chocolate chip cookie – instant pudding mix helps keep cookies moist and chewy with slightly crisp edge.
By Michelle Keith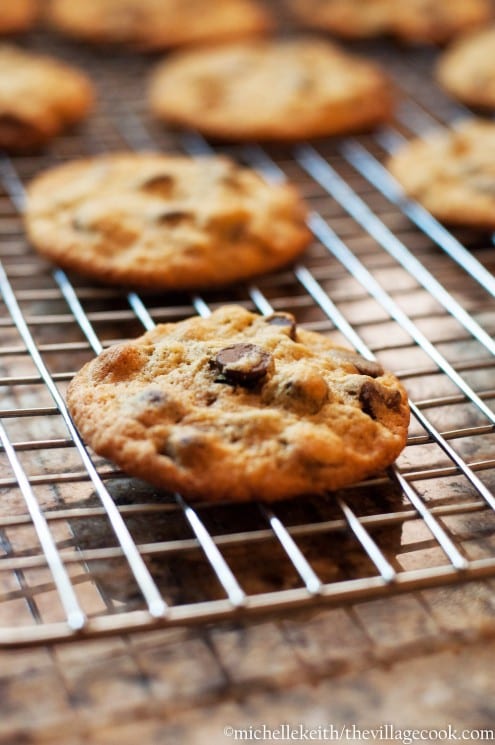 Pudding Mix Chocolate Chip Cookies
Everyone has their own trick for making the perfect chocolate chip cookie - instant pudding mix helps keep cookies moist and chewy with slightly crisp edge.
Author:
Michelle Keith, adapted from Carnation Milk
Ingredients
1 cup all-purpose flour
1 pkg. (4 serving size) instant vanilla pudding mix
½ cup (1 stick) butter, softened
½ cup packed brown sugar
1 teaspoon baking soda
1 large egg
1 large egg white
2 cups chocolate chips
1 cup chopped walnuts or pecans
½ teaspoon salt
½ teaspoon vanilla extract
Instructions
PREHEAT oven to 350° F.
COMBINE flour and pudding mix in small bowl. Beat butter in large mixing bowl on medium to high speed for 30 seconds. Beat in brown sugar and baking soda until well combined. Beat in egg and egg white. Gradually beat in flour mixture. Stir in morsels, salt and vanilla Drop dough by rounded teaspoon 2 inches apart onto parchment lined baking sheets.
BAKE for 10 to 12 minutes or until set. Cool on baking sheets 2 to 3 minutes; remove to wire racks to cool completely.
Michelle Keith
Michelle Keith is a South Florida native and the author of "The Village Cook". A self taught chef, her experience cooking and baking spans over 30 years. In addition to her food blog, she has also been featured in numerous websites, and writes recipes for her local community newsletter. She also is the editor of "The Domestic Mama", a blog about motherhood and family life. She currently resides in South Florida.