Enjoy a quick meal of pressure cooked red wine lamb shanks that taste like they were made tender and flavorful from hours of low and slow cooking.
Pressure cookers – what a great invention! Particularly for those of us who toil from 9-5 and frankly don't have the energy to start cooking at the end of a tiring day.
I bought my first pressure cooker about a year ago through a Fly Buys scheme – you know, where you trade points for rewards… Well, it turned out to be a real dog and, much to my disgust, it crapped out a few months later. I decided that'd be the last time I bought a pressure cooker…
Okay, I was a bit hasty with that decision as it turned out, because I happened upon a much more reputable model at my favourite homeware store, marked down by a massive 60%. I figured at that price it was worth the punt, so I bit the bullet.
And, it's been a love affair ever since! I've been making lots of super quick meals (chicken soup and bone broth are regulars) and just recently I tried out this recipe (thanks to Mrs Goodall from Food.com) for Lamb Shanks with Red Wine & Garlic Sauce. Taking only 45 minutes from start to finish, you'd think this baby had been slow cooked for hours.
We're talking tender meat falling off the bones here folks, doused in a seriously tasty sauce combining red wine, stock, garlic, tomato paste and rosemary. It was so good, I doubled the quantity and suggest you do too. Enjoy!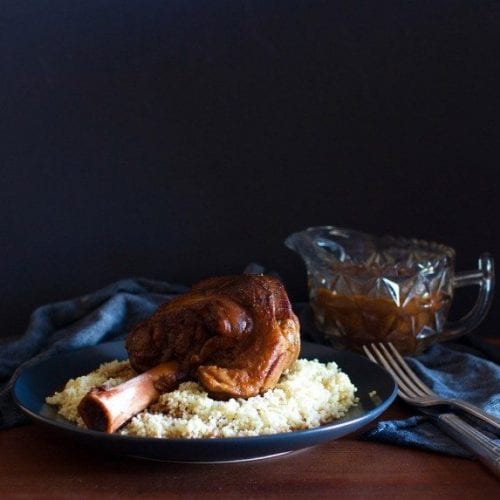 Ingredients
For the lamb:
1

kilo

2 lbs lamb shanks

Salt and pepper

to taste

1

tablespoon

olive oil

10

garlic cloves

peeled and smashed
For the sauce: (NB: This is a double quantity)
1

cup

chicken stock

or other preferred broth

1

cup

Pinot Noir wine

or other red wine

2

tablespoons

tomato paste

1

teaspoon

dried or fresh rosemary

or other favorite herb

1

tablespoon

salted butter

1-2

teaspoons

balsamic vinegar

to taste
Instructions
Trim excess fat from the lamb shanks (if you prefer) and season with salt and pepper.

Heat the oil in the pressure cooker. Add the shanks and brown on all sides.

Then, add the garlic cloves and cook until the cloves are lightly browned, but not burned.

Add the stock, wine, tomato paste, and rosemary, stirring so the tomato paste dissolves.

Close the pressure cooker and bring up to full pressure. Once reached, reduce heat to low and

cook for 30 minutes.*

Remove the pressure cooker from the heat and let the pressure release naturally.

Then remove the lamb shanks and cover them with foil to keep them warm.

Return the pan to the heat and boil the liquid, uncovered, for 5 minutes to reduce and thicken the sauce (or you could add a little cornflour (corn starch) if you're short for time).

Whisk in the butter, then add the vinegar.

Serve the lamb with some of the sauce poured over top, and put the remaining sauce in a pouring jug so it can be added as needed.
Susan Knaap
I'm Susan - food lover from the best little country in the world - New Zealand. I'm an 'accidental' cook who fell into it, hook, line and sinker when I turned the big 5-0. Not exactly sure why it happened; perhaps some previously defunct piece of DNA came good. Anyhow, I'm making up for lost time and spending countless hours in the kitchen cooking up a storm. Desserts are my Archilles heel, followed closely by good old-fashioned baking - it's good for the soul; not so much for the waistline!