PARTNER POST: Get ready for the months ahead with new potato recipes that will inspire your spring and summer cooking.
Dive into a bowl of this spicy potato vindaloo curry, a delicious Indian vegetarian dish that is quick to make for lunch or dinner.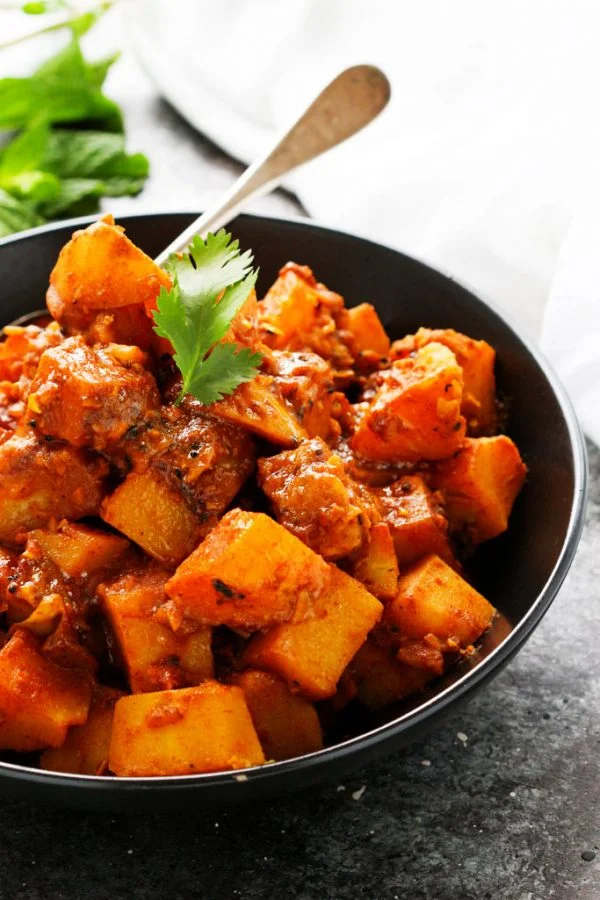 Have you ever wondered what your true nationality is? I've always been told that I'm about 50% Italian and 50% Irish, with a bit of German and French thrown in there. Many would say that my red hair is a dead giveaway for my Irish side.
I definitely like to eat like I have a little bit of every country in me – Mexican, Vietnamese, German, Italian, Spanish, Russian – I love it all! You know how some people plan trips to other countries and they're focused on seeing the museums and monuments? I'm more focused on where are we going to eat? This summer, Rick and I are headed to Northern Italy, and while he's totally in charge of all the sights that we're going to see, I'm dead focused on the food and wine and cocktails – Give me all the handmade pasta, the delicate sauces, Negronis and glasses of Barbera… I am SO ready for this trip!
But today, I'm delving into a dish that (I think) is a bit out of my heritage – Potato Vindaloo. This dish is inspired from my childhood – Trips to the Indian food buffet with my vegetarian dad. I loved all the spices, the bright, bold colors, and the aromas that wafted throughout the restaurant – Curries and cinnamon and turmeric and cardamom and my favorite spice of all, cumin. Anything with an abundance of cumin is going to find its way straight to my heart.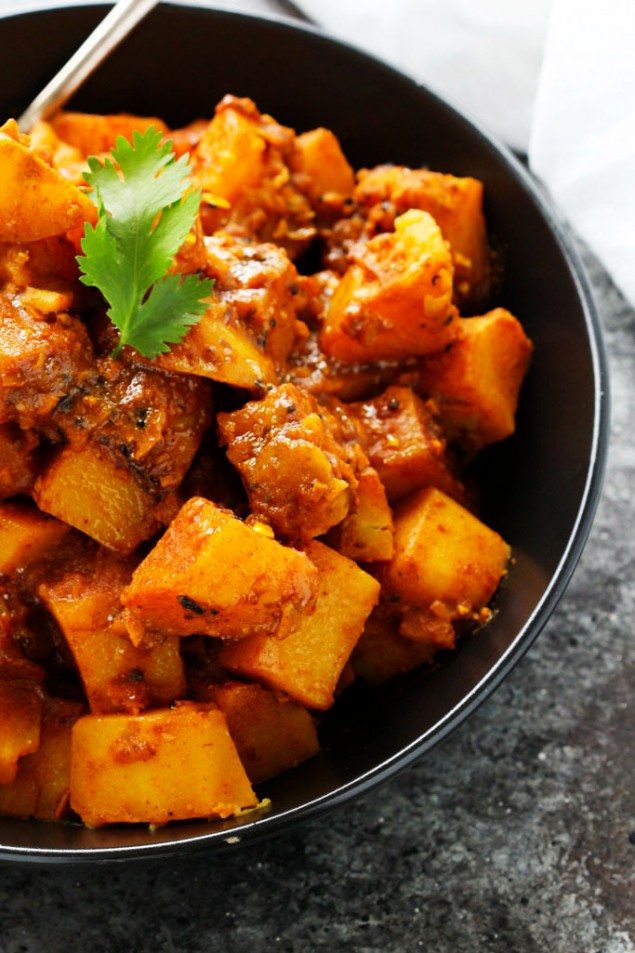 Most vindaloo recipes that you'll find are for chicken vindaloo – A tomato based dish with a complex blend of spices which, very often, packs quite a bit of heat. I wanted to take that same dish, but turn it into a completely vegetarian meal – worth of my non- meat eating dad.
There is definitely an abundance of spices going on in this dish – Luckily, I already had all of them on hand. But, if you've got a more modest spice cabinet, I highly suggest checking out the bulk section of your grocery store – It's a good way to get just a little bit of a lot of different spices, for cheap. Cumin, coriander, turmeric, paprika and cinnamon all lend their bold color to the finished product – I mean, this dish is right in your face with those vibrant colors. The potatoes are almost dyed like little Easter eggs… Glowing in a bright orange hue. And, just like those potatoes absorb all those wonderful colors, they also absorb all of the intense flavors.
Spice from the serrano pepper, tartness from the vinegar and a hint smokiness from the cumin. A sprinkle of cilantro and fresh mint brighten everything up at the end, and a dollop of Greek yogurt (or sour cream if you prefer) helps to tame down that heat just a little bit if you get a bite of it with each potato. A word of warning: Vindaloo is meant to pack a punch with its heat level. If you'd prefer a milder dish, be sure to seed that serrano pepper, and remove the ribs, or leave it out entirely.
On a side note, this dish reheats beautifully, and it just gets better the longer it sits in the fridge (for up to three days). The flavors really get a chance to mesh all together and soak even further into those potatoes. I love making a big batch and taking it for lunches throughout the week.
Click the banner below for more delicious potato recipes.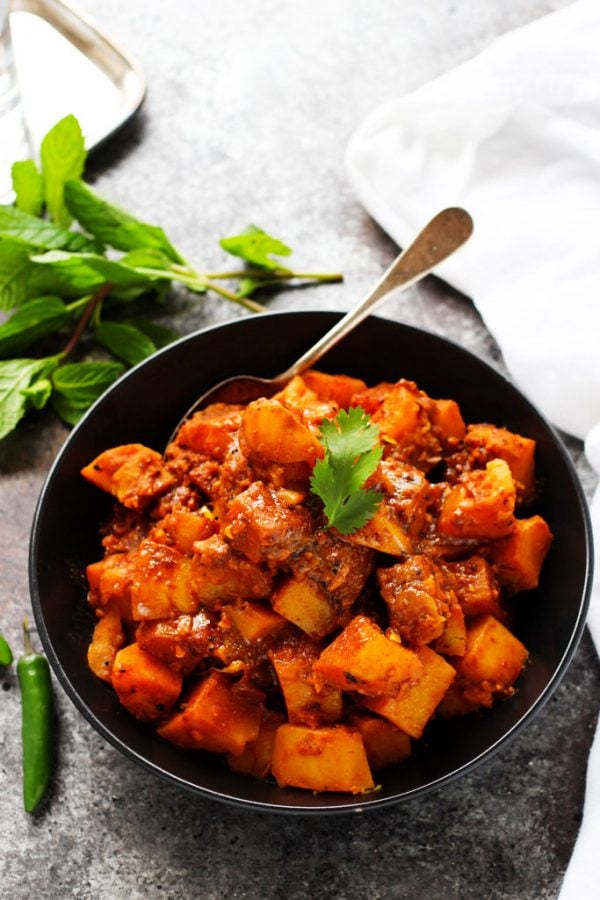 So, this Indian Potato Vindaloo is definitely a far cry from my Irish-Italian background, but I'll happily add it to my food repertoire. Who doesn't love a dish that's packed with flavor, is perfect for both vegetarians and meat-eaters alike, and just gets better the longer it sits in the fridge? Winner, winner, chicken (free) dinner.
For another unique way to use potatoes, check out these truffles and find the recipe here.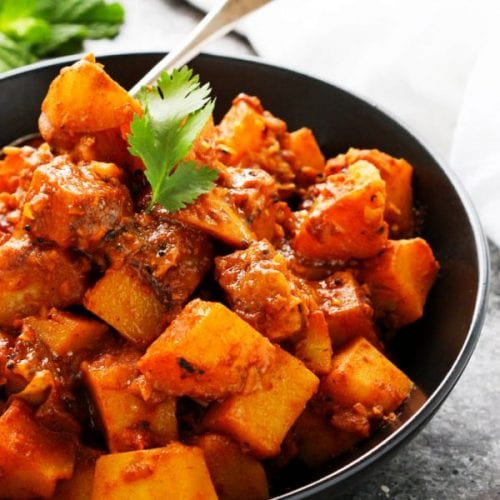 Potato Vindaloo Curry
Erin Rebecca
Dive into a bowl of this spicy potato vindaloo curry, a A delicious Indian vegetarian dish that is quick to make for lunch or dinner.
Ingredients
1

Tbsp

. cumin seeds

1

Tbsp

. coriander seeds

4

black peppercorns

1

tsp

. tumeric

2

tsp

. paprika

1

tsp

. cinnamon

1

tsp

. mustard seeds

3

Tbsp

. vegetable oil

2

shallots thinly sliced

1

serrano pepper sliced in half

1

Tbsp

. tomato paste

8

cloves

garlic minced

2

inch

knob ginger peeled and minced

3

large Russet potatoes about 2 ½ pounds

cut into 1" cubes

2

cups

water

1/3

cup

apple cider vinegar

2

tsp

. brown sugar

Salt and pepper to taste

Greek yogurt for serving

Cilantro and mint for serving
Instructions
In a small skillet over medium-high heat, toast the cumin, coriander, cloves and peppercorns until fragrant, about 1 minute. Transfer to a spice grinder or mortar and grind. Add tumeric, paprika, and cinnamon, set aside.

In a large, deep skillet or dutch oven heat the oil over medium-high heat. Add the mustard seeds, shallots and serrano pepper with a pinch of salt and pepper and sautee until the shallots begin to brown, about 5 minutes.

Add tomato paste, garlic, ginger and spice mixture and cook until fragrant, 2-3 minutes.

Add potatoes, water, vinegar, brown sugar and a pinch of salt. Bring to a boil, reduce heat and let simmer 20-25 minutes, until the potatoes can be pierced with a fork easily. Remove lid and cook for an additional 5-10 minutes until the sauce has thickened.

Serve with greek yogurt, cilantro and mint if desired.
Erin Rebecca
I'm Erin - a self-taught weeknight cook. I occasionally like to delve into the more complicated recipes, like homemade pasta, Cioppino, and boeuf bourguignon. But for the most part, I work full-time, come home, pour a glass of vino and start cooking away.