PARTNER POST: The versatile potato is perfect in a multitude of recipes showcasing flavors from around the globe. Get creative with your spuds.
Crispy samosas are loaded with potatoes and spices and served with a sweet and savory mango chutney. A delicious appetizer that will keep you coming back for more.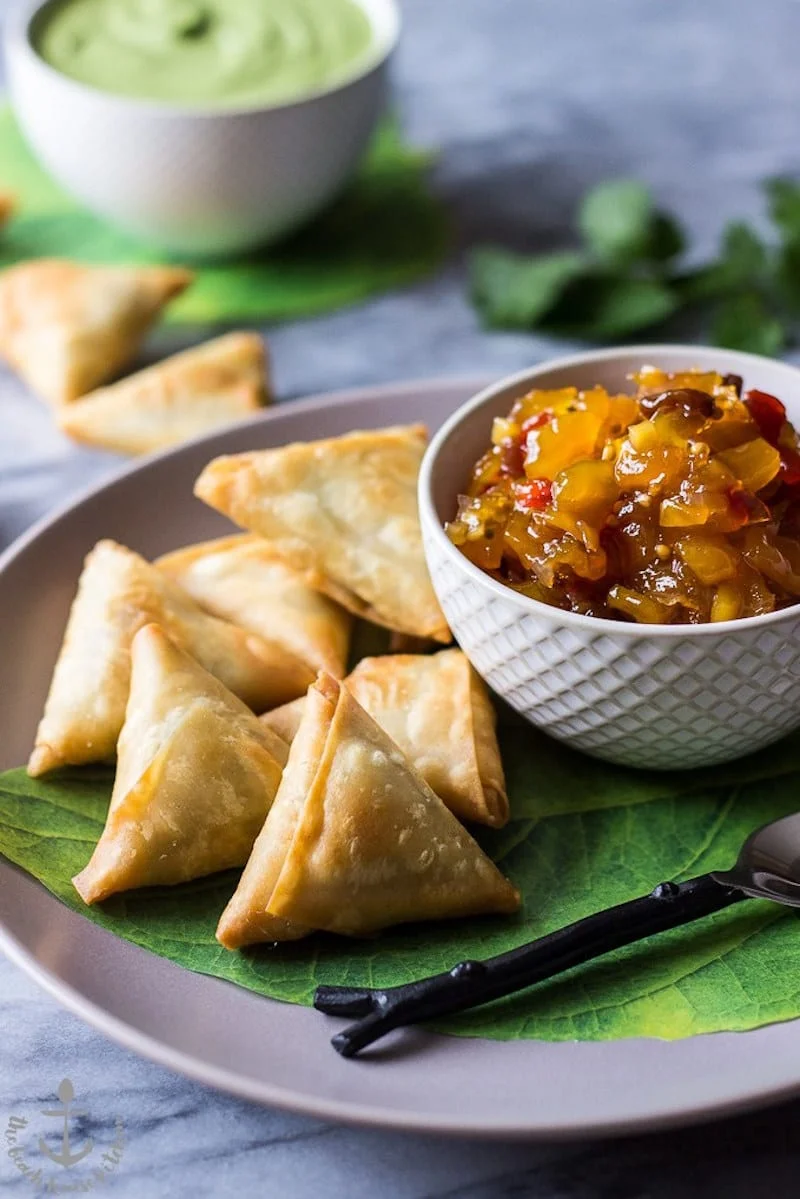 Let's celebrate the Jaisalmer Desert Festival in India with this potato recipe. It's a three-day long festival and it's an extravaganza of food, dance, music and cultural performances. How fun does that sound? These Potato Samosas with Mango and Peanut Cilantro Chutneys showcase the fact that potatoes are truly a global food.
First of all, let's get down to the business of the awesomeness of potatoes. #1 They're delicious, #2 they're nutritious and #3 they're versatile. And according to the U.S. Potato Board, one medium-sized potato has just 110 calories and is fat, sodium and cholesterol free! They have more potassium than a banana, and they're an excellent source of Vitamin C, fiber, B6 and iron. I don't know about you, but I'm convinced. I've always known they've tasted fabulous, but now I know they're a great source of vitamins and totally nutritious too.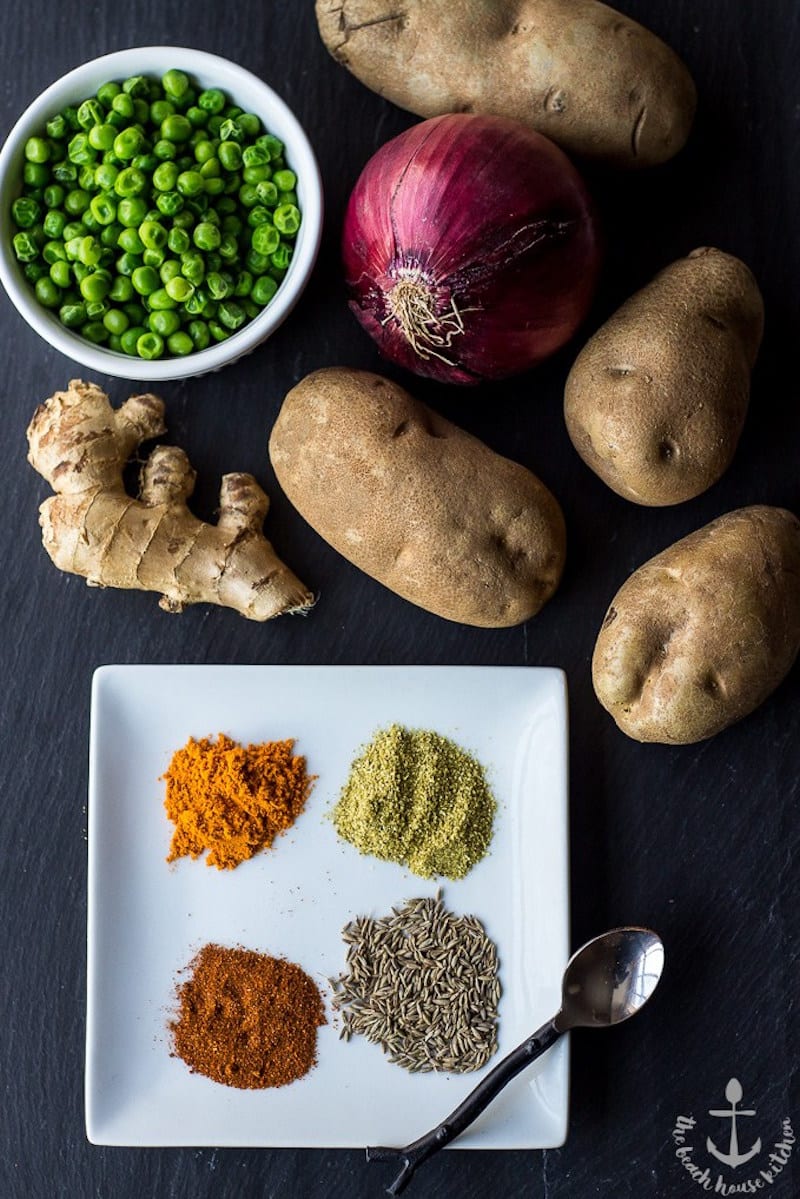 My friend Nina is originally from Mumbai, India and she's an expert samosa maker! I've also been lucky enough to sample Nina's over the years. If you've never heard of a samosa, it's a pastry with a savory filling of potatoes, peas, onions and spices. Fabulous spices like cumin, coriander, ginger, turmeric and cayenne. They're deep-fried to a golden brown color and served hot with chutney on the side.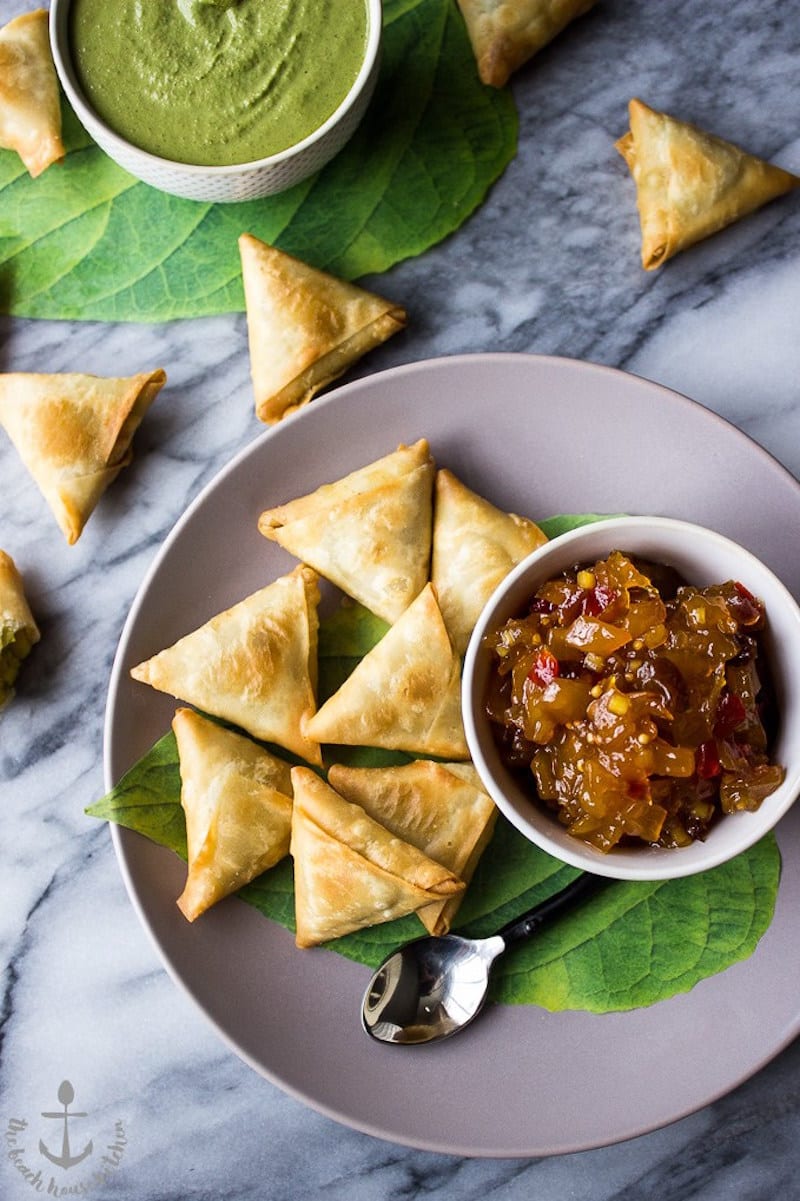 Learning how to fold a samosa can be a little tricky, but Nina was extremely patient. I used this tutorial to perfect my samosa wrapping skills. Practicing with a piece of paper was the ticket! Nina and I used pre-made samosa pastries from the Indian market, but you could also use egg roll wrappers.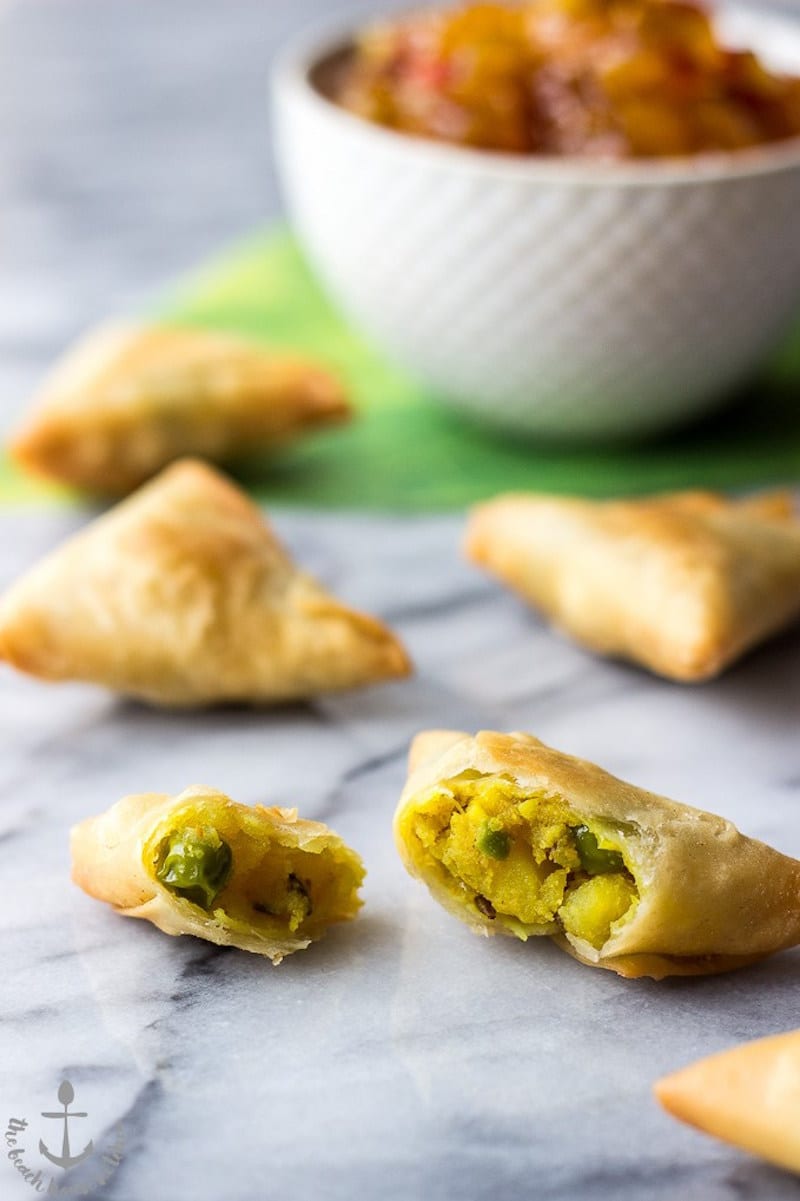 For another international potato recipe, try these Bombay Spiced Potatoes:


Potato Samosas and Mango Chutney
Crispy samosas are loaded with potatoes and spices and served with a sweet and savory mango chutney.
Ingredients
Samosas:
3 medium Russet potatoes, peeled (about 4 cups when diced)
2 Tbsp. canola oil, plus additional for frying
1 tsp. whole cumin seeds
½ cup red onion, finely chopped
1 tsp. coriander
1 tsp. turmeric
1 tsp. salt
¼ tsp. cayenne
¾ cup frozen peas, thawed
½ tsp. grated fresh ginger
pinch of sugar
2 Tbsp. fresh cilantro, finely chopped
½ lime, juiced
1 package Ready-To-Fill Samosa Pastries (available at Indian markets)
2 Tbsp. flour and cold water to make a paste to seal the edges of the samosas
Mango Chutney:
¾ cup granulated sugar
½ cup distilled white vinegar
3 cups mangoes (3 to 4 mangoes) , peeled and chopped into ½ inch pieces
½ cup vidalia onion, finely chopped
⅓ cup red pepper, finely chopped
½ cup golden raisins
1 clove garlic, minced
2 Tbsp. fresh ginger, finely minced
½ tsp. whole mustard seeds
¼ tsp. red chili flakes
1 tsp. kosher salt
Peanut Cilantro Chutney:
2½ cups fresh cilantro, coarsely chopped
¾ cup roasted unsalted peanuts
½ small jalapeno finely chopped
¼ inch piece fresh ginger, sliced
1 clove garlic
½ lime, juiced
½ tsp salt
½ tsp. sugar
⅓ cup water
Instructions
Samosas:
Place potatoes in large pot covered with water.Bring to a boil, then reduce to simmer and cook until fork tender, about 20 minutes. Drain and let cool. When cooled, finely dice.
Heat 2 Tbsp. canola oil over medium heat. When oil is hot add cumin seeds and cook until they start to make a popping sound. Add red onion and cook to soften. Add the potatoes, coriander, turmeric, salt and cayenne and continue to cook for 3-4 minutes, stirring occasionally.
Transfer mixture to a bowl and add peas, ginger, sugar, fresh cilantro and lime juice. Mix well with a fork to incorporate all ingredients. Set aside to cool.
Line a large baking sheet with paper towels and set aside.
In a small bowl, whisk together flour and some water to make a thin paste.
Keep pastry sheets covered with a damp paper towel to prevent drying out.
Fill and fold the samosa pastry sheets with a teaspoon or so of the potato mixture, sealing the last fold with the flour paste to seal.
Fill a heavy, deep skillet with about 2 inches of canola oil and heat over medium low heat. Fry samosas in batches (being careful not to crowd the skillet) for 2 minutes each side or until lightly browned. If they are browning too quickly, reduce heat.
Remove from skillet with slotted spoon to prepared sheet.
Serve with chutneys.
Mango Chutney:
Combine sugar and vinegar in a large 5 quart pot. Bring to a boil until sugar dissolves, stirring often.
Add remaining ingredients. Simmer, uncovered until the mixture thicken, about 45 minutes to 1 hour. Remove from the heat and let cool. Store in glass jars.
Peanut Cilantro Chutney:
Puree all ingredients in a food processor until smooth.