Potato Salad with Crème Fraîche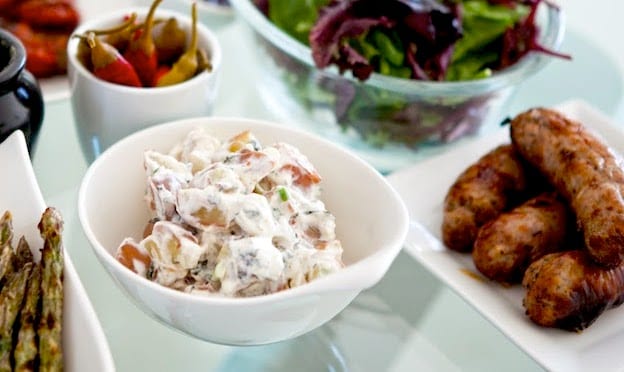 Whilst London is basking in what is likely to be the hottest summer for years, Reena Pastakia has stopped eating hot food.  No, not spicy food.  Warm food.
By Reena Pastakia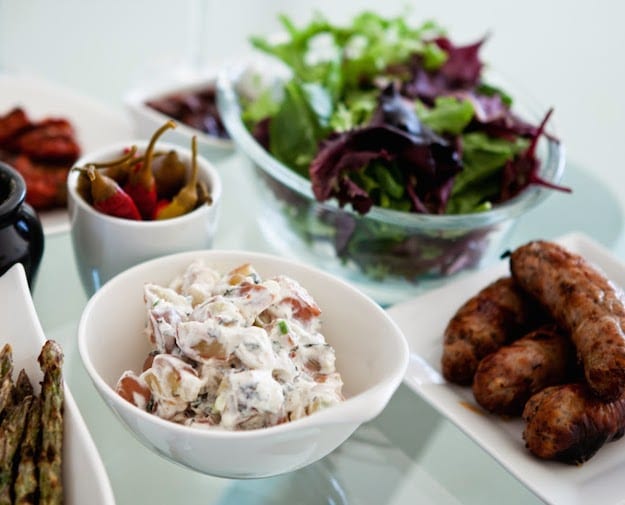 Picnics are in, three-course dinners are most definitely out.  If you are trying to cater a picnic or barbecue for someone who won't eat mayonnaise, this hard to resist potato salad is the perfect side dish.

Potato Salad with Crème Fraîche
Whilst London is basking in what is likely to be the hottest summer for years, Reena Pastakia has stopped eating hot food.  Try a potato salad with spice.
Ingredients
250 grams new potatoes (preferably Jersey Royals)
8 mint leaves – shredded
2 small spring onions – chopped (including the green stems)
1 large clove garlic – crushed
Pinch of chilli flakes
40 millilitres creme fraiche
Salt
Freshly ground black pepper
Instructions
Boil the potatoes until cooked.
Drain and leave them to one side to cool. This may take an hour or so.
Once cool, dice the potatoes into 1 centimetre cubes.
Place the mint leaves, spring onions, garlic, chilli flakes and creme fraiche in a small mixing bowl.
Mix well and then season to taste with the salt and black pepper.
Add the diced potatoes and mix again.
Serve.
Reena Pastakia
Reena grew up thinking Indian cooking was a dark art where the quantities of spices required in each dish were innately known to a chosen few. It was only after she married an Englishman with a voracious appetite for Indian food that she started phoning home for cooking tips. She started her blog (coconutraita.com) in an attempt to document her family's recipes and make Indian cooking accessible to all.